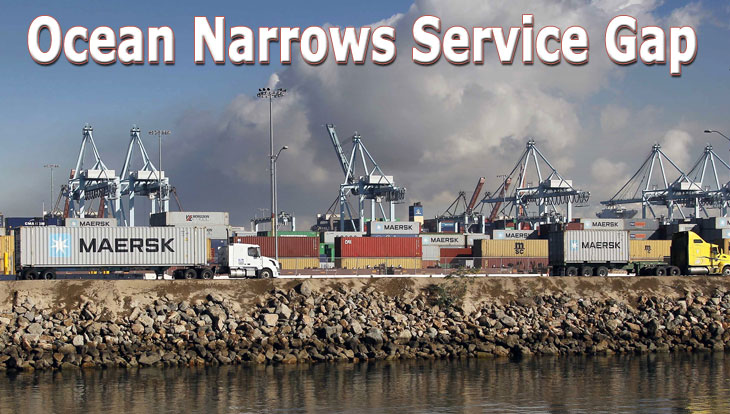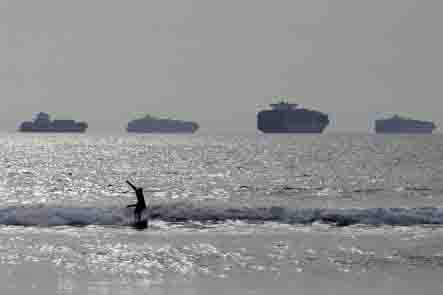 Heavy consignments and growing service options as heavy rigs offload cargo after arrival at Port of Los Angeles. Catch a Wave . . . Jake Ferguson rides a wave in Sunset Beach, Calif., as loaded cargo ships are anchored outside the Ports of Long Beach and Los Angeles.
The modal shift from air to ocean has been an ongoing trend during 2015, especially since the U.S. West Coast port strike disruption that blighted Transpacific trades dissipated in the first quarter and normal shipping services resumed. The modal shift away from air is expected to continue over the short and long-term according to most executives interviewed by FlyingTypers, at least when major electronics launches don't give the air freight industry a seasonal spike.
But while using ocean over air where possible is a sensible and understandable long-term supply chain cost management tool for some, there are also increasingly benefits of ocean shipping that make inventory management an easier and less risky task for shippers and 3PLs.

Lower Rates Only Part Of The Story

At the moment, not only are ocean container rates at historic lows, but the latest research suggests that container lines are upping their game on service reliability—a trend aided by excess capacity, slow steaming strategies, slow demand growth, and the more structured alliance systems implemented by lines over the last year or two.
In results published late last year, Danish analysts SeaIntel found that global liner schedule reliability in September continued the upward trajectory recorded for much of 2015. Indeed, reliability of 86 percent in September was up by 4.6 percent in August and 13 points higher than a year earlier.
The analyst's 50th issue of its Global Liner Performance report, which is based on 11,792 vessel arrivals in September, also found that the average delay for late vessels had fallen to its lowest average level, decreasing to 3.30 days in September from 3.51 days in August, and 3.82 days in September 2014.

No Flash In The Pan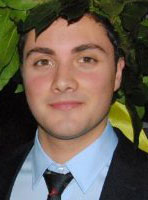 More worryingly for the air cargo industry, the trend toward greater reliability was no September flash in the pan. Mr. Eligio Fanigliulo, (right) Shipping Analyst at SeaIntel, said reliability trends in 2015 were up 18.7 points over the first three quarters and highly attractive to shippers. "The global improvement has clearly been driven by the performance increases of the East/West trades, where 6 out of the 8 East/West trade lanes have reached the highest level of 2015 in September," he added.
All of the world's Top 20 carriers recorded improved reliability from August to September, with gains ranging from between 2.6 and 8.1 points. Japanese line MOL retained its top place in September for a second month with on-time performance of 92.6 percent, followed by K Line at 90.7 percent and APL at 90.5 percent. The stragglers were MSC, Hamburg Süd, and CSCL at 84.5 percent, 85.4 percent, and 86 percent of on-time performance, respectively.

Who Is Reliable?

SeaIntel also examined head-haul services in isolation. MOL was the most reliable carrier overall in Q3 as well as in head-haul services, but elsewhere among the Top 20 carriers there is considerable differences between (for shippers) all-important head-haul performance and global reliability. For example, Maersk Line and Evergreen were, respectively, the second and third most reliable carriers based just on the head haul calls, while they ranked tenth and eleventh based on all deep-sea calls.
"We were surprised to see the large difference between head haul and full round-trip rotation for some of the carriers," said CEO and Partner in SeaIntel Alan Murphy.

Impact of Alliances

Shipping alliances have also had a mixed impact on performance. Murphy said in the first four years of monitoring schedule reliability Hamburg Süd was consistently in the top-2 performers, but after teaming up with the Ocean Three carriers—an alliance consisting of CMA CGM, China Shipping Container Lines, and United Arab Shipping Company—on East-West trades, the German carrier had fallen down the scale dramatically.
"For Hamburg Süd the difference between their global performance and East-West performance is no less than 9.7 percentage points in 2015-Q3, but for many of the other carriers the difference is only between 2-4 percentage points," he said. "With differences in global carrier reliability being relatively narrow in Q3, the difference of a couple of percentage points greatly influences the ranking of carriers.
"This clearly shows that the performance in the East-West trades might be interesting, but could certainly not serve as a trustworthy proxy for global performance on the deep-sea trades."
The liner industry may have become more commoditized, but for users it is still clearly worth knowing which line will take possession of your cargo if reliable delivery is a key factor in inventory management.
SkyKing