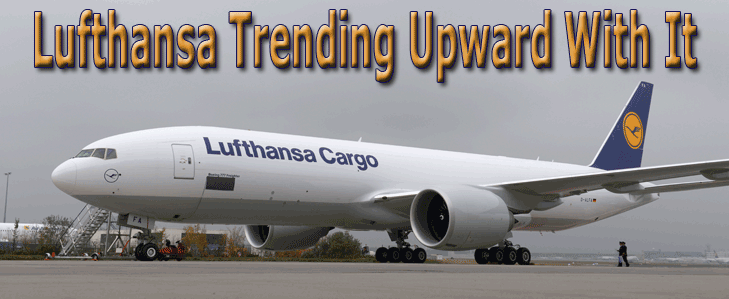 e joined Dr. Andreas Otto, member of the Executive Board at Lufthansa Cargo, for his annual "Meet The Trends" event in Frankfurt on January 30, just after he had hosted a two-day customer conference.
The events were held at The Aircraft at Burghof, featuring a lively, stylized aircraft interior, that we imagined could also serve as a unique and uplifting venue for a wedding or all-night dance party.
But if having some fun and getting down to do an A380 tango at a press conference can be on the menu, the hosting here was perfect, the venue discreet, and unlike some other travel this flight of fancy saw everybody sitting first-class while the outside slipped silently past our shaded windows.

The good news first:
Utilizing a variety of forecasts (Global Insight World Overview supplied information on global GDP, the Ifo German Institute showed an uptick in German business confidence, and Seabury Trade Data Base and IATA showed air freight tonnage growth), Dr. Otto reported it is indeed "a very different picture from last year." He was "optimistic going forward" given the global growth potential which "hasn't been seen in years." His target for 2014 was a 5 percent increase in tonnage, all without any increase in capacity.
If those numbers hold at say 5%, Lufthansa Cargo in 2014 will outperform recent business uptick predictions of IATA.
Despite "straw- in- the- wind" as those predictions can be, Lufthansa Cargo could more than double the 2.1% industry-wide forecast being floated by the Geneva bean counters.
Dr. Otto added, "We will carefully watch the market, utilizing 16 MD11Fs, but can quickly bring back 2 MD11F if the market meets our expectations.
"A key approach is to be careful to manage how the business develops in the course of the year."
Listing a number of contributing factors, Dr. Otto mentioned the corporate Lufthansa Group share price being up 20 percent in January 2014, backed by record passenger traffic (80 percent load factor and 85 percent on time flights) and service improvements.
Dr. Otto noted that despite the significant employment numbers the airline generates, the industry image in the public opinion "is not getting better," adding to numerous external challenges the business continues to face.
Looking at its top four markets, Dr. Otto said he "is happy with the Lufthansa Cargo share on a global basis, especially citing a 25 percent increase in China to Europe traffic since 2012.
"The bottom line is that Lufthansa Cargo remains profitable in a difficult market environment, as reflected in operating results," beating Air France/KLM Cargo, Singapore Airlines Cargo, and Cargolux as "the rest of the industry looks critical."
"The challenge is to continue the momentum, and keep the airplanes (including newly inducted B777Fs) full and busy."
Summarizing developments, Dr. Otto highlighted the Lufthansa Cargo 2020 project, touting its "secure market position" and touching on the ongoing fleet upgrade: "B777F is the best and most expensive aircraft in the industry" and continues to make the FRA hub more attractive and competitive. It fosters lean logistics and creates a quality level that can be measured in terms of on-time deliveries and effectiveness in the "digital supply chain."
The eCargo initiative increased from 45,000 air waybills in 2013 to 200,000 by the end of 2014, and is projected to reach 2 million by 2020!
Dr. Otto revealed that Lufthansa Cargo realized a 12-13% price increase but had been hoping for 20% .
A bit of opitimism was discovered as now Lufthansa Cargo customers are saying, "they are optimistic about growth in 2014."
Dr. Otto acknowledged that although Lufthansa Cargo has "a huge belly capacity, the freighter fleet including the recently inducted B777Fs with more to come in 2014 are still needed and central to the carrier's business plan "for the foreseeable future."

FlyingTypers asked Dr. Otto to elaborate on the recurring theme of efficiency and optimization, that were central to last year's (2012 ) "Meet the Trends," gathering which had promoted special products, new service channels, advanced margin management, and IT modernization. In his response Dr. Otto said, "Express products are on the increase (+10 percent in QTD) and will be relaunched [eFlash].
"Regarding margin managements, we moved from actual to chargeable weight and changed our processes accordingly."
In terms of cooperations, Dr. Otto said, "It is expected that the CEO, Karl-Ulrich Garnadt, will present, as a minimum, one partner in 2014, around mid-year," which Dr. Otto expected would have "a huge impact on the business and the markets."
In an unrelated context, he mentioned he "didn't recall having any such conversations [regarding partnerships] in the past 15 years, and although nothing specific has been concluded," he said FedEx had been conducting some discussions with a number of legacy carriers, including Lufthansa Cargo.
Ted