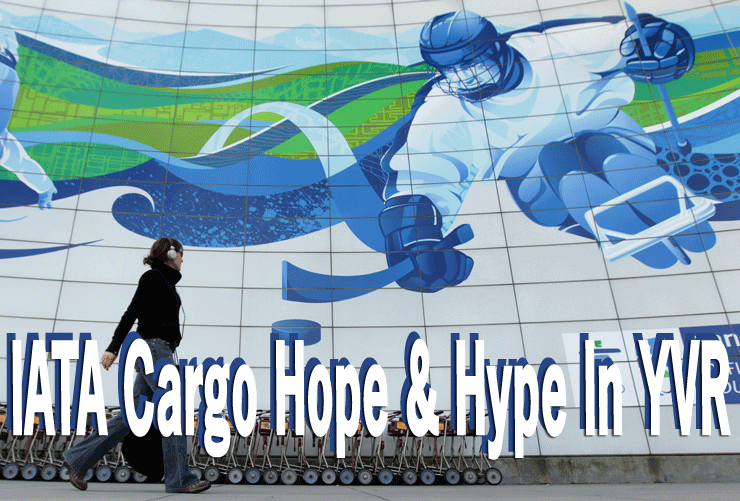 Unusual, to say the least, is IATA World Cargo Symposium (WCS) taking place in Vancouver, Canada next week (March 8-11) that is supposed to play it fair and square right down the middle favoring no one—running a sign-up option on the IATA Cargo website WCS registration form for an awards presentation event put up by an industry publication.
Last time we checked the IATA website, there seemed to be a dozen or more sponsors of WCS listed that have apparently not been offered or given such advantage.
Put another way, this is the first time we can recall any IATA meeting processing money for an event put up by a third party.
This fourth WCS is, in fact, a packaged and promoted (Air Cargo News FlyingTypers has been working at branding this event for the past four years) outgrowth of the old IATA yearly cargo meetings that have been held almost forever.
As part of its mandate, IATA must gather its airline members every year and hold an annual meeting to have the work of the conference bodies voted on and approved.
IATA then publishes every year following the conference the latest version of the manual – Cargo Services Conference Resolutions and Cargo Agency Conference respectively, revealing what has happened and what IATA hopes will happen in the year ahead.
Airline delegates and IATA officials conduct these meetings behind closed doors (and will do so again at YVR) with no public or press allowed, with the exception of paying members in its various Partnership Programs.
Recently IATA farmed out all of its meetings & events to a company called WorldTek.
But we wonder, is IATA by allowing its website to book business, sanctioning an event for one company above all others, playing fair with everybody else?
Despite its public image of being an egalitarian and non-profit trade representative body, apparently business thrives behind the scenes – the higher the pay the more generous the prize.
Maybe IATA should allow attendees that support WCS to sell and process payments through IATA for promotional materials, subscriptions, tote bags or maybe even t-shirts via the IATA Cargo website?
Seriously this apparent partiality by IATA serves no one but IATA—not necessarily its members.
It underscores that the organization may have departed on a path that is less fair and balanced toward industry stakeholders and media.
We also wonder why IATA Cargo WCS IV in Vancouver (March 8-11) and Airport Council International in Seattle, Washington (March 9-11 Annual Air Cargo meeting) are being held at the same time next week?
How are stakeholders supposed to be in two places at once?
Don't these mega-organizations talk to one another or consider for a minute the benefits for their members?
Maybe worse these two major organizations look like they are playing gotcha with each other by holding their conferences at the exact same time at air cargo's expense.
But in what might be the snub of the century (so far) Airports Council International Cargo's major sponsoring publication in Seattle is the same publication now handing out airport awards at that "Partner Event" in Vancouver that is being (as mentioned) marketed with payments accepted via IATA's website.
We wonder why would ACI Cargo next week in Seattle not be the venue for airport awards?
The bigger issue here is, that coming off maybe the worst year in the history of the air cargo business, this industry can barely afford to be losers anymore, especially about making a hard choice as to which event to attend next week.
Disappointing, to say the least, is the rise of hype and loss of hope and promise that IATA Cargo was actually building their annual meetings into something new, progressive open, vital and different.
After three attempts, WCS unfortunately in some respects continues to be the same old IATA annual cargo meetings with added window dressing on a larger scale, cleverly marketed and poised as the 'must attend' event of the year. So as it tries again, we continue to accentuate the positive, while keeping hope alive, thinking ultimately the verdict on IATA WCS should be tendered based on tangible and measurable results and not by hype.
Stay tuned.
Geoffrey
To read more on Air cargo awards click here "Who Profits From Awards"