Washington Gov. Chris Gregoire designated March 1 as "Emirates Day" in the State of Washington, as EK opened up scheduled service between Dubai and Seattle, the carrier's sixth USA destination and the second added in the past 30 days, after dailies from Dallas to Dubai were opened on February 2.
Even as it furthered its U.S. adventure, reports began circulating that EK is looking to open service to Washington, D.C., later this year.
But last week it was all about Seattle.
"Emirates has looked forward to the day when we would connect Seattle to our home hub in Dubai, on flights operated by state-of-the-art, Seattle-built aircraft," Sheikh Ahmed Bin Saeed Al Maktoum, chairman and chief executive of Emirates Airline & Group, said on board the historic flight to Seattle.
On Friday Boeing delivered its latest 777 to Emirates, the 1,000th B777, at a giant celebration in Everett. As the week concluded, grand parties and events continued to bring the excitement of a great new airline service to the American northwest for the first time in history.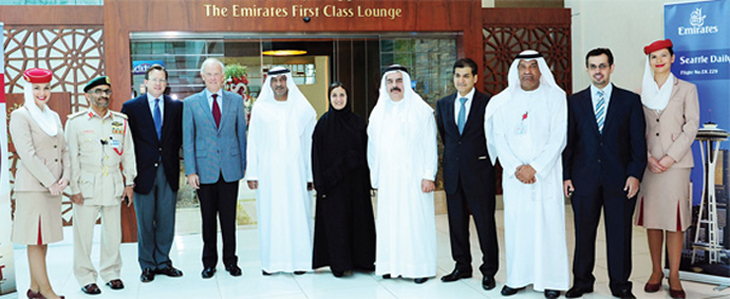 Pictured (L to R) Jessica Haden (cabin crew); Brigadier Pilot Ahmad Mohammad bin Thani, Director-General of Dubai Police's General Department of Airport Security; Justin Hicks Siberell, U.S. Consul-General in Dubai; Tim Clark, President, Emirates airline; Shaikh Ahmed bin Saeed Al Maktoum, Chairman and Chief Executive, Emirates airline and Group; Shaikha Lubna Al Qasimi, UAE Minister of Foreign Trade; Major General Mohamed Al Ali, Deputy Minister, UAE Ministry of Defense; Adel Al Redha, Executive Vice-President, Engineering and Operations, Emirates; Mohammed H. Mattar, Divisional Senior Vice-President, Airport Services; Hamad Mubarak Buamim, Director General of Dubai Chamber of Commerce and Industry; and Anne-Marie Neamtu (cabin crew), as Emirates launched daily flights from Dubai to Seattle.
Especially sweet for Seattle is that Emirates currently operates the locally built B777s to each of its six United States gateways: New York, Los Angeles, San Francisco, Houston, Dallas/Fort Worth, and Seattle.
"These new services to Seattle and Dallas/Fort Worth emphasize Emirates' confidence in, and long-term commitment to, the United States," Emirates President, Tim Clark, declared.
"With six gateways offering convenient connectivity from points across the country, customers in the U.S. will find it easier than ever to access our vast global network."
"Our latest expansion also serves as a powerful indicator of how Emirates continues to invest in products and services even during difficult economic climates," Clark said, adding:
"We have always been ahead of the curve in anticipating what is now becoming an accepted truth—that demand for air travel will continue to grow over the long term in spite of the many challenges the industry faces.
"In making this investment now, Emirates is providing a timely economic boost to the United States whilst ensuring that we are soundly placed to serve America's future air travel (and air cargo shipping) needs."
Geoffrey