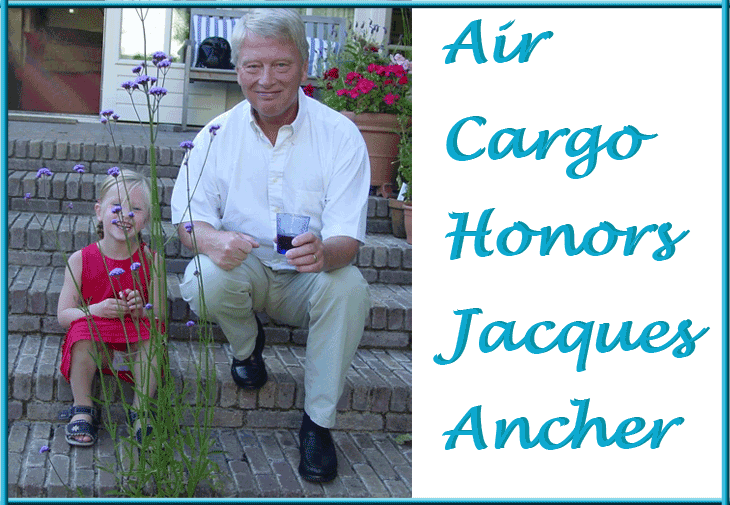 Every once in a while, late night conversations turned to people we have known over the years in the air cargo business.
Make no mistake about it: despite changes felt in almost every quarter of the air cargo experience, this industry is still all about people.
There have been a few people who have touched almost every facet of air cargo, even impacting people in companies other than their own.
But in all my 40-plus years in air cargo, there is one individual who stands tallest as a dreamer and doer, and, maybe even more importantly, as a great mentor in the air cargo industry; that person is Jacques Ancher.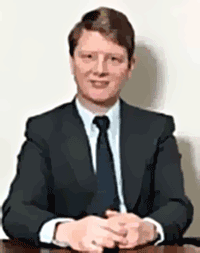 Although he has been out of the business almost too long to remember, I still miss Jacques Ancher.
So you can imagine my thrill when The International Air Cargo Association (TIACA) selected him in 2014 for a Lifetime Achievement Award.
Jacques did in fact serve a lifetime in transportation, and at the point he retired in 1999 he was executive vice-president cargo at KLM Royal Dutch Airlines.

Path To Glory

Jacques was a visionary in the air cargo business.
He was promoted to chief Cargo Marketing at KLM in 1997, taking over from Leo van Wijk, who was elevated to the Board of KLM, where Pieter Bouw was CEO at that time.
It was very common in those days for companies to split themselves up into business units, each with their own bottom line accountability.
With a proper focus on the individual businesses, a substantial improvement of profit could be expected. So KLM created three Business Units, i.e. Passenger Business, Cargo, and Engineering & Maintenance.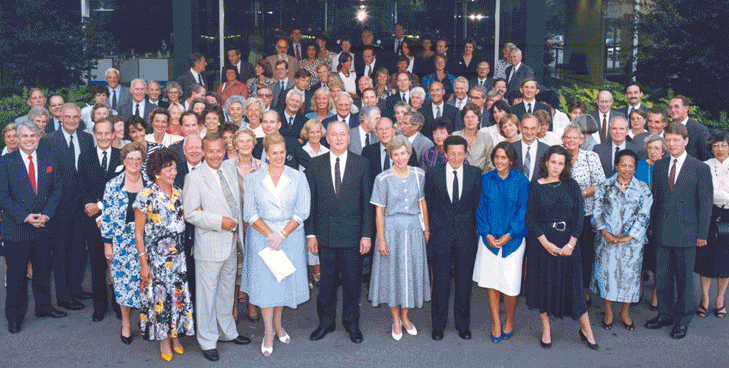 Executive Moves

Jacques was appointed EVP Cargo.
Together with Boubby Grin, Jacques developed a complete strategy, business, and implementation plan.
Cargo moved out of KLM's HQ into its own Global Headquarters at Schiphol Airport, close to the Cargo Terminals.
Jacques created three major Cargo subdivisions in the KLM Network.
He appointed three VPs with the task to reorganize Cargo.
In Europe, the Cargo VP's were Michel Coumans together with Boet Kreiken; in Asia, Stan Wraight with Oliver Evans; and in The Americas, Jan Meurer with Roel Schrijer.
Regional Managers were appointed where they were needed.
For example, in the Americas there was one Regional Manager for Canada; in the USA five Managers; and in Latin America one Regional Manager was appointed, with an office in Miami.
A lot of time was spent introducing the new strategy, the business planning process, and implementation plan.
By 1995 the job was done and Jacques called the VPs back to Amsterdam.
And from that time on, and still today, KLM Cargo is managed centrally.

Looking Beyond Tomorrow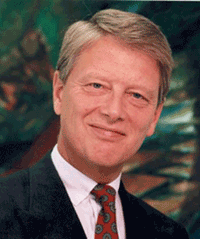 Jacques saw way beyond the horizon when it came to anything connected to transportation.
He viewed air cargo and the entire logistics exercise in clear and precise terms at a time when others noticed little more than a blur in the rearview mirror.
KLM operated a fleet of cargo-friendly combi-aircraft across its vast international route system, offering main-deck capabilities almost everywhere the airline flew.
The airline also formed a holding company and acquired the most advanced air cargo facilities while it moved to secure European road feeder companies.
KLM brought on ACMI lift as an originator of that form of transportation and positioned itself as the undisputed leader in several segments of air cargo, including live animal and perishables transport.
The driving influence for much of this was Jacques Ancher.
To be sure, KLM has always been a cargo savvy airline.
In fact, the chief executives of the carrier have often also served as top cargo men at the airline before landing behind the CEO's desk.
Jacques Ancher brought focus, vision, and excitement to his airline and air cargo as well.

Air Cargo Greats Remember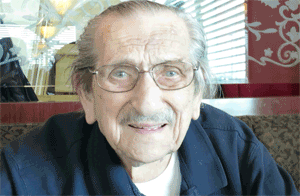 Nearing the age of 101, Richard Malkin is the unquestioned Dean of Air Cargo Journalists. He has covered the industry non-stop since 1942,including first-hand reporting of The Berlin Airlift in 1948-49.
Here Dick, who for many years edited the KLM Cargovision Magazine, recalls Jacques:
"Jacques Ancher was an astute successor to Pieter Bouw, quick to grasp and deal with the complexities of his responsibilities," Richard Malkin said in March 2014.
"He had a remarkable ability to reduce difficult issues to common terms, and he sought to maintain a reasonable balance among carrier, forwarder, and customer in a wildy competitive universe.
"For me, as a proud member of TIACA's Hall Of Fame, I consider it a privilege and honor to welcome Jacques Ancher to this institution. It was Shakespeare who said that nothing is good without respect, and clearly Jacques' election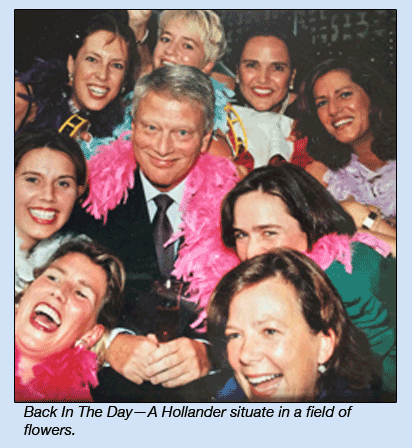 reflects the respect and appreciation of a selfless career devoted to reaching the targets and setting new goals for an industry intent on growth and profitability.
"As an air cargo executive, Jacques early displayed the earmarks of authentic professionalism, quick to grasp and effectively to deal with the myriad problems descending on sales, operations and traffic. It was nothing less than an art to maintain KLM Cargo's high ranking in a global field of hard-line competitors. Jacques' performance as a cargo executive was underscored by his adherence to a personal conviction that principle is basic to ultimate success, not expedience
"Jacques Ancher belonged to air cargo's second generation—a period of refinement of operational methods, more sophisticated equipment, streamlined airline relationships, and shifting air-surface transportation competition. There was little doubt that significant changes were taking place in cargo transportation as a whole. It was a time when the sharp edge of professionalism was a prime need. Jacques' instincts were those not only of a first rate air freight man but—importantly—of a first rate businessman. The measure of Jacques Ancher's career were his signal contributions to enhanced commonality in the airline-customer marketplace."

Pieter Bouw Honors Ancher

The aforementioned Pieter Bouw who at one time sat above the KLM Cargo floor at JFK International Airport, and rose during an illustrious career to the top officer position at KLM and continued his own illustrious airline career is no less reserved in his unanimous praise and affection for Jacques: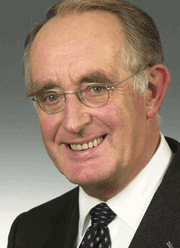 "Jacques build his own career path.
"Way back, after having been in Market Research for some time, Jacques' ambition was to get a position abroad in the Field Organization of KLM.
"A well-desired position in South Korea became available.
"Many of Jacques' friends and colleagues were highly interested in the job and Jacques started to spread the rumor that he would be appointed.
"Much to the surprise of his many friends in the marketing department, Jacques was indeed appointed.
"Jacques reaction:
"'Of course they select the best man available, but I was afraid they would have overlooked me.'
"It was the beginning of a splendid career in KLM's Sales and Marketing organization all over the world.
"He was one of the few in KLM taking challenging positions in both businesses: Passengers and Cargo, saying 'the one cannot do without the other.'
"During the late seventies Jacques held the position of being responsible for Cargo Sales in Europe and Africa.
"At that time there was quite some tension between airlines and the intermediaries: forwarders and consolidators.
"Jacques kept an effective balance between direct market access and via intermediaries claiming 'as long as they provide me with profitable business it is not important whether we like them or not, and it is better that they give their business to us than to our competitors.'
"He often referred to the wooden sign hanging in the KLM Cargo office:
Did You Hug Your Forwarder Today?
"Jacques was always very practical and action driven:
"When meetings took long and many expressed their views in an extensive way to show their eloquence, Jacques in the end asked:
"'Mr. Chairman, what do we decide and what are we going to do?'
"In all his management positions Jacques focused on enabling his team members to develop themselves in doing an excellent job as independently as possible.
"Developing people was, in Jacques view, conditional to developing the cargo business.
"He expected the same approach from his superiors.
"When taking the cargo job, two members of the Management Board of KLM had an extensive experience in Cargo: Leo van Wijk and myself.
"In the beginning we had a tendency 'to know better' than the man having the responsibility for the Cargo business: Jacques.
"Jacques took us both apart and said, 'Support my strategy, give me the tools, and I will run the Cargo business effectively, so you both have more time available to do your own job, which in my view is difficult enough.'
"The message was clear, well understood, and accepted and from that moment on.
"Jacques developed the Cargo business for KLM beyond any expectations," Pieter Bouw concluded.

Legendary Meetings With The Press

We remember Jacques as an amazingly well rounded individual.
He enjoyed air cargo, thought of this business as an art, and he celebrated KLM Cargo with a passion that eludes most executives.
He also gave the reporter the best of all possible worlds.
Jacques was an engaged and engaging personality who was always good copy.
He could sit for hours with a room full of reporters in sessions of the world air cargo media at KLM Cargo headquarters.
In an era of quickie statements and sound bites, when was the last time that happened anywhere?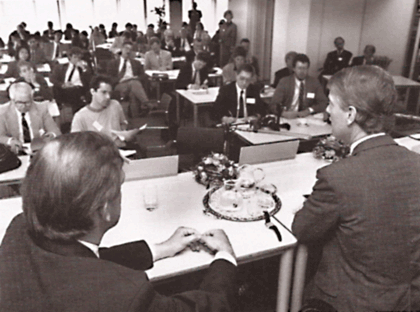 It really didn't matter if the gatherings were about a product launch or facility dedication, issues came out on the table and were confronted.
More often than not, what began as a media event turned into a roundtable work session, a kind of "fetch up some deep thoughts and let's talk about them" encounter with the press.
Eventually Jacques began placing his wristwatch alongside his note pad at these gatherings because when the talk got going, time, to Jacques, became a non-issue.
Today any tradeshow forum session would do well to get some talk and action underway that matches the dynamics of reality and substance that those KLM media sessions possessed during the early 1990s.
Jacques also enjoyed life, friends, good food, and wine.
Often when it came to entertaining, Jacques Ancher would pull out all the stops.
Once after an all-day press session at cargo headquarters in Amsterdam, Jacques hosted a dinner for about 100 members of the media and others at Huis van Loon, a classic Dutch double-sized canal house.
Located at 672 on a narrow street and waterway called the Keizersgracht in the old part of Amsterdam, the canal house once belonged to one of Rembrandt's pupils and today is restored to its former elegance.
Dinner at small, candle-lit tables was intimate, excellently prepared, and served with gaiety, élan, much laughter, and good conversation, followed by a scripted, light-hearted presentation that featured Jacques and members of the KLM Cargo team.
They just don't do those kinds of things around air cargo very much anymore.
But being Jacques Ancher went way beyond the borders and confines of the airline he served.
Jacques also managed to be well respected by some rather illustrious competitors as well.

Salute From A Major Competitor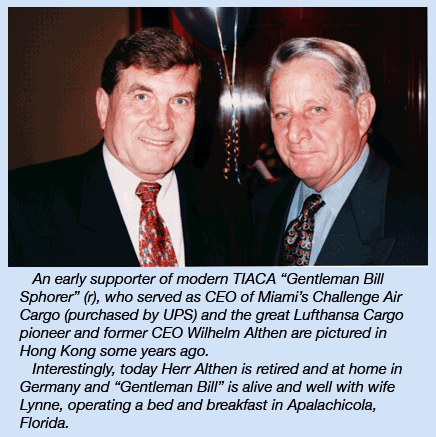 This from Wilhelm Althen, who was serving at the time as Chairman of the Lufthansa Cargo Group:
"I first met Jacques Ancher in 1990.
"Under his firm leadership, lasting almost a decade, KLM Cargo grew into one of the largest and most advanced air cargo carriers, operating the largest fleet of Combi aircraft as well as a number of freighters.
"They were a formidable competitor, and there is no doubt that KLM Cargo, like Lufthansa Cargo, shared the thoughtful leadership of the air cargo industry of the time, introducing new products and services and upgrading ground facilities.
"I am delighted that his contribution has been recognized in the award of the Hall of Fame 2014, which is also a tribute to the entire air cargo industry of that era."
But perhaps the greatest recognition and honor anyone can hope for is to hear appreciation from people that worked with and for you.
The daily rub of that type of encounter can bring out real feelings one way or another.
Here are some more selected responses from some very important people in air cargo who want to speak up for Jacques.

Oliver Evans Recalls Jacques

Oliver Evans, Chief Cargo Officer at Swiss and currently serving as Chairman of The International Air Cargo Association (TIACA), recalls moving into air cargo (as mentioned earlier) as part of Team Ancher.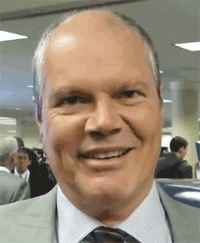 "It was my great fortune that I entered the air cargo industry (in 1987, after spending the first 10 years of my career in ocean freight) by joining KLM Cargo, then under the leadership of Jacques Ancher.
"I spent 10 years on his team, and my unreserved passion for our industry, and for what I do today, was undoubtedly born in those vibrant days.
"Yes, our industry is the quintessence of globalization; yes, it is exciting to be speaking to, and indeed meeting, people from all over the world, from every industry we serve, each and every working day, to have countless opportunities to travel and solve logistic problems.
"But leaders we can look up to, from whom we learn, who inspire us, who stamp their personality and their ideas on an entire team, such leaders truly make the difference.
"Jacques was unquestionably one such leader.
"He involved the entire organization, and indeed the customers, in finding and developing new ideas and new solutions.
"Jacques listened to, and coached, not just his direct reports, but any young or ambitious executive who wanted to contribute.
"Externally, he made the company into one of the industry leaders, developing strongly and profitably, and unafraid to express sometimes controversial views.
"Internally, he broke taboos, appointed women and foreigners to key roles, embraced diversity.
"But above all he unleashed our potential, and created energy, and trust.
"Jacques remains an inspiring friend and colleague to this day," Oliver Evans said.

Ancher Shaped The Value Proposition

Likewise, Michael Steen, Executive Vice President and Chief Commercial Officer, Atlas Air, recalls his days at KLM Cargo during the Jacques Ancher era: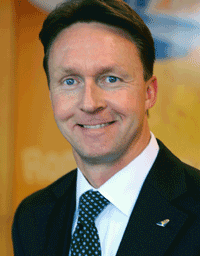 "When Jacques changed the KLM Cargo organization structure in 1995, he engaged the entire KLM Cargo global management group to partake in the shaping of the value proposition and global organization structure which enabled a strong team engagement and relatively smooth transition.
"Jacques challenged his team to strive for the best, take in external influences in order to make the business better, sharpen the focus, and strive for success.
"He was a true visionary and understood better than most how a combination carrier could add value to the entire supply chain, and he positioned KLM Cargo accordingly.
"His focus on attracting and developing talent was exceptional—something which benefited the entire air cargo industry as several executives moved on to take on new challenges outside of KLM.
"The customer certainly came first and Jacques himself was keen on meeting regularly with top customers.
"I agree wholeheartedly in what Pieter Bouw said about Jacques wanting to 'be left alone to manage his business.'
"Jacques Ancher applied the same mantra with his management team and we were all given great autonomy in managing our respective areas.
"Of all the people I have known in air cargo during my career, Jacques stands tall amongst the greatest of them all," Michael Steen declared.

Short & Sweet

"The years in KLM Cargo were the best of my career," said Jan Meurer, who served under Jacques and went on to command the entire KLM USA effort before moving back to Netherlands where he ended his career as Executive Vice President, Inflight Services at KLM Royal Dutch Airlines.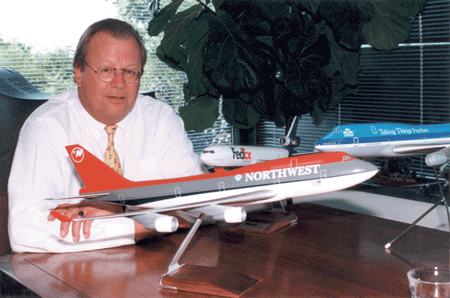 Jan, who can speak at long length with great wisdom and passion about all things, especially Jacques Ancher, shares some thoughts that build a powerful image about his friend.
"Together with Jacques and colleagues we managed to change the thinking and had the courage to step out of the box.
"Perhaps we were 20 years too early.
"Today it is an absolute must to introduce Jacques Ancher's concepts if the traditional air cargo business wants to survive!" Jan declared.
What Jan referred to as "20 years too early" was the Ancher-inspired policy at KLM Cargo with respect to competition and the KLM-Forwarder relationship.
The concept didn't go across very successfully, and later KLM assigned a man to survey the extent of reactions against the airline.
But like many dreamers and doers who innovated and pioneered, time proves the man.
Today many of the innovations for which Jacques Ancher stuck his neck out more than two decades ago are common industry practice.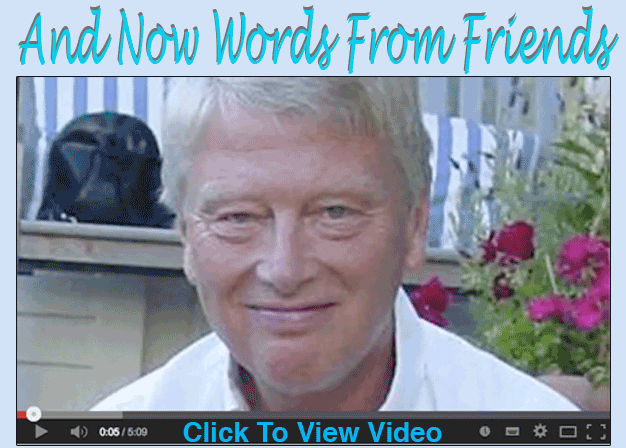 Jacques and Me

My favorite Jacques Ancher encounter occurred in 1995 while visiting KLM Cargo headquarters at Schiphol Airport.
I was in the VIP lav washing my hands, and noticed Jacques standing next to me, doing the same thing.
For no particular reason, I began talking about my desire to create an air cargo book series and how I had imagined that KLM, with such a rich culture for cargo, would be an ideal start.
We talked in that small lavatory for 45 minutes; without interruption, we felt lost in time, and only exited after we had shook hands, having decided to do the book.
Outside, a half dozen KLM'ers at HQ were wondering whether they should break the door down.
I still remember the looks on those faces as the top boss at KLM Cargo and the writer emerged from the executive toilet after three quarters of an hour.
But that was Jacques.
No matter what else was going on, his thought process was completely focused on what was at hand.
Like a great athlete, his concentration was total.
For my brief encounter, I discovered that working for him was a real treat.
I researched the pictures, designed the book and wrote the copy from a base inside the legendary, granite, art nouveau 1902 American Hotel, located near Leidse Square in Amsterdam.
The place was a constant charge to the creative juices.
I worked all day in my room overlooking the canal and drank all night in the hotel pub – The Nightwatch Bar – talking to the locals while imagining Hemingway barreling through a side door, slugging down a frosty tall Heineken, and disappearing into the night.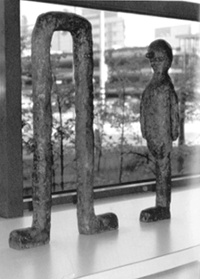 Late one Friday afternoon, while awaiting a plane back to New York City, I was sitting in what I thought was an empty office up at KLM Cargo HQ, looking over some design sheets for the book (True Blue-The History of KLM Cargo, 1996) when a soft, familiar voice outside called out a name.
It was Jacques looking for somebody.
I bid him come inside the room and entreated his patience to show him some of the stuff in the book, looking and hoping for approval.
I read him the last page of the book, which contained a picture of a small statue (pictured right) Jacques had commissioned for the reception room downstairs by the elevator.
After describing the page and caption, he said nothing.
Finally unable to stand it, I asked him what he thought of the work and the last photo and caption, saying something like:
"You can suggest something else."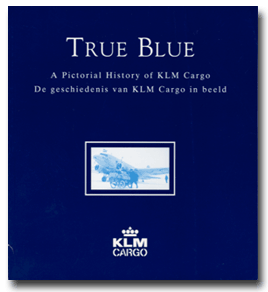 He looked at me and said:
"I wouldn't change anything.
"Your work is unique.
"You are an artist."
I cannot describe the feeling at that moment except to say that my desire to do books about the business I love was touched four square and has been fueled ever since.
People that understand the human condition and attempt to balance the big time business thing are rare; as mentioned there are a few who can do it.
Imagine an air cargo facility, among the most advanced in the world, which also contains art commissioned by the airline or company, affording artists a palette to create original works that are presented in places of pride inside working areas and waiting rooms?
During the Ancher era, the KLM air cargo facility located in the City of Amsterdam—a city that nurtured Rembrandt and Van Gogh, and brought their art to the world—displayed original works created by unknown aspiring artists commissioned by KLM from destinations the airline serves around the world.
A small thing? Not really. A sense of place, and responsibility to that place, was always very Jacques Ancher.
Jacques also saw to it that KLM created the first leading edge, avant-garde publication for air cargo when KLM Cargovision, a magazine house organ, was completely reformed during the mid-1990s into a monthly work of art itself.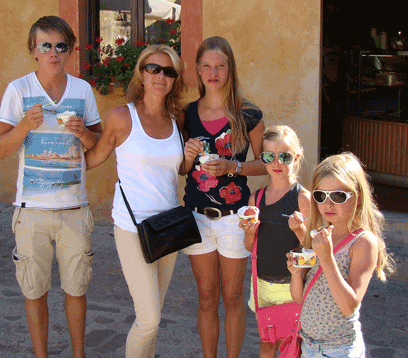 Many thought when Jacques Ancher retired, he was too young to have left, and that he would probably pop up somewhere later.
But apparently, Jacques Ancher really wanted to study grandchildren and savor the wine of a life well lived.
He has repeatedly turned down interviews and "where is he now?" type stories, preferring to stay at home or out on the beach enjoying his family and life.
There is tremendous hope in the proposition that there are among us, well-ordered lives that continue after air cargo.
Maybe I just have seen too many of my friends retire, and then not live long enough after the yoke of a life-long career is lifted.
Maybe it's just selfish.
I'd hate to think that my background as a historian has left me permanently kissing that past's ass.
Still, I miss Jacques Ancher, and I'm thrilled that after 15 years away from the industry he will stand up and be counted with the greats in air cargo's history.
He was not just another executive suit, but rather a great leader, thinker, and patron of life who—for all those reasons and more—landed among the royalty of the air cargo business.
To KLM and air cargo, Jacques Ancher was and will always be the Dutch Master.
Geoffrey Arend