St. Louis Air Cargo—An Aerotropolis Too Far?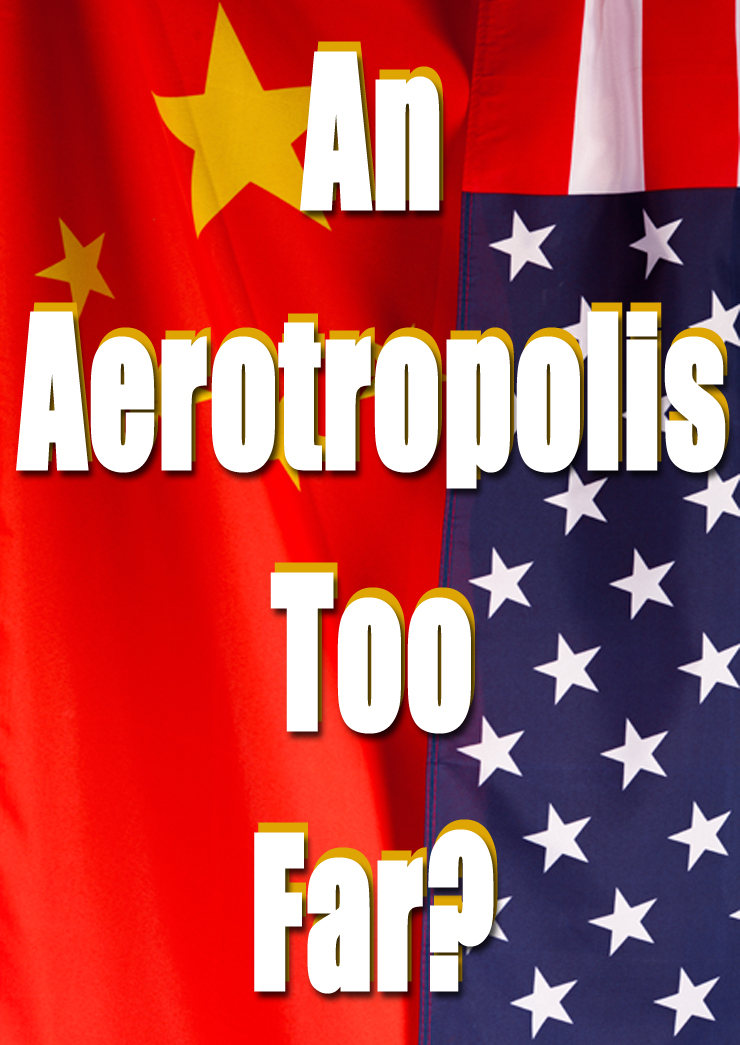 In USA, if one believes its proponents – and one shouldn't – the Midwestern State of Missouri Legislature has exhausted its session before it had time to commit funds that would enable St. Louis Lambert International Airport to become the Midwest China Hub.
But some think that this bid may be an "Aerotropolis Too Far," a bad idea or maybe even a big, fat lie.
"How?" you might ask and if so, you'd already be more diligent than legislators who supported about $400 million in public subsidies for this white elephant in waiting.
That the State of Missouri has already wasted state and federal public dollars provides a case of carelessness and impropriety of the sort inspiring taxpayer revolts across the state and nation.
St. Louis area business leaders and airport operators propose to divert regional air cargo now dominated by Chicago O'Hare International Airport to what locals call the "Midwest China Hub" and "the Big Idea". Rather than test the likelihood of the hub's success, proponents and their enablers simply assume Lambert will attract the required service and then promise benefits based on that success. The proposition's champions and their consultants performed a meager analysis. Shockingly, the State of Missouri has already directed millions in public money on that basis and the Missouri Legislature almost approved hundreds of millions in additional support without any independent analysis.
Had an independent analysis been conducted, overwhelmingly critical concerns would have been exposed. Mere context is damning enough. According to Airports Council International – North America, St. Louis ranked 39th among North American airports end of calendar year 2010. By comparison, Kansas City International Airport was ranked 45th and until 2009 had led St. Louis for a decade. In fact, St. Louis not only trailed Kansas City but also Des Moines. During a decade that found the U.S. air cargo industry in collapse, St. Louis' annual air cargo volume declined 20% comparing 2010 levels with calendar year 2000. St. Louis' air cargo slide is not atypical of the industry but nothing suggests it is in expansion mode.
Worse, an unprecedented surplus of on-airport air cargo capacity exists after a decade of nationwide contraction that witnessed the disappearance of such formerly common on-airport all-cargo names as Airborne Express and Emery Worldwide, as well as sharp contraction by BAX Global and DHL. Medium-sized U.S. airports are fortunate to still have both UPS and FedEx. The two integrated carriers account for at least 90% of air cargo at most U.S. airports, including St. Louis.
With hubs in Louisville and Memphis and regional hubs in Rockford, IL and Indianapolis, IN, neither UPS nor FedEx (respectively) have any foreseeable need for a significantly expanded role at Lambert. Even St. Louis' champions concede that point but without registering that therefore their cargo efforts must advance without carriers that presently account for almost all of their already unimpressive market. Almost all examples of successful alternative gateways in the U.S. are anchored by one of these integrated carriers.
During the same period, the passenger industry also contracted with TWA acquired by American, Continental by United and Northwest by Delta. These consolidations created additional surplus on-airport cargo space and in the skies, also affected capacity because space offered in bellies of passenger aircraft is critically important to international air cargo transport. Dominant Asian and European air cargo carriers operate both passenger and cargo flights, maximizing their efficiency by providing both whenever possible in gateways like Chicago. Freight forwarders – who account for the majority of international air cargo bookings – rely on gateways to provide the maximum in network connectivity but St. Louis' proponents hope forwarders will ignore superior flight frequencies, international destinations and mix of operators (both all-cargo and belly-offering passenger carriers) at Chicago O'Hare.
| | |
| --- | --- |
| Webber—"Missouri should not only abandon consideration of future funding, it should seek to recover what has already been wasted. Legislators and state bureaucrats, as well as members of the media who lazily parroted talking points, should repent for having so carelessly treated a potential obligation of hundreds of millions of taxpayer dollars, even as so many much more worthy priorities confront Missouri." | Guenter Rohrmann, Building China Hub For St. Louis— in December 2009 the St. Louis Post Dispatch reported "Mr. Rohrmann last month agreed to a $931,000 consulting deal to persuade manufacturers and air freight companies that St. Louis is a good place from which to ship cargo overseas, particularly to China." |
St. Louis' big idea is a $400 million speculative venture that from inception excludes participation from global integrated carriers DHL, FedEx and UPS that account for about 90% of the current St. Louis market but already have established hubs in the region. Worse still, it will compete with Chicago O'Hare, which hosts international and domestic passenger hubs for American and United Airlines, as well as international gateway operations for numerous Asian, European and Latin American passenger carriers. O'Hare also hosts freighter operations from many of these passenger carriers, as well as international all-cargo airlines such as Japanese operator Nippon Cargo Airlines and European all-cargo power Cargolux.
Before St. Louis even begins, almost all of the domestic and international market has already been excluded! Moreover, contraction in the Chicago market (not nearly as bad as St. Louis' 20% but still about 6% for O'Hare over the same 2000 – 2010 period) and one of America's most ambitious expansion programs will greatly enhance the proven gateway's capacity and not coincidentally its operating efficiency. Unlike St. Louis, Chicago's program has already been scrutinized and approved by the industry and is in fact, well underway. St. Louis entirely speculative "big idea" will confront a proven dominant competitor in peak form.
With no evidence, "big idea" champions believe shippers need an alternative to O'Hare, suggesting that international air cargo shippers are disadvantaged by having to truck freight a few hours past St. Louis to Chicago but many international shippers already truck shipments from the Midwest much further to gateways like Los Angeles and Miami. Trucking company Sterling Transportation Inc. does nothing but truck freight between Miami and Los Angeles to leverage the superior Latin American access of the former and the Asian superiority of the latter. So when trucking economics sustain competitive advantages on segments as distant as Miami and Los Angeles, the distance from St. Louis to Chicago hardly seems excessive.
"Big idea" proponents offer such testimonials as area cattle exporters being significant resources and beneficiaries of the Midwest China Hub but if such demand exists, St. Louis would at least already have international livestock charter flights. With strong support from the Missouri Department of Agriculture, Kansas City International Airport actually built a livestock-specific export facility in the 1990's but in roughly twenty years, the facility has been used for its purpose only a handful of times because of a lack of demand. Livestock breeders are able to ship hundreds of future heads of cattle as semen in test-tubes – hardly the basis for supporting scheduled service. Breeding stock of livestock is still occasionally exported "on the hoof" but neither it, nor more common slaughter stock is shipped regularly enough to even remotely anchor this development.
Given that Kansas City International Airport is roughly equivalent to St. Louis in cargo volumes (having led St. Louis until 2009), is further from Chicago in terms of offering a discrete alternative and has always been perceived by the air cargo industry as much more cargo-friendly, folks in the western half of the state should be infuriated at statewide tax dollars being directed at St. Louis but not that Kansas City should be given another $400 million but rather this idea is a non-starter on both sides of the state. Most air cargo industry experts would likely slot Indianapolis and even Rockford, IL (to name but two) as far better prospects to attract such service than St. Louis or Kansas City.
By now, one may wonder how Missouri officials ever wasted more than $1 million taxpayer dollars on this effort already – let alone considering another $400 or so million in future subsidies. The St. Louis Business Journal reports that well connected St. Louis area lawyer Steve Stone and his law firm, Stone, Leyton and Gershman, have contracts up to $400,000 from the Midwest-China Hub Commission, the City of St. Louis and the RCGA (St. Louis Regional Chamber & Growth Association) for work related to securing air cargo flights. Stone's contract with the China Hub Commission for business consulting is for $15,000 per month ($180,000/year) and his work for the city for writing legislation that will provide tax incentives for the effort is for $100,000. His contract with the RCGA will be between $100,000 and $120,000 this year. As will be detailed momentarily, much of the Commission's budget comes from state and federal sources, so Stone is being paid by us to lobby for our money.
Drawing further from the Business Journal's piece, the commission has an annual operating budget of about $1.5 million, including three major contracts totaling $804,000 per year, including $180,000/year for Jason Van Eaton, the commission's executive director (and his Spectrum Group consulting firm), and for $450,000 a year with London Export Corp.'s Stephen Perry, a relative of Stone and British exporter whose family has "long and deep experience in Chinese trade".
Were this effort solely dependent on St. Louis area funding, it might be less irritating to those beyond its metro area. However, the commission is funded with federal grants and $100,000 annual contributions from presumably statewide entities the Missouri Partnership and the Missouri Chamber of Commerce, as well as most appallingly, the Missouri Department of Transportation and the Missouri Department of Economic Development.
Project champions tout relationships in China, but relationships with U.S. politicians are what have carried the project. Detailed in "Fired Up! Missouri"4, the Missouri state legislature was lobbied by U.S. Senator Christopher "Kit" Bond (R-Mo.) to appropriate $12 million in federal stimulus funds for the project with $10 million for renovation or construction of a new building and $2 million for developing backhaul.
As reported in the St. Louis Beacon, the effort was the beneficiary of a $1 million federal earmark requested in the U.S. Senate appropriations bill for fiscal year 2010 by Sen. Bond "for oversight, management, travel and outside support for the Midwest China Hub Commission whose Executive Director is Bond's own former Chief of Staff, Jason Van Eaton who left Bond's staff amidst embarrassing disclosures of lavish spending of public money for travel to Asia and far more serious concerns about his pivot role in removing U.S. attorney Todd Graves.
Besides funding lavish travel for a former congressional staffer whose past includes taxpayer outrages over travel, a cargo director at the airport receives about $150,000 per year - at least 50% more than pay for a comparable position for a major U.S. airport operator – including Los Angeles World Airports and the Port Authority of New York & New Jersey, operating two top twenty cargo airports each.
Yet the "big idea" folks think that air cargo development at the 39th largest cargo airport in the U.S. is worth at least $50,000 per year more than a similar position at the largest U.S. airports. The sheer audacity of "big idea" champions is further revealed in their including up to 27 million square feet of additional area warehouse space for well-connected local developers to extract additional corporate welfare, including a developer who failed to provide acceptable returns on past incentives. Those 27 million square feet contrasts with regional hubs of FedEx and UPS – much larger than anything St. Louis could achieve – which require only 300,000 to 500,000 sq. ft. With a target of 8 weekly international freighter flights, St. Louis' cargo facilities need would be closer to 100,000 to 200,000 sq. ft.
The audaciousness of St. Louis' bid to rip off taxpayers statewide is particularly galling because provisions exist for St. Louis to make an earnest bid without disgracing itself. Airports operate in a closed funding loop, in which airport-generated revenues are restricted from being diverted off-airport with the caveat that they should also be self-sustaining, rather than depending on local taxes from constituents who may not use the airport. Airport operators submit to a rigorous long-term master plan and land use planning process that ensures its forecasts must be credible with both the Federal Aviation Administration (FAA) and its tenants, who presumably know the industry. Cargo facilities may be developed by the airport operator, itself, using its internally generated revenues and favorable bond treatment or by partnering with private cargo facilities developers. The ability to attract funding for such development and private partners is an excellent test of the worthiness of expansion, especially when an unprecedented surplus capacity of on-airport cargo facilities already exists. Yet, St. Louis apparently needs to circumvent the vetting of the FAA, of its airline tenants and especially of analysts not already in the pocket of their "big idea" cronies.
Rather than merely revise the scale of this project, Missouri should recognize that it has been hoodwinked so badly that not only should the State abandon consideration of future funding, it should seek to recover what has already been wasted. Legislators and state bureaucrats, as well as members of the media who lazily parroted talking points, should repent for having so carelessly treated a potential obligation of hundreds of millions of taxpayer dollars, even as so many much more worthy priorities confront Missouri.
Michael Webber
Editor's Note: Michael Webber is the president of Webber Air Cargo, Inc., a consulting firm primarily serving cargo planning needs of airport operators and civil aviation authorities. While U.S.-based, he has completed multiple projects in Asia, Africa, the Middle East and Latin America. On a consulting basis, he previously managed cargo affairs for Airports Council International – North America. He has recently completed cargo assignments for airport operators in Chicago, Los Angeles, Miami, New York, San Francisco and Vancouver, and has additional assignments underway for the City of Chicago Department of Aviation, the Miami-Dade Aviation Department and the Alaska International Airport System. Webberaircargo@aol.com