Saudia Targets Top Cargo Position
No, it is not the temperature in Saudi Arabia, where the 2012 summer sends the mercury soaring every day.
Right now Peter Scholten, VP Commercial, is at work, part of a dedicated and determined team that is building Saudia Cargo, one of the great, pioneering, legacy carriers of the world.
Saudia Cargo is on the move, and with one of the largest passenger and cargo fleets on the planet, it is well underway to becoming a global force to be reckoned with.
But first, a bit of background…
Saudia Cargo headquarters are located in a handsome high-rise building on one of the main roads into downtown Jeddah.
Jeddah, Saudi Arabia, it should be mentioned, is quite unlike many of the newer cities of the region.
Where similar destinations are glitz, glamour, and a heavy dose of the go-go lifestyle—characteristics that have made the region a magnet for millions—Jeddah, on the other hand, seems more laid back.
Of course, Jeddah offers beautiful vistas of the Red Sea, modern high rises, multi-faceted bazaars that are fabulous, an absolutely fascinating old town that dates back thousands of years, and an ample number of historic sites otherwise.
And Jeddah is also populated with plenty of friendly folks who appear better than just well-off.
But Jeddah is also quite cerebral.
You can still imagine, despite the rush of progress and modern life in 2012, that Lawrence of Arabia would feel right at home here.
Although Sir Lawrence has not been seen in these parts for more than 80 years and today would probably be zipping around in a Maserati filled with petrol (at U.S. 60¢ a gallon) rather than on a camel, Jeddah has somehow held on to its cultural essence.
Life in Saudi Arabia revolves around the Muslim faith with prayers occurring five times a day; the act itself becomes a time for everything to stop, as shops shut down so the faithful can head for the Mosque.
Throughout the day we noticed small groups of Muslim worshippers in malls and small enclaves on the streets, even in hallways, where ongoing services could be heard over loudspeakers at prayer time.
The sight recalled the words in the King James Version of the Christian Bible –Book of Matthew, Chapter 18, Verse 20, which states:
"For where two or three are gathered together in my name, there am I in the midst of them."
For me, the immediate thought was that despite our differences, maybe all of us on this planet are in fact closer as people than we have realized.
Peter Scholten gets right down to business.
"One of the strong points for Saudia Cargo in 2012 is that, for example, while everyone is cutting capacity in China, we have actually been growing in that market, adding lift to Hong Kong, Shanghai, and Guangzhou.
"While the HKIA to EU and USA markets remain soft, our services via Riyadh connecting to EU, Africa, Middle East, and of course the Kingdom and other destinations are strong and growing.
"We are a big cargo airline into Africa, where in Lagos we fly a daily B747F and are preeminent there.
"The plan is to further add to our China capacity this autumn, perhaps as early as September.
"We are also operating flights for DHL into Dubai DWC and those flights are doing quite well in terms of increasing our offering to Africa and elsewhere.
"In terms of choice we're one of the players in the global arena with great coverage in the home market, which is sought after by many exporters.
"We also offer great lift into Europe and elsewhere, but our ambition is to be bigger and better with much emphasis right now on service and better connections all around, and of course competitive rates.
"Saudia is becoming a much better air cargo resource than we were a couple years ago.
"Our business is growing and everybody knows it, including Seabury Group, which in 2011 pegged Saudia as "the fastest growing cargo airline in the world."
"We are also upgrading our facilities here at Jeddah, which will only act to improve our product capabilities and efficiencies.
"Recently we had a group of clients here from the Indian Subcontinent and Asia, shippers from a wide spectrum of the freight forwarding community.
"The reaction is frank and honest; our customers can see we are making progress developing our people and of course as mentioned adding new technologies as we invest in both facilities and also IT, even down to buying new pallets.
"So in a sense, we are building our offering from the ground up, bringing a new deal top to bottom to the global air cargo community from Saudia Cargo.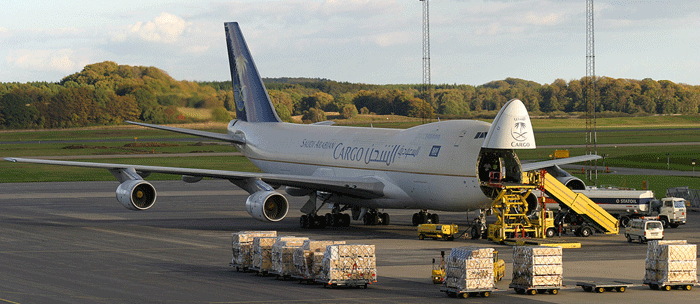 "One of the key indicators for us is the business we also do with the global forwarders who control so much of the market and in that respect, our business is building quite well.
"As a forwarders' resource, you must adapt and deliver the same quality across the board to both large and smaller companies.
"We are delivering the goods better every day, across the board."
Peter Scholten is closing in on his second anniversary as Vice President Commercial at Saudia Cargo.
Mr. Scholten has some 20 years global experience in international aviation and transportation management, including 14 years as regional VP on different continents for Martinair Cargo.
He has also worked on the forwarder side, having spent five years as Managing Director of Road Air Flora BV, a leading freight forwarding company in the Dutch perishable market.
He notes that coming to Saudia has been an experience like no other.
"My entrance here came at a time when management was determined to build the airline as other carriers both from the region and elsewhere in the world had emerged.
"The airline began privatizing various units in 2009, including cargo, catering, and maintenance.
"For me, the opportunity was immediately apparent, having known Saudia Cargo from the outside over the years, that not only was there huge potential here, but under the leadership of Fahad Hammad, CEO Saudia Cargo, there was also the dedication to make things happen with a spirited air cargo building program.
"Arriving here, I found that exciting, and that drives me forward today as we are building and developing new capabilities, destinations, and products as a focused, dedicated air cargo business division of the airline.
"There is a genuine spirit of dedication and clear focus on goals at Saudia Cargo, with the transparent line of a tight-knit team making things happen.
"This is an exciting and challenging place to be right now.
"Looking ahead into 2013, there will be more destinations and also new product offerings, such as the popular 'Belly Flex' offering that began earlier this year.
"Belly Flex delivers dramatic savings, offering an economic solution for non-critical cargo.
"Our main focus is on destinations from KSA (Kingdom of Saudi Arabia) for origins both served by freighters and our passenger network.
"Belly Flex rates can be shipment ex HKG or BRU on freighter connecting to CAI from KSA (Kingdom of Saudi Arabia), or on belly from BOM or LHE connecting on pax flight to IAD etc.
"Of course, we are also offering the rate for local cargo ex KSA.
"Transit time from KSA starts 24 hours after the actual arrival of a consignment at the hub, meaning on average, it is four to eight days from origin to destination.
"But cargo will be faster as space is available."
"We want to be a major player in this region and a factor across the international trade lanes, but our ambition is not growth simply for the sake of getting bigger.
"Today our cargo business is profitable and the Kingdom of Saudi Arabia is growing as well, so we see ourselves working in line with all the factors here to be as good as we can be.
"We are there for the long term.
"Saudia Cargo comes from the oldest legacy carrier in the region and is home to the largest economy in the Middle East.
"The economy of Saudi Arabia is booming and the young population is growing rapidly.
"Saudi Arabia is a G20 member and was very stable during the recent Arab spring.
"The government will invest some $400 billion in economic developments in the country in the next few years.
"For Saudia, our goal is loud and clear; we want to be amongst the top 15 players in the industry in the foreseeable future.
"We continue our journey and are very determined to reach our goals," Peter Scholten said.
Geoffrey/Flossie