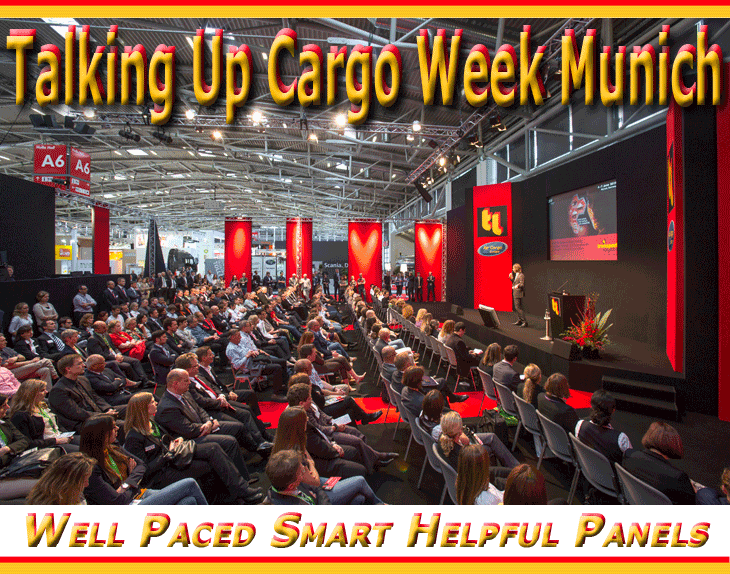 he one-day, one morning almost painless meeting sessions at Transport Logistics Air Cargo Europe last week, were as it is said, short and sweet, but also heavy with content, especially ideas toward innovation.
Against expectation of little concrete progress and attendance of only a few hundred of the thousands of people that had flocked to giant Messe Munich last week, "Moving With The Times" was stacked up neatly in two presentations compacted into about an easy hour apiece.
So against the probability you missed it, here is our take and some further thought.


But first Eugen Egetenmeir, Managing Director Messe Muenchen opened the conference and announced that an additional 120 exhibitors had broken the 2,000 barrier for display stands at the show for the first time.
That remark led to one comment that by starting at 0900 on Tuesday and continuing until the last hour on Friday when TL closed up shop, an attendee in order to properly visit all the stands would have to spend every minute on the show floor (taking an hour out daily for bathroom and meals) and would be only able to spend about 54 seconds at each booth in order to see them all.


Dr. Andreas Otto, Member of the Executive Board Product and Sales, Lufthansa Cargo AG delivered a short but powerful message to the industry, as always interesting in his "Meet The Trends" style of overview.
"We are facing unprecedented difficulties, including volatile markets, environmental requirements, night flight bans, noise protection, security requirements and taxes," Dr. Otto noted. "The situation has been exacerbated by oil prices, that have risen from USD$20 a barrel in 1991 to USD$110 a barrel in 2013."
Now there is considerable pressure on the industry to 'sweat' the existing assets. Asset management is a huge area of activity for LH but they plan to do more, we learned.
This includes management of products, people, IT, processes, price, capacity management and load factors.
"Each aircraft roundtrip is its own business case, including freighters.
"On the subject of freighters, the industry is now seeing a reduction in freighter aircraft due to the increase in belly capacity."
Filling the bellies has always been a more attractive proposition for the cargo line of business as the costs are largely paid for by the passenger organization with cargo paying for extra fuel, sales and handling costs.


"Lufthansa," Dr. Otto inferred, "feels the opportunity for digitization is a real chance for our industry.
"However, so far looking across the air cargo horizon, results are disappointing.
"The industry produced 22.4 million air waybills in 2012. Of these, eight million were potential candidates for e-freight but in reality 0.2% were flown as e-freight shipments," Dr. Otto said.
As example, Dr. Otto said, "take the progress of e-ticket:
"First e-ticket in 1994, 19% penetration in 2004, 100% penetration in 2008, a total of 14 years from start to finish.
""Compare that with e-freight, first e-freight shipment in 2009, e- freight penetration in March 2013 0.8% , according to IATA , with targeted 100% in 2015?"
Moving forward, Dr. Otto believes that the industry must embrace this way of doing business and not ask 'what's in it for me'?
Finally Dr. Otto outlined the e-strategy for Lufthansa building the business on a series of e-channels including e-offering, e-freight, e-pieces, e-spots, e-boarding, e-customs, e-tracking and e-disputes ending with the statement:
"In 2020 Lufthansa will be digitally networked with all participants in the logistics chain."


We hear the e-freight mantra and ask Patrick Murray, head of fast-rising IT resource Calogi, based in Dubai, for his take.
"I seem to remember IATA stating that the break-even point for airlines would be when oil reaches USD$70 per barrel.
"I fully agree that in the coming years we all need to do more with less and make far better use of not only of what exists today but carefully map where we invest in the future. "Meanwhile, I like the idea of each round trip being a business case and managing the organization at a micro level. This enables a company to react very quickly to changes.
"At a senior management level, one needs to have a view of the trends, but at the coal face the line managers needs to see the results on a day-to-day business.
"To do this they need accurate and timely information but most importantly they need to act on that information.
"Furthermore I would love to think that stakeholders would adopt e-freight because it is the right thing to do, but I can't help feeling that if investment is needed, then return on that investment inevitably needs to be justified.
"In our industry there are always 101 things to do and those areas that return the least for the outlay will continually be pushed onto the back burner.
"That being said, I feel there is real momentum with e-AWB and with the backing of FIATA we now have a real chance to make this happen.
"I, for one, will be pushing this with my customers.
"Finally it's great to see Lufthansa have a plan of action for e-business, clear areas to digitize and a mission statement that the organization can follow through to implementation," Patrick Murray said.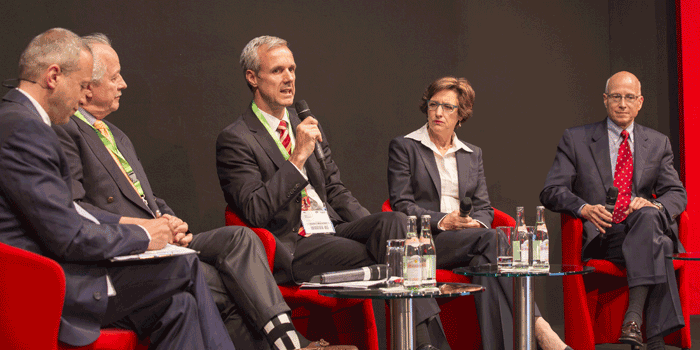 Bernd Maresch, Managing Director, Hans Mars as moderator was joined by panelists Lise-Marie Turpin, Vice President Cargo, Air Canada Cargo, Niko Herrmann, Partner AAD - Aviation, Aerospace & Defense, Oliver Wyman Prof. Dr. J. Rod Franklin, P.E., Managing Director, Executive Education Adjunct Professor of Logistics, The Kühne Logistics University, Didier Lenormand, Head of Marketing - Freighters, Airbus Central Entity.
The group wonders where and how air cargo might change to build load factors and break the grip of human controlled processes.
The proposition is on the table:
Is it time for a breakthrough, structural innovation, or must the air freight sector make do with small, incremental 'micro-innovations'?
Prof. Dr. Franklin opened the proceedings with a short recap of where the industry stood today.
While the efficiency of aircraft has improved dramatically in recent years, capacity remains unused, the cost of fuel has not reduced and there are many ageing and inefficient aircraft still in use.
Dr. Franklin said the industry is trapped in a 'bunker mentality'.
He suggested the following areas could be ripe for innovation:
"Systems suffer from a lack of integration; outdated technology and designs address yesterday's issues and are inappropriate," he said.
"Air cargo processes have not fully adopted modern lean approaches.
"They lack customer focus in design.
Dr. Franklin added, "people are not incentivized to innovate, and not trained in creative thinking, rather they are trained to be operational.
"Air transport companies are under pressure but have not upgraded their transport technologies, i.e. ageing and outdated equipment.
"Airport infrastructure is optimized for passenger handling and not for cargo handling."
The panel raised some interesting points in response:
More focus needs to be put on the value that air cargo brings to the communities.
IATA's current education campaign is a step in the right direction, was one remark.
Taking a broader sweep, another observation was that air cargo should look at what other industries are doing.
Another suggestion was that air cargo should change the mind-sets of our people to embrace technologies.
But it was pointed out that change is not necessarily accomplished in giant leaps:
Small innovations can really make a difference. Two examples we heard of, this day in Munich:
Example one was the local replacement of handheld terminals for barcode reading.
Large cumbersome expensive hand held devices with a battery life of six hours that required constant changing and recharging were replaced with a small application on a smart phone.
Example two: People would occasionally miss their train because of the queues at the automatic ticket dispenser.
The company developed a small application that resided on a smart phone that allowed people to buy tickets using their credit card, which removed the need to queue.
The message and advice from this panel is that the corporation should not bind air cargo innovation.
To be innovative, the industry must look at innovative solutions that can be done locally and cheaply.
Air cargo needs more balanced risk taking.
Takeaway from this session is that the industry has shown it can move quickly but only if it needs to.
Such had been the case with the implementation of AMS in the U.S. and ICS in Europe.
However to this point in 2013, there was agreement that much advancement in air cargo has been reactive and not proactive.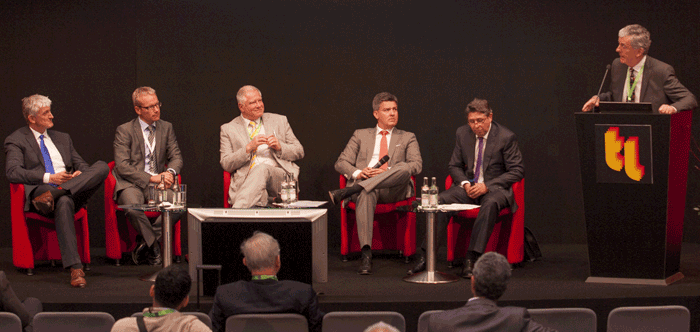 The moderator for the second and last panel was Simon Keeble, Publisher, The A-Z Group.
He was joined by panelists: Chris Welsh, Secretary General, Global Shippers´ Forum, Michael Schächer, CEO, Transport Transparency GmbH & ACG Air Cargo Germany, Patrick Murray, Head of Calogi, Mattijs ten Brink, Senior Vice President Sales & Distribution and Member of the Management Board of Air France KLM Martinair Cargo, and Jan Markill, Sales Director EMEA, Descartes Systems Group Inc.
Initiatives such as e-freight and Cargo 2000 continue to make slow progress, while information and communication technologies and channels have been evolving rapidly throughout business and society.
The focus of this discussion was set up around the proposition that the air cargo sector needs to ensure it is preparing for the next generation of messaging requirements, not the last generation.
Further with the expectations of e-consumers and retailers, for example, in terms of information exchange and the transparency of transport services, what information will consignees require the air freight sector to exchange in 12 months', five years' or 10 years' time?
And how well prepared is air cargo to deliver?


This panel felt that we could certainly learn from our passenger and travel colleagues.
For instance, the pax model for electronic ticketing guarantees 100 % penetration and very few data quality issues as the ticketing data is validated by the airline before the ticket is issued, unlike the current e-AWB process.
The panel also felt that the air cargo industry lacks transparency when compared to other industries, Shippers, in particular want to see more done by the airlines and forwarders and a far more proactive approach.
The question was raised: whether air cargo is preparing for the last generation of messaging requirements, or the next?
The panel felt that the content and quality of the message is actually more important that the format although it would be good to see convergence on one standard, i.e. XML, for all modes of transport including air.
Since single window providers have also embraced XML, members of the panel felt this to be the right move with some technology providers already supporting XML standards.
Migration however may take some time and maintaining two standards may be required after IATA withdraws support for Cargo-IMP. Finally the panel felt that e-business should really be the norm and rather than look for returns on investment, the message is: get with the e-program or risk being obsolete.


The panel felt it should not be left to IATA and Cargo 2000 to drive messaging.
IATA and C2K are there to provide standards and technology providers are responsible for adopting those standards.
However, business leaders must drive the implementation.
One school of thought suggested that C2K could perhaps promote the C2K Master Operating Plan to a wider audience.


Shippers still want to see far more transparency in terms of the information that is shared with them and service providers should be investing in these areas, the panel suggested.
For instance if a shipment is delayed or offloaded, the shipper should be notified and the recovery plan shared. Furthermore it is hoped that shippers will not need to exchange information in years to come and that electronic documents will be stored on servers that can be accessed via links. Some technology companies have implemented similar systems already.


This panel hit on a study commissioned by IATA that predicts that by 2017, 50% of passenger bookings will be made using smart phones.
It will be interesting to see how many air cargo bookings will be made in 2017, using this medium.
With a growing number of smart phone users in the world, the smart phone will become the medium for doing business.
Some airlines have recognized this and have already implemented track and trace for smart phones.
The consensus is that the air cargo industry cannot ignore this trend.
Again, back to Patrick Murray, who for the purpose of total clarity reminds us that he was part of Panel Two.
"Two interesting panels.
"I love the idea that we should embrace creative thinking and train our people to do so.
"Also I feel that we can learn from other industries such as retail, automotive and banking.
"Look at how easy it is to do business with them.
"I also believe that when we build new solutions and processes, many of the objectives should be focused on delivering what the customer actually wants.
"It is true to say that large corporations do tend to retain central control on spend, especially when it comes to solutions.
"However, allowing your local managers to prepare local business cases for the implementation of local solutions is a good idea and we have proven with Calogi, that can be successful.
"We do need to start taking some measured risks," Patrick said.


Looking back to the WCS in Doha that tipped off the air cargo show event season in what now seems an eternity ago (it was March 2013) and the presentation by Cargo Airport Services in which they described how they had removed paper from their import process by deploying tablets in the warehouse, no doubt this probably presented a certain level of risk, which they were prepared to take.
From the presentation, it looks like it has paid off.
Great for them.
As an industry air cargo needs to take a long hard look at how we share data.
Currently we have millions of messages being exchanged every year, and the data is replicated several times in a variety of servers.
"In the 'Brave New World' I truly believe that data needs to be housed and protected in very few servers, with access being granted to authorized companies," Patrick Murray said.
"For instance, the CITES organization could have a central database for all electronically signed CITES certificates and instead of issuing a certificate; they would issue an encrypted link to their server, which will allow access to the specific document.
"This is not new as some do this already.
"However, it will take investment and a will to change how we do business," he concluded.


Overall some very good messages, both on IT and otherwise, from a pair of air cargo panels last Wednesday morning in Munich.
Much on the table to share and learn from the takeaway, but now it is really down to the industry to prove that we do not have a 'bunker mentality', (although after Prof. Dr. Franklin utilized that phrase we kept wondering: "which bunker was he was referring to?") and that we can be as innovative as our colleagues from other industries.
Geoffrey