One of the greatest air cargo executives in history is Jacques Ancher of KLM.
When he retired almost 15 years ago, Jacques decided to never be heard from again in air cargo circles.
But Jacques has finally broken his silence for Malkin:
Dear Dick,

Congratulations; 100 years is a very, very respectful age.
You have been living and writing air cargo from the beginning and right from the center.
In our discussions we recognized the potential for our business in global trade, and tried 'to change the world.'
It is still there.
You are a brilliant listener and a great understander.
Thank you for the integrity and trust. Enjoy your birthday.

With kind regards,
Jacques Ancher

While we knew him, Malkin would often refer to "Shura."
Shura, it turns out, is Shura Bary, a West Coast-based public relations consul who also happens to be a first-rate writer. He recalls his lifetime friend:

Richard (Dick) Malkin, who celebrates his 100th birthday on June 27, is the unquestioned dean of air freight journalists. Dick was far more than a chronicler of the infant air cargo industry just after World War II, however.
He was a passionate believer in air freight as a transporter of all kinds of cargo to any point on the globe when air cargo was little more than a conveyer of emergency shipments.
Dick has lived to see air freight grow from tiny cargo space on a DC-3 holding no more than a few packages to massive 747-8s and 777-Fs carrying hundreds of tons of freight halfway around the globe . . . A business, which was too insignificant to be listed in government transportation statistics seventy years ago to a $100 billion industry today.
Dick has interviewed the greats of the industry in his long career.
They include John Emery, Sr., who founded the modern air freight forwarding industry, Fred Smith of FedEx who almost single-handedly created the air express industry, Larry Rodberg of Burlington Northern Air Freight who demonstrated that air and surface transportation could work together, and Guenter Rohrmann who proved to heavy machine companies like Caterpillar that air cargo was a reliable, efficient conveyor of industrial cargo.
Dick didn't interview only the greats of the industry.
He spoke to workers at planeside loading aircraft, to back office employees grinding out airway bills, to phone operators taking customers' orders on the telephone, all to get a feel of the industry from the people in the trenches who performed the day to day work of airlines and forwarders.
Dick is a quiet man.
He never loudly demanded information from the subjects he interviewed, but always got the story.
He could be seen at industry press conferences and meetings quietly chatting with executives but always asking them incisive, news-making questions.
Dick often knew more about the subject than the person he was interviewing, but rarely showed his knowledge.
In the classic tradition of responsible journalism, his job was to obtain information, not proffer his own thoughts.
In his long career, Dick was first and last an air freight journalist.
He was interested in other subjects, but primarily as they related to the subject of air freight.
His Rolodex file probably contained the names of more men, and later, women, in the industry than anyone else.
Cargo publications came and went but Dick seemingly went on forever.
Living quietly in Floral Park, NY, today, Dick is the grand old man in air cargo.
May his wisdom, understanding, and skillful writing be replicated in younger journalists today.


One of the all-time greats in the global air cargo industry is Bill Boesch, who served as top cargo executive at Pan American Clipper Cargo and American Airlines, and who was elected to the TIACA Hall of Fame last month in a ceremony in Dallas, Texas. He also most recently served the U.S. military, saving thousands of soldiers' lives in Iraq and Afghanistan.
Bill wrote this about Dick Malkin:

Richard Malkin is 100 this year.
Born in 1913, he landed on earth just about a decade after the Wright Brothers first flight at Kitty Hawk in 1903.
He was born at the dawn of aviation and has lived through and been part of an astounding series of aviation firsts of the 20th and 21st century.
Richard was alive when it all happened. Although just a kid at the time, he saw the development of air power in WW I.
He was alive when the first official US airmail flights operated in 1918 and when Lindbergh emerged suddenly from virtual obscurity to instantaneous world fame as the result of his solo non-stop flight on May 20–21, 1927, made from Roosevelt Field located in Garden City on New York's Long Island to Le Bourget Field in Paris.
Richard grew up during the age of the giant airships and was still quite a young man at their demise with the Hindenburg disaster on Thursday, May 6, 1937, as the German passenger airship LZ 129 caught fire and was destroyed during its attempt to dock with its mooring mast at the Lakehurst Naval Air Station, located adjacent to the borough of Lakehurst, New Jersey.
Richard Malkin was a teenager at the dawn of commercial airlines when Pan Am started flights in 1927, and was in his 20s when Clippers flew to Europe, South America, and Asia.
Richard Malkin was writing about air cargo when Howard Hughes flew the Spruce Goose on November 2, 1947, and was eyewitness to the major aircraft developments during and immediately after WWII.
He witnessed the Berlin Airlift, and at times was even there up close and personal from June 24, 1948, to May 12, 1949.
He covered the dawn of the air cargo carriers after WWII, like Flying Tigers, Slick, Seaboard, and others.
He was aboard the first flights at the dawn of the jet age with the first DC-8 flight in 1967.
He has written about the air cargo industries effort to supply our troops in Korea, Vietnam, and lately in Iraq and Afghanistan. He saw the oil embargo and the increase in fuel prices that changed the airline industry forever.
Airline deregulation in 1978 appeared in his writings, as did the closing of the USA CAB, and the impact that change brought to aviation.
Richard Malkin reported the first B747 flown by Pan Am (flight 845), operating as a scheduled international passenger flight between Los Angeles, CA, and Tokyo, on July 30, 1971, and then he witnessed the first cargo B747F shortly after that as Lufthansa changed the air cargo industry.
Many of the great U.S. airline companies failed during the Richard Malkin years, including Eastern, Pan Am, TWA, Seaboard, Flying Tigers, Northwest, etc.
Present at the dawn and tracking the growth of the express industry with Federal Express, Richard told us of the exploits of Fed Ex, UPS, Emery, and the USPS.
The Richard Malkin era in air cargo even extended into step changes in the industry as a result of the computer and IT systems.
He was also with us when terrorism shuffled the deck and changed the airline industry after 911.
Malkin witnessed it all and when you think about it, for many years he lived the things that many of us only read as the history of the airline industry.
Those times must have been truly exciting, just as it is for Dick Malkin to be 100.
Happy Birthday Dick Malkin!


Before his tenure as Cargo Development Manager for The Port Authority of New York & New Jersey, Jim Larsen was at Seaboard World Airways; he is the ultimate air cargo guy who knows the business from the ground up and was present at the creation of many aspects of modern air cargo.
Today from his home near Lakehurst, New Jersey, where he keeps a weathered eye out for air cargo, he shares a moment about Richard Malkin:
I didn't really get to meet Dick until 1990.
By then his career was, more or less, winding down, but still I was fascinated with this man who, to me, had joined the air cargo industry in its infancy.
At that time the Berlin Airlift was something everyone knew about, but to have actually been there and taken part in it would have been the fulfillment of a dream.
Since then I read his books and have had a growing admiration for Dick, the pioneer.
Keep flying the cargo routes, Dick.
See you along the way!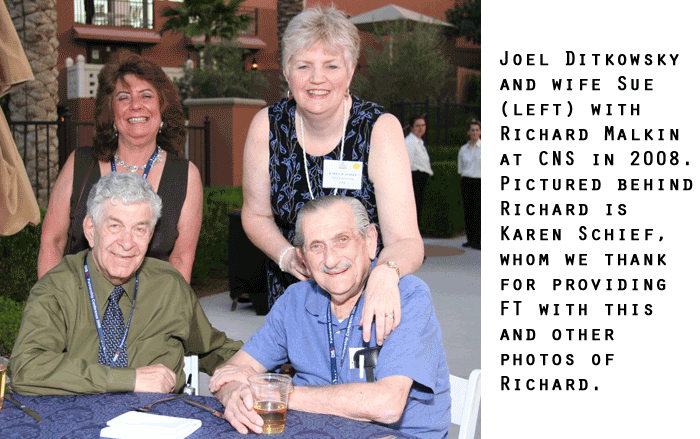 Joel Ditkowsky is a pillar of the New York cargo community, having served as long time Chairman of the Board of The JFK Airport Customs Brokers & Freight Forwarders Assn., and the Regulatory Compliance Director of The Long Island Import Export Association.
At heart he is a Customs Broker, whom we recall spending happy hours with in the old JFK Cargo Building, long ago, when we were pushing our newspaper.

What can I say about Dick Malkin, other than Blessed Happy 100th Birthday and 200 more to a wonderful gentleman that I was introduced to a long time ago, by my dear friend Tony Calabrese, who founded and then led Cargo Network Services (CNS).
It was at my first CNS Partnership Conference where I met Richard Malkin.
What a blessing, and what a talented writer you have always been for all of us in every part of air cargo.
At our first meeting I mentioned to Dick that I was the regulatory freight brokers global services customs compliance director, and that I formed my own customs consulting company called Customs Compliance Consultants, Inc.
Dick was wonderful, and was very helpful in writing articles that appeared in the CNS Focus Magazine talking about me, my background, my current ventures and future goals.
Dick came through big time, as his articles focused on me and made me sound (believe it or not) super intelligent.
After three articles, I advised Dick that I would adopt him, but he politely declined.
Richard Malkin, in my opinion and most others in the industry, is one of the most learned individuals any of us will likely ever meet in air cargo.
Today in 2013 I must admit I miss meeting Dick at his diner, close to his home, as most of the interviews he conducted were done at that diner.
Again, Happy Birthday Richard Malkin!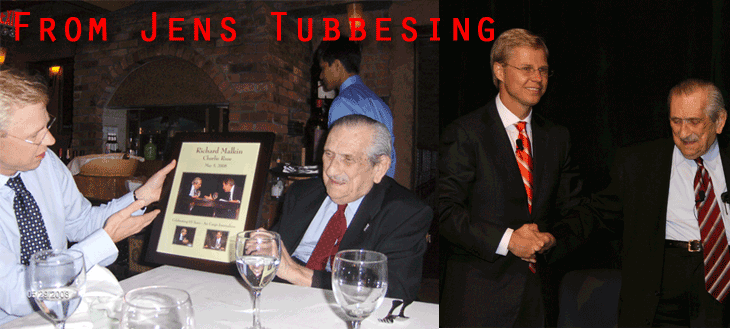 Jens Tubbesing, Immediate Past President of IATA Cargo Network Services talks about "my friend, Richard Malkin."
I have known Dick since 2005 when he first interviewed me prior to joining CNS for The CNS Focus Magazine.
As always, he was well prepared and his questions were thoughtful and detailed.
I on the other hand tried to wing most of my answers.
We came to one specific question and I was using a lot of words without really saying anything.
His response to me was: 'well, you clearly do not know much about this subject, so we will leave this question out of the interview…'
As with most people he interviewed, once the final article came out, I was amazed how brilliant he made me look in the end.
When I became CNS president in 2006, Dick was still the editor of CNS Focus Magazine and we began to work very closely together.
Our discussions ranged from topics for the magazine to the content of the annual CNS Partnership Conference.
It was always quite enjoyable when we discussed the person we planned for him to interview for an upcoming issue.
One of his key questions was always:
'How much experience does the person have in air cargo?'
When my reply was anything short of 30 or 40 years, Dick would say: 'not sure if the person does have the necessary industry knowledge yet…'
Our friendship grew stronger after CNS.
We both got booted out and shared a common bond.
When we now meet at his diner near his home in New Hyde Park, New York, it is quite astonishing how close he still is to our industry and how much interest he shows in my new venture as a GSA.
I truly enjoy asking for his input and advice, as his responses are always very profound and thoughtful.
Dick is a perfect example of an educated, cultured, and genuinely kind person. Conversations with him range from work, to music and literature, to family.
Never once has he not inquired about the well being of my children and asked about my oldest son's saxophone play.
He truly inspires better behavior, education, loyalty, and friendship.
Of all the people I have gotten to know in our industry over the years, nobody has the character of Dick Malkin.
I am very honored and humbled to call this man my friend.
Happy 100 years Birthday, Richard Malkin, and many, many more!"
Dick is one of the most amazing people I have met.
Having only known him for a couple of decades, I have always been more awed by his stamina and passion for the industry, which has kept him going all these years and still very much a journalist 'til late.
"What a marvelous life he has led and the stories that he has about our industry are just fascinating. I have always loved sitting down late in the evenings with him to listen to his life experiences and the wonderful insight he has had into our industry.
Dick is an inspiration and I was honored and extremely proud to be inducted into the TIACA Hall of Fame with him.
I wish him all the best and a very Happy Century Birthday, and wish him many, many more to come.

Congratulations, Centenarian Dick Malkin! And thank you for being among the first to develop a narrative for air cargo!

Dave Brooks (retired)
President
American Airlines Cargo

I can only think of a couple of people who have made a continued, dedicated effort on behalf of air cargo during a lifetime effort.
Richard Malkin leads that effort and at this time as he reaches an incredible 100 years of age, we send our deepest, most sincere best wishes for a glorious celebration of his centennial birthday and our hope that he celebrates many, many more.
I was just a start-up in the USA; a small fish in a big pond with EMO Trans, when he interviewed me back in the early 1970s.
I recall that he was quite prepared, but also patient and even suggestive to the point where post-interview I felt I had come away with valuable information that would be helpful to me in my business.
I also remembered that when the story appeared, he referred to me as 'the dedicated, smart, youthful executive.'
Those words made me feel even more confident that my effort in air cargo was indeed on the right track, something in fact I have carried with me ever since.
His writings over the years have had an enduring impact and meaning to many of us in air cargo.
So in addition to Happy Birthday Dick, thanks from Jo Frigger, just one of your many fans worldwide."
Jerry Trimboli has been an air cargo man for most of his life.
But during the era when he served as top U.S. executive at SAS Cargo and then of his own company Interjet, Jerry was instrumental in supporting and building organized USA cargo organizations like CNS and others.
Jerry Trimboli is a giant figure, an expansive, forward-thinking top executive during the formative years of modern air cargo.
Here Jerry talks about Richard Malkin:
Dick Malkin occupies a unique position in air cargo history as the first and most prolific spokesman for an entire industry as it grew up.
His writings about our industry were a major driver that rallied the entire air cargo universe during the first fifty years of our industry.
Richard promoted air cargo with incomparable skill and plenty of heart and soul.
Dick was, to many of us, an honest, sincere and trustworthy person who was always willing to help.
He truly earned the respect of everyone in our industry while he was active, but now should also be remembered in the new cargo century for the standards he set for air cargo journalism.
As to my career, he assisted me whenever we talked.
Dick was like a brother to me.
He always had my back and was helpful with any need, including offering advice and comfort.
He is a distinctly American man who has lived amongst us now for 100 years, following a rule of life once described by Mark Twain:
'Always do right,' Twain said.
'This will gratify some people, and astonish the rest.'
So Happy 100 Years, Richard Malkin, from someone who has admired you from the first time we met more than a half-century ago.
I am ever so grateful to be able to tell you as you reach this amazing milestone, that I love you.

Joe Berg, a dreamer and a doer who graced the air cargo industry with his intelligence, charm, diligence, and hard work for half a century, and by any measure can be counted as part of that small cadre of true pioneers of the form of air freight forwarding, is alive and well and living in Stamford, Connecticut.
Joe once operated a Connecticut company called Air Express International "Wings & Wheels."
Along the way, he changed the way the world did air cargo forever.
Although the song of a grand lifetime career has ended, the melody lingers on.
Here Joe sends out a greeting to the old reporter.
It's nice to hear that I am not the last of the old lot still alive.
I still have a few years to catch up to Dick.
We share today an unfortunate handicap. We are both deaf as a post.
I can recall Dick attending any number of meetings with his cupped hand to his ear.
I always wondered how he was able to follow the various speeches.
To the small group of dedicated air freight men with emphasis on the international aspect of the trade, he was an excellent spokesman. I trust he still wears a moustache.
White, I presume, and not dark black as before, here are my best wishes as he enters his second hundred years.
Tony Calabrese served as the first President of IATA's Cargo Network Services (CNS).
Here, Tony recalls a half-century of friendship.
As Dick Malkin celebrates his 100th Birthday, it is important to recall that three quarters of that time was devoted to the cause of Air Cargo.
I have had the special honor of his friendship for more than 50 of those years.
But that does not make me any more special than the hundreds of individuals who came, by purpose or accident, into a new and rapidly developing industry .
Over the years Dick not only kept us informed, but influenced the development of our careers.
Airline or agent executive, he was often the behind-the-scene author of our speeches.
His interviews always turned out better than the material we provided and he never exposed our failings.
At CNS we were fortunate that Dick was available to shape and guide the early development of our magazine, CNS Focus.
And, although he cautioned us early on about the idea of an Airline/Agent Forum, The CNS Partnership Conference, he stood up to every task and made things much better by his kind advice and constant presence as a major contributor to the CNS Partnership Conference.
His surveys and analysis gave CNS new insights about the world of air cargo, which enhanced our programs.
Dick Malkin's love for this industry has touched us all.
I wish him a most wonderful 100th Birthday.
Wow, 100 years young. That is how I can describe Dick. He has been a good buddy and is the original air cargo guy of our industry. He helped me make decisions. I am 10 years in retirement and you have made me think back.
I met Dick when I decided to leave Air France for Philippine (PAL) Airlines, way back. PAL was located in the KLM Building on 5th avenue and 49th street. Dick had a special relationship with KLM; you can see a nice collection of Dutch houses in his living room.
By the way, he also has a wonderful collection of classical records, too.
I met Dick at a luncheon and we talked about PAL and Air France. He told me that REA Express was going to go into air cargo, and I should talk to the VP International, another Dutchman, Visser. So I did, and joined them and helped to put together the air cargo sales group. When the company was bought by a few over the road guys, I was made Assistant Vice President of International. I put things together. Not happy after some time, I made contact with Kuehne and Nagel; Dick told me that this was a great and very large company and I could do well there. So I took his advice and moved to K+N as VP Air Cargo USA.
Dick said I should join the Wings Club, which I did. We had nice lunches together and I was always amazed at what he knew about the industry. Of course he was the first to report on air cargo in a new magazine, called Air Cargo. He and a consultant friend introduced me to the chairman of Aircontactgruppen, based in Oslo, Norway. That meeting had me open Aircontact Inc. as President. A few years later I was approached by the Virgin Group, met Richard Branson on his Thames River boat, and joined the new airline. Dick said they could go places, but was not sure if they could compete. Well it seems they did. I joined them and moved up to President, Cargo.
I think that Dick had a great influence for me. Here was a true air cargo person who knew everyone in the business. He had the details and the info to tell the story of our great industry. When we talked he always was so proud of his Hollywood son and his daughter. I have not talked with Dick for a long time. I am so happy for him to be recognized by the industry, and to hit the 100 mark, God bless.
I hope he remembers everything he did for me.

For several decades during the 1970s onward until the mid 1990s, Pat Phelan was not only the top air cargo executive from Aer Lingus in USA, but because of his involvement in various industry organizations such as IATA and especially Cargo Network Services (CNS), Mr. Phelan was also a global air cargo pioneer and leader.
Here Pat shares some thoughts about Richard Malkin.

Richard Malkin has had a special, long-term association with Ireland, commencing in 1955 when he was grounded at SNN due to bad weather.
He was made an Honorary Fellow of the Irish International Freight Association (IIFA) in 1978 and he returned to Ireland for the last time in October 2003 for an (IIFA) reception at Dublin Airport.
During this visit Richard was also Guest of Honor at Shannon Chamber of Commerce, in recognition of his contribution to the area and his involvement in the development of the Shannon Free Zone.
Dr. Brendan O'Regan the first Chairman of Shannon Development and a very good friend of Richard, was also in attendance.
Personally, I would like to wish Richard a very Happy 100th Birthday with his family and I know that his many friends in Ireland would want to be remembered and to say thank you for his friendship and support of the industry over the years.
I will offer a special prayer for his intentions on the 27th.
Thanks for the memories, Richard.
God Bless you, and peace and happiness always.

When Japan Airlines first flew their B747 freighters, the blue ribbon route was Tokyo-New York.
The top executive who made that run a success was Eugene T. "Buz" Whalen.
Buz served as V.P. Cargo the Americas at Japan Airlines Cargo.
During his tenure he was also a go-to guy for all things air cargo, including the building of CNS. We recall some long conversations when he helped TIACA come back after The Society of Automotive Engineers (SAE) had decided to shutter that organization.
Today long retired from the airline business, Buz still carries a bright, clear vision of a reporter who later turned out to be a good friend.

Dick Malkin's name was as much a part of the air cargo reporting business as any other person I can think of in the overall field.
The article in FT dealing with the Berlin Airlift sparked my memory of Dick since I believe his coverage of the event was perhaps his first.
And he never stopped!
Every now and then I pull out an interview from April 1994, a few years before I retired, and I re-read it one more time.
It was factual, to the point, and was an accurate description of the state of the business at that time.
Dick was a master of weaving up-to-date happenings with previous statements, regardless of how long ago they may have been made, which shows that a marvelous sense of recall was part of his MO.
Any time with Dick was time well spent.
His propensity to use fifty-dollar, almost poetic words to describe every day happenings drove some readers to their dictionaries for clarification and was very educational to say the least.
The well-worn list of topics he used to guide the interviews never seemed to be redundant since the core problems of our business barely changed from year to year.
Dick was/is a master writer and wordsmith.
My very best to Dick on becoming a member of the 100+ club.
Dick, keep them flying and keep on weaving your stories.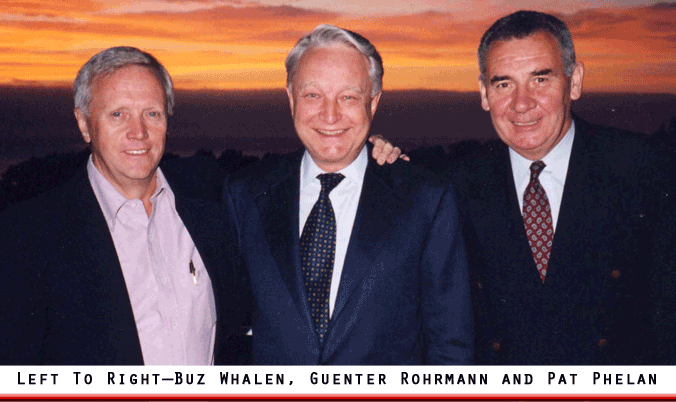 Finally, Guenter Rohrmann chimes in with some insight and recollections of his long and eventful friendship with Richard Malkin:

When Charlie Rose interviewed Dick at the 2008 CNS conference, he asked Dick, 'how did you get to be 95?'
Dick's quick and witty answer was 'I had to be 94 first.'
After a tribute to Dick at the celebration for him covering our industry for 60 years, in an interview with Bill Armbruster, Dick said 'I plan to keep writing about the industry and will return for another tribute 10 years from now.'
Here we are in 2013.
Dick Malkin will turn 100 on June 27 and he loves to talk about air cargo and its people.
Dick, Happy Birthday and happy returns of the day.
I wish you all the very best.
It is comforting to know that your son out in California and your daughter here are taking good care of you.
You have been a good friend in business and a special friend to me personally for more than 25 years.
When I first came to the USA I quickly found out that you were the person to turn to if one wanted to know what is going on in our industry.
You surely knew a lot about AEI.
Special thanks to you for the book you wrote about the history of the company.
However, the forever lasting memory about Richard Malkin for me is your reporting of the Berlin Airlift.
The entire operation is best described in Richard Reeves' book, Daring Young Men.
You accompanied the crews on many trips between Wiesbaden and Tempelhof and reported your experience back to the American people.
Great and unforgettable job.
Dick, I will always have the highest respect for your work and your integrity.
I am looking forward to our next luncheon in your beloved diner.
I love you, man.