Gentleman Peter Pioneered
Peter Sedgley has been a friend of mine for 20 years, so I will miss him personally, as will many of us who are not directly part of Emirates SkyCargo.
"He will not be forgotten.
"As to our SkyCargo business, his loss will be a severe blow.
"His client relationships and technical know-how have been outstanding.
"But Peter will be the first to say that, under Ram Menen, there remains a very strong team to carry Emirates SkyCargo forward as industry leaders.
Maurice Flanagan, CBE, BA, Hon.FRAeS, FRAeS, FCIT.
Executive Vice Chairman, Emirates Airline & Group.
Peter Sedgley, long time gentleman of air cargo, who has been situated in Dubai since the miracle that is Emirates SkyCargo began, has decided to pack it in and retire.
We all know that nothing lasts forever, but Peter is just such a decent individual: he talks straight and tells it like it is, and long after the formal honors and expressions of missing him have echoed away, he will still be missed.
It is rare that we meet people who are transportation from their socks up—those people who are inseparable from the industry they love and who go about their business as pioneers, defining how the job should be done for those smart enough to be watching.
Peter Sedgley pioneered, but he never drew much attention to himself.
We are lucky to have known Gentleman Peter along the way.
One particular incident stands out in our minds and easily defines that indefinable thing about Peter Sedgley.
We are sitting inside his new offices at SkyCargo Headquarters.
It is very difficult to see Peter leaving us after spending nearly two decades of working together.
More than a good colleague, he is a good friend to me.
Perhaps, we both have two different personalities but our relationship is based on mutual trust, understanding and respect for each other.
We discuss, share ideas and never formed committees to make decisions.
For the team, he is Uncle Peter.
His sense of humor and the subtle manner at times he uses his comments is amazing and will be greatly missed by all of us.
His pioneering efforts and untiring work is a total tribute toward his valued contribution of Sky Cargo's success."
Personally, I will miss him. He is a die-hard cargo professional. I wish him all the best and good luck with his retired life. He will always remain as a good friend and will be part of our SkyCargo family.
Pradeep Kumar, Vice President Cargo Revenue Optimization
Despite all the new trappings, Peter is relaxed (a "Mohair Sam," as the musicians often describe the mellow people) and is leaning back slightly in his chair. He suggests we interview a young lady named Budoor Al Mazmi.
"She is commercial manager at SkyCargo.
"She represents the future," Peter says.
Well we did—and she does—but the grabber in our story here was that Gentleman Sedgley was not about the new office, or himself, but instead was about gently pointing out a new direction.
"I shall miss his views about the birds, the bees and the world, which may not always be politically correct," said his longtime colleague at Emirates SkyCargo, Ram Menen.
"I will also miss having the quite enthusiastic discussions that always ensured everybody was in touch with ground reality.
"He is a one of a kind, die-hard cargo professional and is one of the best men to have on your wings, especially when you are flying by the seat of your pants."
Recent numbers show SkyCargo jumping upwards by some 38 percent, which forms a backdrop of resurging business activity just as Gentleman Peter has decided to call it quits.
We spoke to Peter about his long transportation career and future, and also about the experience of building an air cargo program from the ground up in SkyCargo.
"My last day here is on the first of August and it has been a wonderful ride," Mr. Sedgley said.
"I went into aviation whilst studying at University toward a degree in agriculture, but was also thinking about studying the law."
That was 1971.
"I wasn't really sure of what I wanted to do with my life but I was young, footloose and fancy free when the opportunity to work in aviation came up, and the excitement of the airport and glamour of the business was appealing enough so I decided to give it a try as a summer job and I've been in aviation ever since.
I have worked and played with Pete for nearly twenty years and it has been a hell of a ride.
I am very fortunate to be able to count Pete as a close friend first and a colleague second, I have shamelessly never failed to draw from his experience and knowledge and he has never failed to generously give me the benefit of both.
His grounded approach and ability to immediately see the wider picture has strongly influenced me and others who have worked with him.
Pete is very much responsible for the remarkable success Emirates SkyCargo has had and will continue to have.
He will be missed enormously, both as a leader and very much as a friend.
I believe his legacy will be felt long in to the future by us in SkyCargo and the many customers Pete has worked closely with over the years.
I will miss him more than I can say.
Dave Gould, Emirates Senior Vice President Cargo Global Operations
"My first job was at Service Air where I learned the ropes as traffic manager, duty officer and ramp basher.
"By and by I learned that Trans Meridian Air Cargo (which was, during the 1960's and 70's, Europe's biggest all cargo airline) was looking for an operations controller so I went there and that was my start in air cargo.
"They liked my work and asked me to go to their important Nigeria station and manage the entire lot in 1974.
Peter was the person who interviewed me before I first joined SkyCargo.
It has been a privilege to have worked under Peter and learnt so much.
I had the opportunity to grow and attribute a lot of my success to his guidance.
He was instrumental in SkyCargo venturing into the freighter business and Peter's wealth of experience and knowledge helped to grow this area of business.
I wish him all the very best and he will be missed very much.
Hiran Perera, Emirates Senior Vice President Cargo – Freighters
"It was quite a different experience - just after the civil war there was a wide open market with some illustrious character veterans of the Berlin Airlift in market, like Freddie Laker and Mike Keegan who I worked for.
"Mike Keegan was the "K" of BKS, a legendary carrier that later folded into BEA.
"But Mike, who was my boss at TMAC, had this philosophy - he would send promising talent to Nigeria and that's how he used to train his managers.
"From Nigeria, I moved to Muscat as TMAC general manager of the Middle East where I remained until 1979, when Trans Meridian merged with IAS Cargo Airlines to form the short-lived British Cargo Airlines.
"But the upshot of that was the new carrier (BAC) offered me a posting back in Nigeria, which I declined.
"Very soon after that, I joined up with a gang of people including Graham Pearce and others, and we formed HeavyLift Cargo Airlines (1978-2002).

"HeavyLift Cargo operated at London-Stansted with initially 5 Belfast Cmk.1 aircraft.
"Graham ran the commercial side and I ran operations.
"HeavyLift was a fantastic experience because you would get a phone call for a Belfast charter and would literally conduct every action of the movement, doing everything from loading the shipments to clearances.
"Later, they wanted me to start up HeavyLift in America.
"Cunard owned Heavylift (they had the money), so off I went to Houston, Texas, where I set up shop in the Cunard offices and later did about the same thing in Singapore.
"In Houston I met a fantastic character: Canadair CL-44, a Canadian turboprop airliner and cargo aircraft based on the Bristol Britannia.
"In 1981 I was approached by Saudia, just as the scheduled airlines were increasing their interest in air cargo.
"I reasoned that if I were to make a decent career of air cargo, I'd better move into scheduled service, so I joined Saudi Arabian Airlines, which was initially in London in 1981.
"But very soon after that they wanted me to go to Dhahran-based Saudi Arabia Airlines, where the head offices were located, to be in charge of sales (passenger) for the eastern provinces.
"I enjoyed the experience, but my preference being air cargo I moved back to UK to work at Tradewinds as they had B707F running schedules to, among other places, Chicago and Atlanta, in addition to charter work - moving horse charters (foals and mares) over to Lexington, Kentucky and carrying backhauls of race horse that we moved all around Europe and elsewhere.
"From Tradewinds I was sought out by The Saudi Tourist & Travel Bureau (STTB), which acted as GSA for a host of international carriers.
"One of the airlines we represented at STTB was Emirates, so I helped set up Emirates in Saudi Arabia.
"It was at this time that I met Ram Menen, who said simply, 'Why don't you came work for us in Dubai QED?'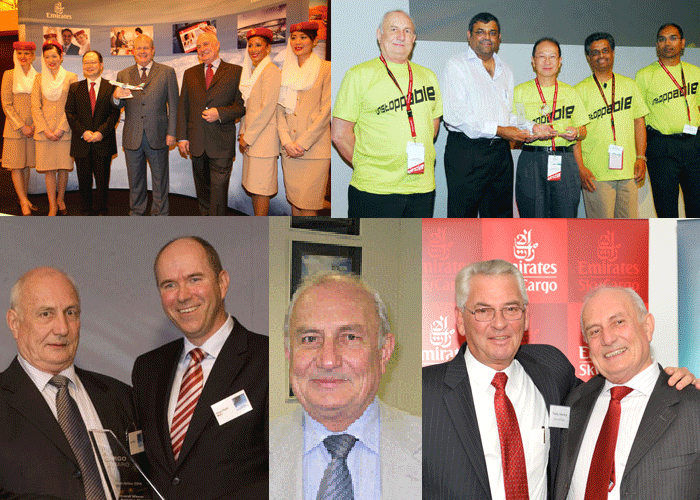 "So I came to work at Emirates on October 7, 1991.
"When I joined Emirates, the airline had about eight aircraft serving twenty-one destinations, and the rest is, as they say, history."
Gentleman Peter has spent many years on both the commercial and operations side of the air cargo business, but readily admits his preference for commercial.
"That is where the real challenge resides," he says.
Asked what he found upon joining Emirates SkyCargo in 1991, Peter said:
"It was very a small headquarters team, only about 20 people at the time.
"There were only (as mentioned) eight aircraft and three of them were B727s.
"We were basically a very small carrier operating on a regional basis."
Asked what he considers to be his greatest contribution to Emirates SkyCargo, Peter Sedgley replies:
"It has been an extraordinary experience to be able to contribute to the vision of Sheikh Mohammed Maktoum.
"To be part of that team as SkyCargo and also as Emirates as a whole and to have the opportunity to serve with like-minded people with a 'can-do' attitude who advance the values of simply wanting to be the best, has been extraordinary.
"Today, I can look out the window here at what seems an endless line up of aircraft and think of the immensely powerful brand that is now Emirates, and be impressed.
"What I shall miss the most is my team of people that I work with day in and day out who are highly professional and motivated and just great to be around."
Gentleman Peter departs Sky Cargo seeing continued change at the carrier, including a greater role for both women and also UAE nationals.
"Obviously, the makeup of staff will evolve as people like myself that were brought in to set up the airline move on in life.
"But, it is important to remember that today the success of Emirates is considerable because the makeup of this airline includes 153 nationalities.
"We are truly an international airline. And to have that cross-section of cultures makes you think that the ex-patriots are always going to be part of Emirates as well.
"Increasingly, younger UAE nationals are coming into the company and are writing great success stories of their own in an atmosphere of no discrimination, sexual or otherwise here."

Mr. Sedgley is a pleasure to work for as his door is always open to new ideas plus he allows people to do what needs to be done without any interference.
He is a great teacher and mentor, who guides gently with patience and understanding.

Budoor Al Mazmi, Commercial Manager, Emirates SkyCargo
But lest it be all just about 'the vision' in this beautifully candid talk with Gentleman Peter, when asked if there is anything that he wishes he would have done, the old pro declares:
"Nothing that you can print!
"I have enjoyed life and done many things.
"Maybe I should have paid more attention to my personal life, but I have always loved the work.
"It's been a happy time with a great bunch of people.
"Along the way, Dubai has grown into this metropolis and to see that is truly amazing."
Asked if he is done with air cargo for good after he turns the lights out for the last time at SkyCargo on August 1, Gentleman Peter leaves the door open just a bit.
"The past two years have been challenging, having to pull it all together with Ram and Pradeep (Kumar), to achieve our rise to number four international air cargo carrier in the world in terms of tonnage.
"For the past 19 years, my dear wife Stella has had to play second fiddle to the job, and I feel it is now time to pay some attention to the family.
"I shall take six months and settle in and get my life back together and then I'll have a think about what might lie ahead."
Asked about people who have impressed him, Peter Sedgley is quick to defer to almost everyone around him during his many years in the business, He points to Sheikh Ahmed (above right) as "decent, humble, caring and absolutely brilliant."
"Tim Clark (Emirates President, above left), is a genius of the airline business.
"Maurice Flanagan (above center) started it all and got things going and is a lovely human being."
He also points to "Graham Pearce, who was my best man, and Mike Keegan, who gave me my start in the business."
In terms of future direction for the air cargo business, Peter Sedgley sees the move to paperless cargo as requiring a collective effort.
"There is still too much legacy in the process," he says.
"As an industry, we must all work together to drive air cargo firmly into the 21st century by taking paperless cargo seriously.
"Same goes for ending the protectionist policies of governments that interfere with international trade.
"Dubai is totally open and look what's happened here."
We say farewell, but not goodbye to Gentleman Peter Sedgley.
Air cargo people like Peter will always be part of the industry we love.
He is a teacher and above all, a genuine friend to everyone.
Geoffrey