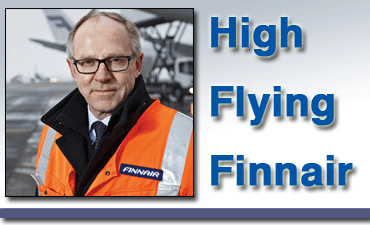 Finnair recorded a first-half net profit of €58.8 million ($67 million), a turnaround from a loss of €16.1 million versus same period in 2016.
The airline achieved the result on turnover up 7.4% year-over-year (YOY) at just under €1.2 billion.
Finnair CEO Pekka Vauramo said the airline was now growing at an accelerated pace: "We're very satisfied that the revenue contributions came from all our revenue streams," he said in an earnings call July 20.
Pekka Vauramo said Finnair had seen "very robust growth" in both its Asian and European services, although transatlantic and domestic services had been flat.
Finnair now has 10 A350s in its inventory, with one more to arrive later this year.
In addition, four leased A321s have been delivered so far in 2017.
Looking ahead, he said demand outlook for both passengers and cargo in Finnair's main markets continued to involve uncertainty, but that capacity would, as previously intimated, grow at 8%-10% this year, with that growth strongly weighted toward the back end of the year.