Rise Of Fall In Air Cargo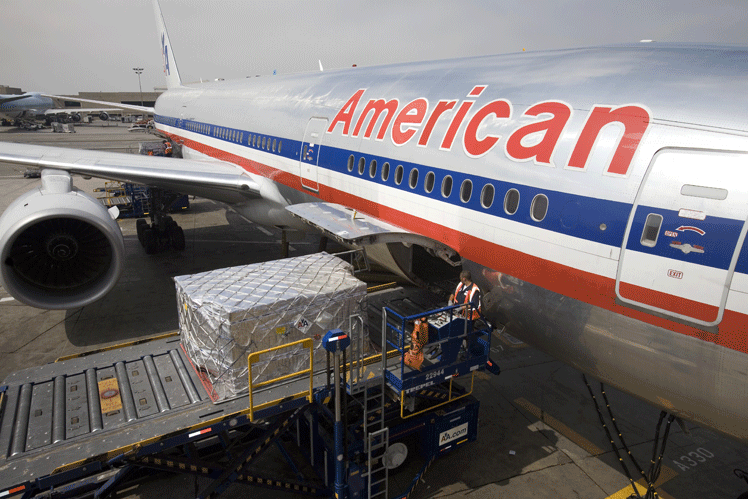 | | | |
| --- | --- | --- |
| Russi Batliwala | Ram Menen | Dave Brooks |
Dave Brooks—President American Airlines Cargo
FT: How has 2009 been so far?
DB: Business-wise, awful.
Beginning about a year ago, traffic started to stall at an accelerating rate. We tried to hold onto already depressed rates until the 2nd quarter, but then were forced to make very unrewarding rate adjustments owing to competitor folly and shipper pressure on forwarders.
When it came to pricing, it was equally painful saying "yes" and it was to say "no."
FT: What lies ahead for Q4?
DB: We'll see some inventory rebuilding, and some firming where freighters once were.
But we're at the mercy of our dumbest competitor when it comes to pricing and I'm not optimistic we'll see rates becoming compensatory this year.
FT: How does early 2010 look?
DB: We're always spooked when the new year's numbers come in, and I expect nothing different in 2010.
FT: What is something(s) AA Cargo has done to weather this business climate?
DB: We've had to close down a number of domestic airport locations and capture that traffic at lower cost shared trucking facilities.
Customers don't really see an impact but we've had to lay off nearly 400 employees due to lower freight volumes.
On a more positive note, we launched a new temperature controlled product called ExpediteTC which has been very well-received by the market.
The pharma customer group has shown more resiliency in this economy so we hope this product will help stabilize our volumes.

Ram Menen —Divisional Senior Vice President Emirates SkyCargo
FT: How has 2009 been so far?
RM: Given the economic challenges that the world is going thru, the lesser said about this year the best!! Our volumes have been quite flat compared to last year, which is not bad given the circumstance, however, the revenues are down in double-digit percentage terms.
Excess capacity with lower demand has created a competitive environment that the air cargo industry… in fact, the entire transportation industry… has never witnessed before. Interestingly these challenging times have also clearly established who our real friends and partners are. I am glad we have more good friends and partners and we are looking forward to a great future with them as we come out of these tough times.
FT: What lies ahead for Q4?
RM: The markets, so far, have done exactly what we had predicted and we are seeing some green-shoots, which we hope, will lead to a gradual turn around. At this stage we are still holding on from getting very excited and are hoping the current activity is not a short term one. I am a bit concerned about the current parity of the U.S. Dollar with other world currencies and the effect it could have on oil prices. Having said that I am still cautiously optimistic that last Q will be a lot stronger than last year and it will help us to come closer to parity after having tracked negative growth worldwide for the last 3Qs.
FT: How does early 2010 look?
RM: I am hoping that the recovery process will continue that by 1Q 2010, the air cargo market will be in positive territory compared to 1Q 2009. I expect the overall 2010 to be positive on 2009. This will take out the excess capacity in the market and we can all start seeing sustainable growth/existence. The worst is definitely over.
FT: What is something(s) EK Cargo has done to weather this business climate?
RM: Like everybody else, we have been on a major cost containment programme to ensure survival thru these difficult times. We have been working closely with our partners and customers to ensure that the quality of our product does not suffer in any way. In fact, with all what we have been doing, our product quality has been at its best ever. This has been achieved by optimizing efficiencies and productivity, which has also given us fresh cost efficiencies. We also rationalized our capacity deployment via reduced freighter operations. All in all, we have taken a long-term view and managed the short-term challenges as we are determined and will be there in the future.

Russi Batliwala—CEO, Chapman Freeborn
FT: How has 2009 been so far?
RB: 2009 has been difficult but we are keeping our heads above the water.
We have had to cope with reduced volumes, lower margins and increased global competition. That made the charter business tougher for us.
FT: What lies ahead for Q4?
RB: In air freight charter we see a positive trend in various locations. Transports from China to Europe are picking up, charter activities in and out of the U.S. are becoming more satisfying and Europe is getting stronger, too.
Generally, we do have a positive feeling for the coming months.
FT: How does early 2010 look?
RB: Unfortunately we cannot predict anything at this point.
So far we don't possess sufficient indicators for cargo charter demand in 2010.
Therefore, it's too early to predict the market environment next year.
FT: What is something(s) you have done to weather this business climate?
RB: We increased our creativity even more which led to enhanced tailor-made solutions for customers in different local market environments. Furthermore, we stressed our focus on global operations and enlarged our network by establishing a new station in Uganda's capital Entebbe to better cover the African continent.
An office we will set up in Johannesburg, South Africa soon will complement this.
In addition our Istanbul staff did a remarkable job by setting a foot into the Central Asian door where we were able to step up our activities continuously be it in Kazakhstan, Uzbekistan, Azerbaijan, or Turkmenistan.
Geoffrey/Heiner