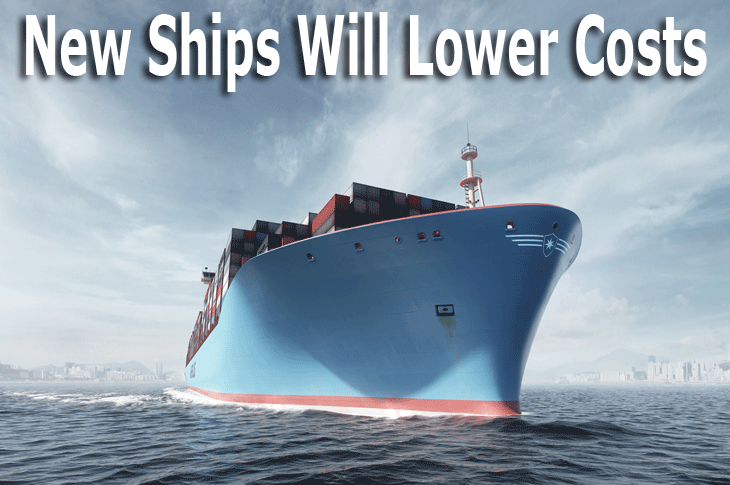 In many ways, the container shipping industry is Apple Inc.'s polar opposite.
Apple, for example, is famed for its profitability and commitment to consumers. By contrast, the shipping industry tends to lurch from financial crisis to (self-induced) crisis and when it does book a profit, it's largely at the expense of good customer relations.
Apple is also, of course, noted for its commitment to making its products smaller and faster. Here the difference is even more marked because container ships are not just getting bigger, they are also increasingly being designed to go slower.
Next year Maersk Line will launch a new series of what will be the world's largest vessels. The 'Triple E' ships will be deployed on the Asia-Europe trade and are some 400 meters long and offer a mammoth 18,000 TEU of capacity.
The 'Triple E' name is derived from the economies of scale, energy efficiency, and environmental improvements Maersk claims the ships will offer. As well as representing a sizeable jump in capacity, the ship's design doffs its cap to the slow-steaming strategies now deployed by most lines, which cut fuel costs and soak up excess capacity.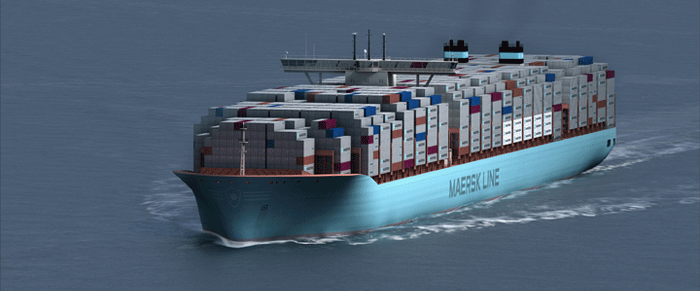 The top speed of the 'Triple E' vessels will be just 23 knots, less than the 25 knots top speeds common on the previous generation of container vessels. Maersk said fuel consumption per container would be around 35 percent lower than its previous largest ship, the Emma Maersk.
The Triple E marks a major change in direction because previously, maximizing speed was a major part of liner design as a result of the nature of modern consumer supply chains.
The first ocean-going vessels to break the 400-meter length barrier were the supertankers constructed to ship crude oil in the 1970s. Back then containerization was still in its infancy. The driving factor behind increasing container ship sizes has been the desire to reduce the cost per unit transported as demand to move cargo in boxes has rapidly increased.
"Higher speeds called for larger engines, which also meant that increasing the size of a ship would have to rationalize in the technical advances of diesel engines, machinery equipment, and hull form design," said Konstantinos Chatzitolios, container ships manager at vessel classification society, Bureau Veritas.
"In the last two decades, the increase in demand for containerized cargo and the technical innovation of 2-stroke engines, turbochargers, propellers and also optimization in hull form design, provided both the will and the means to increase container ship sizes, while maintaining the necessary speeds in an efficient manner."
This saw the 1996 launch of Maersk's "R" Class with 6,000 TEU capacity, which superseded its predecessor, the "L" class of 1981, by more than 2,500 TEU. Since then, the speed of development has proceeded rapidly as naval architects have become more adept at overcoming structural challenges. This saw the 1997 launch of the "S" class with a nominal capacity of 8,000 TEU, followed by the "E" class in 2006 with capacity of 12,500 TEU.
Container ships usually transfer high-end consumer products, which traditionally meant (pre-Triple-E at least) design speeds of between 24 knots to 26 knots were common.
"Fuel consumption for a container ship is a function of size and speed and has an exponential mathematical function for typical hull forms," said Chatzitolios. "An 8,000 TEU container ship will consume around 225 tons of fuel per day at 24 knots, but only 150 tons at 21 knots."
The benefits of slow steaming are, therefore, not difficult to compute, especially when capacity absorption and high fuel prices are thrown in. "Normal slow steaming ranges from 18 knots to 22 knots and can be achieved by container ships of typical hull form design and typical propulsive system," said Chatzitolios.
"Super slow steaming (15kn to 18kn) can lead to significant fuel savings."
There is every chance that the super-size, super-slow evolution of container ships will continue in the future, as lines look to further decrease per container slot costs and engineers find new ways to improve efficiency of ships steaming at ever slower speeds.
"Whether or not container ships will continue to grow in size will be once more decided by demand," said Chatzitolios. "There is no reason to believe today that the new technical challenges that may await us above the 20,000 TEU threshold will not be identified and appropriately addressed."
SkyKing