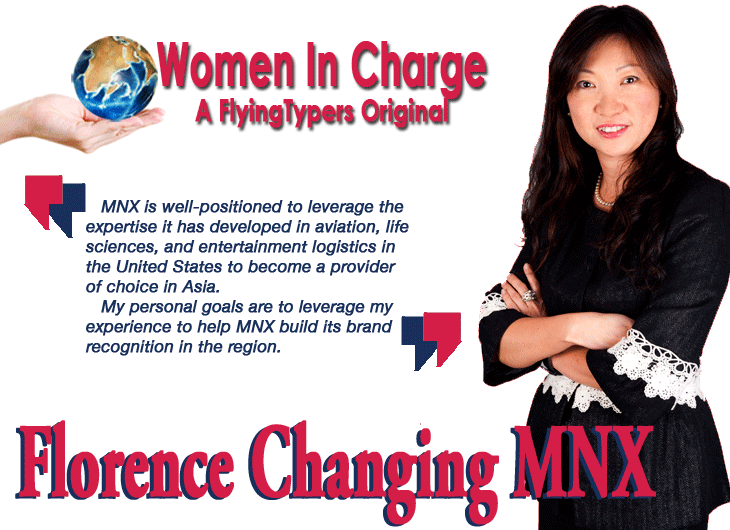 Talk about the best and the brightest . . . Florence Lee shines after her appointment as MNX Regional Director Sales & Customer Service for Asia Pacific this past summer, indicating equality is coming to Asia's logistics and transport industry.
Lee was recruited by MNX from DHL, where she was Asia Pacific customer manager for the life sciences, engineering, and manufacturing sectors. With ten years experience in the supply chain industry, she is now charged with expanding the expedited logistics service provider's sales and customer service infrastructure across the region. What's more, she has stepped up and met the challenge.
"In the past, most of the businesses conducted in Asia by MNX were in support of our multinational customer base from Europe and the Americas," she said.
"Today, we're seeing many of these multinationals basing their regional HQ or even their global HQs in Asia. And we're seeing many 'home-grown' Asian companies expanding domestically, throughout intra-Asia, and globally, which represents new market opportunities for MNX.
"MNX is well-positioned to leverage the expertise it has developed in aviation, life sciences, and entertainment logistics in the United States to become a provider of choice in Asia," she said.
"My personal goals are to leverage my experience to help MNX build its brand recognition in the region."
MNX has been recording double-digit growth rates in Asia in recent years, but the region still only contributes five percent of annual revenue. The company is now expanding its footprint by quadrupling its investments in the next 3-5 years and the appointment of key executives such as Lee is viewed as critical in that process.
"The perception within Asia right now is that MNX is primarily a specialist courier who only offers Next-Flight-Out and Hand-carry services," she said. "However, MNX offers much more than that. MNX has the ability to meet any customer's logistics needs: customizing services to satisfy required transit times, budget, terms-of-trade, inventory management and distribution, and fulfillment."
"In three to five years, I expect Asia Pacific to contribute over 30 percent of the global MNX group revenues."
In addition to Singapore, MNX has plans to rapidly expand operations across the region as it moves to become a wholly owned operating structure. The company currently has operations in Taiwan, Thailand, the Philippines, Malaysia, South Korea, Hong Kong, Australia, and Vietnam, and offices in Japan and India are due to open by the end of 2012.
Lee admits that after university graduation, she had no desire to pursue a career in the logistics field.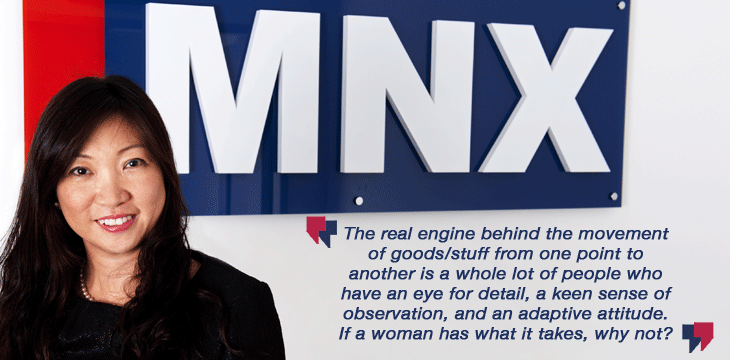 After several stints in various sales positions, she was looking to move into a role that offered more challenging opportunities with a global reach. The process started with IBM 15 years ago when she was tasked with designing a workflow process to manage the timely distribution of new product samples in Asia Pacific.
"This opened me up to a world of supply chain management and distribution, from manufacturing to final delivery," she said.
She then became well established as an executive of authority in the life sciences field. The position with MNX, she says, will enable further career growth.
"From a professional standpoint, all of my previous positions have been very focused on developing a global logistics network for a single industry sector (Life Sciences). This opportunity with MNX will allow me to further develop professionally and broaden my expertise into new market segments like aviation, entertainment, and media."
She admits the operations business of the logistics industry is still largely male dominated, but she believes at its most basic level as a service industry it offers a good career for women.
"I don't think that it is any more difficult for women to succeed in the front-end sales and business development part of the business," she said. "What we are selling is confidence and trust, an enabler for businesses to succeed and be more productive.
"I think that if you look at the business in this frame, then neither gender has a true advantage, and women may even have a slight edge.
"When I have customer meetings, I notice that there are more women decision makers out there."
We wonder if Florence would recommend the sector to women in her own family; she says each individual should pursue their own passion.
"If that passion is in services, in particular services tailored to helping businesses excel at what they do best, then yes.
"Cartons/boxes, containers, trucks, ships, and planes are generally found in a boy's toy box, but these are also usually associated with logistics. However, to me, these are tools in the logistics business to help others get their stuff from one point to another in the desired time and condition.
"The real engine behind the movement of goods/stuff from one point to another is a whole lot of people who have an eye for detail, a keen sense of observation, and an adaptive attitude.
"If a woman has what it takes, why not?"
SkyKing