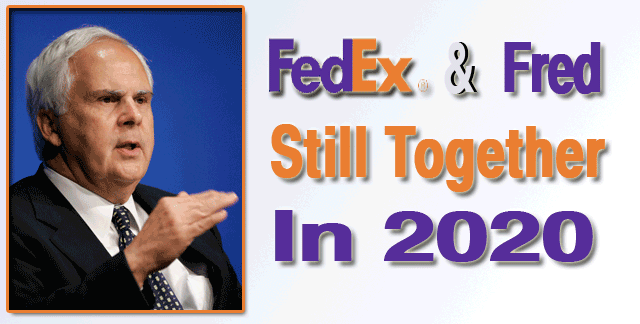 When FedEx let go of a reported $900 million annual business package with Amazon last year, eyebrows were raised.
Now finally admitting what most everybody else already knew, that Amazon is indeed a competitor, Fred Smith is at work rebuilding the overnight service that he invented.
FedEx CEO Fred Smith, as you read this, appears hot on the trail of focusing his business model into serving retailers that have not built out their own delivery network, and are also like FedEx, competing with Amazon for business.
Companies like Walmart, Kohl's, Home Depot, Target, Apple, Best Buy and others are now shipping increasing amounts via FedEx.
Walmart, as example, according to Rakuten Intelligence, is currently delivering 57% of its packages via FedEx whilst Apple shipments numbers for 2019 were put at 53%.
U.S. Postal Service is still a big partner with FedEx, but with nearly 75 billion USD in losses since 2007, Smith told the Wall Street Journal last year:
"The Postal Service is imploding.
"They need to cut service, reduce compensation for its unionized employees, and possibly ask the federal government for subsidies to deliver packages—all unlikely options," he added.

Build It They Will Come

FedEx has continued to beef up its capacity by more than 36 million square feet during the past five years, increasing sorting and delivery capabilities for its ground network.
Those moves, for one thing, have allowed the company to rely less on USPS.
As 2020 begins, FedEx has more than 680 jets and 180,000 delivery vehicles.


So where is the focus right now for Fred Smith who dreamed up overnight delivery, while studying at Yale, and then went on to launch Federal Express June 18,1971 in Little Rock, Arkansas?
Can Mr. Smith, who changed air cargo nearly two generations ago in 1971 become Mr. Smith, who does it again in 2020?
Fred certainly is not about to let go of the reins of the company he thought up just yet. He speaks of the need to watch what he does, not what is said.
Mr. Smith told WSJ, "In sports, business and the military, the only thing that counts at the end of the day is, what the score is on the board.
"We'll let the points be counted up at the end of the game," Mr. Smith smiles.
Geoffrey