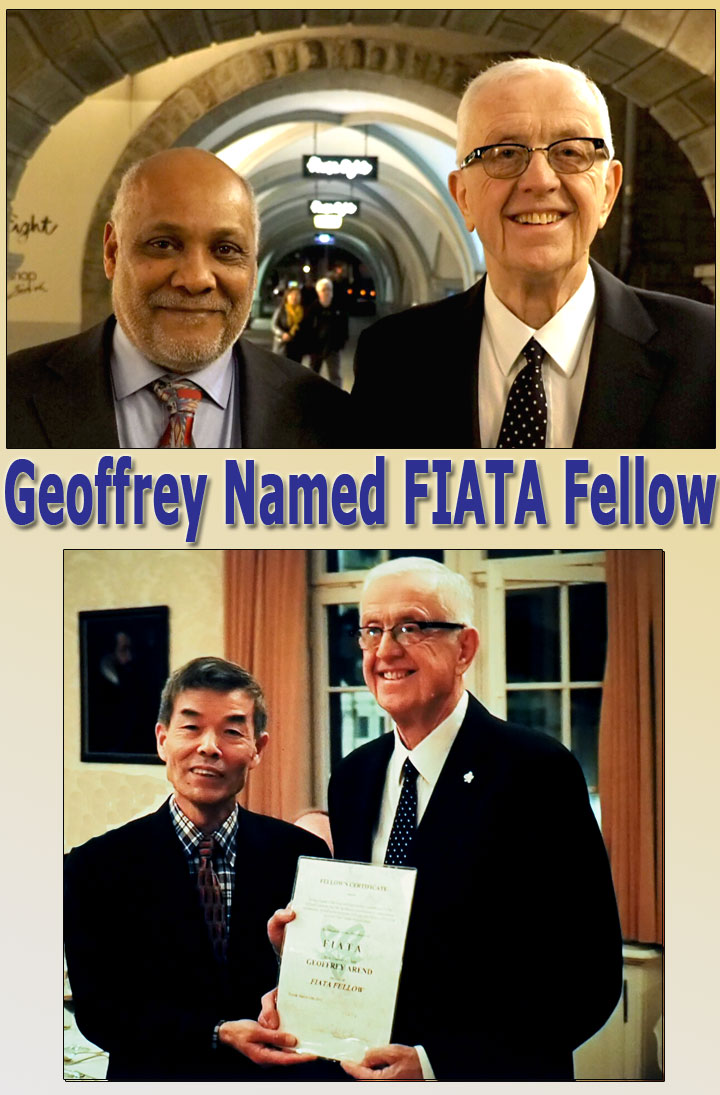 Top Photo—Issa Baluch, Senior Fellow-Harvard University Advanced Leadership Initiative and Chairperson FIATA Logistic Academy with FlyingTypers Publisher Geoffrey Arend. Bottom Photo—Huxiang Zhao, CEO SINOTRANS & CSC and FIATA President bestowing the title of 2016 FIATA Fellow on Geoffrey Arend.
(Zurich Exclusive)—On Saturday, March 20, 2016, The International Federation of Freight Forwarders Associations (FIATA) honored FlyingTypers' Editor/Publisher Geoffrey Arend, bestowing upon him the title of FIATA Fellow for his contributions to the air cargo industry.
Accompanied by his son Geoffrey II, Mr. Arend was given the unprecedented recognition—the first time for someone outside of FIATA, the largest organization of freight forwarders in the world.
The FIATA Fellow recognition was revealed at a special dinner with 50 members of the FIATA Extended Board members in attendance, many of who are leaders on air cargo associations in their respective countries and were also active in selecting Mr. Arend for this recognition.
The event took place inside the exquisite Haus zum Rüden, a nearly 700-year-old restaurant near the FIATA Headquarters Session in Zurich, Switzerland.
Mr. Huxiang Zhao, President of FIATA and CEO of the 80,000-employee SINOTRANS & CSC Holdings Co, Ltd. of Beijing, China, made the FIATA Fellow presentation, saying of Geoffrey:
"We honor Geoffrey for over 40 years of work highlighting the air forwarder story in a manner that has been significantly beneficial for FIATA.
"The FIATA Presidency expresses appreciation for your outstanding contributions to the freight forwarding and logistics industry," Mr. Zhao declared.
This is only the second time in FIATA's 89-year history that a "FIATA Fellow" has been named.
The first distinction was awarded in 2015 to Mr. Andrew Kemp, Regional Director Europe, Middle East, and Africa at Thomas Miller Group/TT Club.
FIATA is a non-governmental organization representing 40,000 forwarding and logistics companies and employing 8 to 10 million people in 150 countries.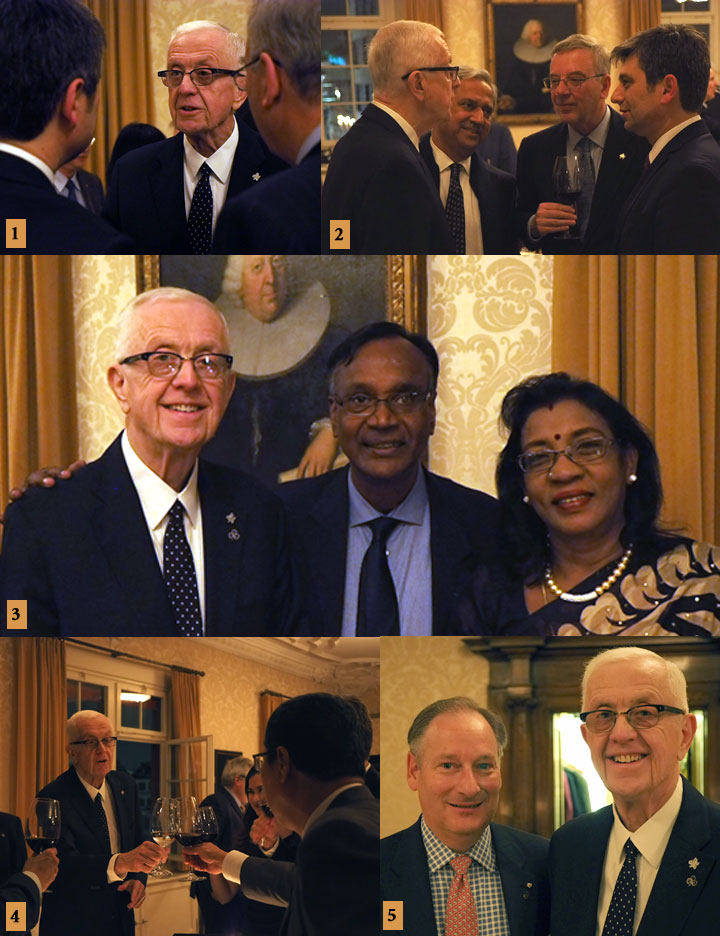 1. & 2.—Conversing with Babar Badat, Transfreight Karachi; Francesco Parisi, Francesco Parisi Casa di Spedizioni SpA and Turgurt Erkeskin, Utikad Istanbul. 3.—Geoffrey Arend and Malaysian hosts of FIATA World Congress 2017. 4.—Guest of honor being toasted. 5.—Robert A. Voltmann President and CEO Transportation Intermediaries Association and Geoffrey Arend
Geoffrey Dennis Arend was born on September 10, 1941, in Toledo, Ohio.
He started his journalism career at the New York Herald Tribune as a copyboy, but at the age of 19 was drafted and sent to Vietnam. He later worked as a beer salesman for Ballantine, a clothing salesman, and a music critic for The Hollywood Reporter, solidifying his status as a maverick.
In the early 70s he worked for the JFK airport newspaper, The Airport Times, and in 1975 he started Air Cargo News. Geoffrey launched a solo campaign in 1981 to save an important WPA-era mural inside the Marine Air Terminal at LaGuardia Airport. Not only was he successful in getting the mural restored, he was also successful in attaining landmark status for the Marine Air Terminal. At the time, the MAT was in imminent danger of being knocked down by The Port Authority of New York and New Jersey. The Marine Air Terminal served as the first international airport in New York. For his pioneering, preservationist efforts Geoffrey was given the highest award of the Department of Transportation and The National Historic Trust.
In 1979 Geoffrey wrote Great Airports Newark International to launch a campaign aimed at preserving Building One, Newark Airport's 1939 administration building, which housed the first air traffic control tower in the world. His preservation work at airports served as the template for saving and readapting Eero Saarinen's iconic TWA Flight Center at JFK Airport.
Since its inception in 1975, Geoffrey continued evolving Air Cargo News into a strong trade publication. His insightful articles on security during the Lufthansa heist period at JFK were instrumental in the formation of The Airport Security Council, the first air cargo security group.
China Airlines credited Geoffrey with assisting in the launch of service between Taipei and Miami, the first service from the Orient to Miami since World War I. Today Miami is served by countless carriers from Asia.
Air Cargo News is a publication of firsts. It was the first color publication in air cargo; the first publication in 2 languages, English and Spanish; the first to acknowledge and write about women in air cargo; the first to bestow awards; the first to support local air cargo sales clubs; the first to help launch local cargo trade shows; the first to do a cable television show on air cargo for the metropolitan New York market; and the first to take on issues that needed to be addressed in air cargo.
In 2001 Air Cargo News was the first publication to enter the digital era with the launch of FlyingTypers; the first to introduce video interviews; and the first to do live, real time reporting from industry trade shows.
Geoffrey has written 8 books about the histories of airports, served as an aviation historian and air cargo consultant on television shows, and appeared on History Channel's series on airports and air cargo.
In 2016 Geoffrey will have served the air cargo industry for a stunning 45 years. He has remained an ardent and unwavering advocate for a better, more thoughtful air cargo industry. In a world of advertorials and journalism that lacks humanity, Geoffrey Arend has remained a committed stalwart of air cargo, infusing Air Cargo News FlyingTypers and its community with history, intelligence, humor, and a sense of generosity.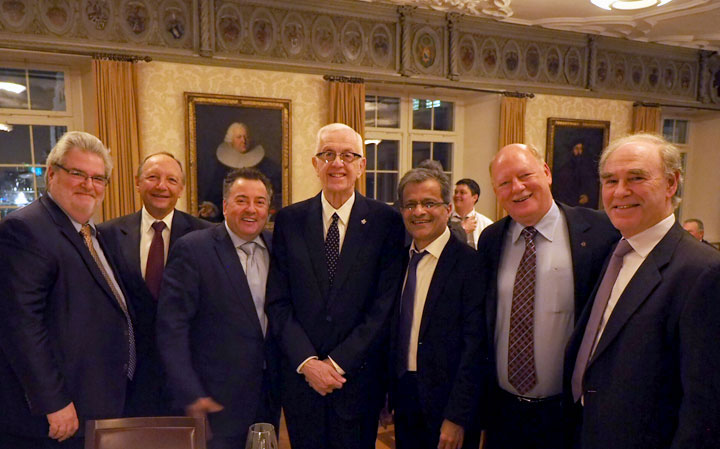 The guest of honor and distinguished guests at the FIATA Extended Board Dinner in Zurich, Saturday night.
Geoffrey accepted the designation as FIATA Fellow, telling the leaders:
"Without the freight forwarder, there is no air cargo business.
"For FIATA to honor someone like me, who has been charged by the airlines to tell their story to the forwarders, is a completely humbling experience.
"It is immeasurably important for us to know that with this honor follows the trust, confidence, and support of our readership.
"You have our back and we will never forget how important you are.
"When we began our publication 40 years ago, our offices were fortunately located in a building near JFK International Airport in New York City, where around two dozen freight forwarders were also located.
"We learned about freight forwarding from the people around us just in the daily rub of going to work or out for coffee. We count ourselves blessed to have been surrounded by people like Jo and Karin Frigger, who were opening U.S. offices for their German-based forwarding company, EMO Trans.
"As we broadened our approach and gained circulation around the world, we learned about the fantastic people in our business, like Issa Baluch, who always stressed the importance of the people in air cargo.
"Our job has always been to follow and verify the story, and most importantly, to listen to air cargo's people.
"There are hundreds of thousands of great stories in our global village, and not nearly enough time to tell them all.
"FlyingTypers is committed to offering everyone in our industry a voice.
"Looking back to our early years of publishing, we were lucky—because of location and good friends—to recognize that the story of freight forwarders is critical to our editorial effort.
"I believe that very little of consequence in life is accomplished all by yourself.
"Nobody in my life has contributed more than my wife, Sabiha.
"Sabiha is the center of my life.
"She is not only the brains behind our effort, she is also Chairman of the Ethics Committee. Sabiha is having work done to repair a knee and sends along her best wishes.
"We are a family business and we cherish each day we can share our take on things. Our daughter Florence (Flossie) is our Managing Editor, our youngest daughter Emily handles circulation and special events, and our son Ralph has created 130 video interviews about air cargo people.
"I'd love for you to know my oldest son Geoffrey the second is standing in this evening for his Mom.
He is an accomplished actor and part of an ensemble cast in the television series Madam Secretary.
Geoffrey is an amazing son.
"This time last week, he dropped everything, came home, and made his dad and slightly incapacitated mom a delicious dinner.
"I have plenty of support, and I know that without it I wouldn't be standing here today.
"I am deeply honored to take the FIATA story forward and now together let's go to work as FIATA celebrates your glorious 90th year.
"Deepest thanks from your FIATA Fellow," said Geoffrey.
Flossie