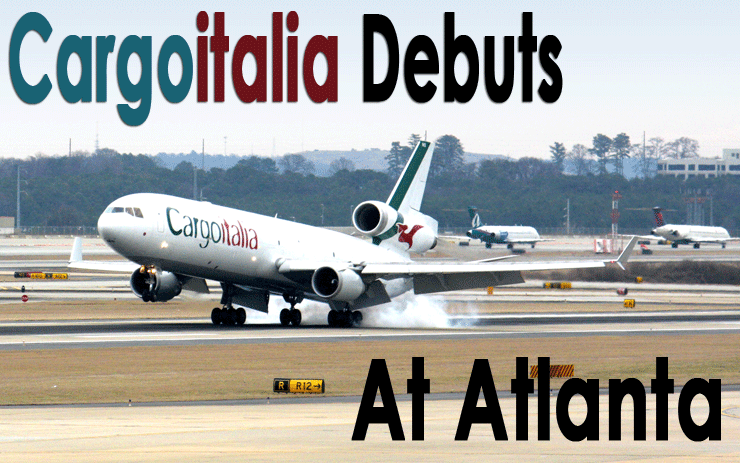 (Exclusive)—Ah, the memories of old – a cargo warehouse, a ramp with B747-400F aircraft, on a cold Atlanta winter morning! This was the setting for the much anticipated maiden flight by Cargoitalia on February 3.
The excitement rose as the 9AM hour approached and finally Warren Jones, Atlanta Airport's aviation development manager announced the aircraft was about to land.
It doesn't matter how many airplanes we have been on, next to or around; there is still something magical about the big bird gliding toward the runway.
Airport officialdom, the Mayor's office staff, handling agents, freight forwarders, media and security personnel were all on hand to witness this event. Atlanta airport Aviation General Manager Louis E. Miller, Interim Deputy General Manager Robert Kennedy, Assistant General Manager, Commercial Development, Arnaldo Ruiz, interim director of Marketing and Business Development, Arlene Richards Barr, Metro Atlanta Chamber's VP Supply Chain Development Bob Pertierra were all on hand to welcome Cargoitalia. Mayor Kasim Reed arrived on cue to greet Cargoitalia's Commercial Director Roberto Gilardoni and the incoming MD11 freighter.
| | | |
| --- | --- | --- |
| Louis E. Miller | Kasem Reed | Robert Kennedy |
Speeches were kept thankfully short this frigid morning, Louis Miller introduced the mayor who greeted Roberto and then the incoming crew presented presents to the city.
The dignitaries then boarded the aircraft and the "real" operation began on the opposite side of the plane – the cargo door opened, the highloader edged its way into position and the first pallet rolled into the Atlanta morning.
And then the welcome cake, the airport and the city prepared was officially cut and a new page has been opened in the annals of Atlanta and far away Italy via an air freight bridge.
Flying Typers asked Cargoitalia Commercial Director Roberto Gilardoni for an overview of the cargo on this flight and some of the key shippers and forwarders:
FT: Roberto, could you provide some information regarding the cargo on this flight - commodities, shippers and name some of the key freight forwarders involved who support both the inbound and outbound flight please.
RG: Inbound into Atlanta:
• ACB/Panmet Group, with a Ferrari 458 (for a race at weekend at Atlanta Motor Speedway)
• OTS, UPS, VECTOR, TAG, Cargosales, World cargo ex Italy
Outbound from Atlanta:
• UPS with car parts to Frankfurt
• To Milan (with consolidations) DHL, Expeditors, DBA, Express Airfreight, Shipco, AAT, EmoTrans, Concordia
• Geodis Wilson, Comix Group, CGO to Sharjah
We wish Cargoitalia much success and look forward to running updates on the progress of their all-cargo business in general and the Atlanta operation in particular.
Ted Braun