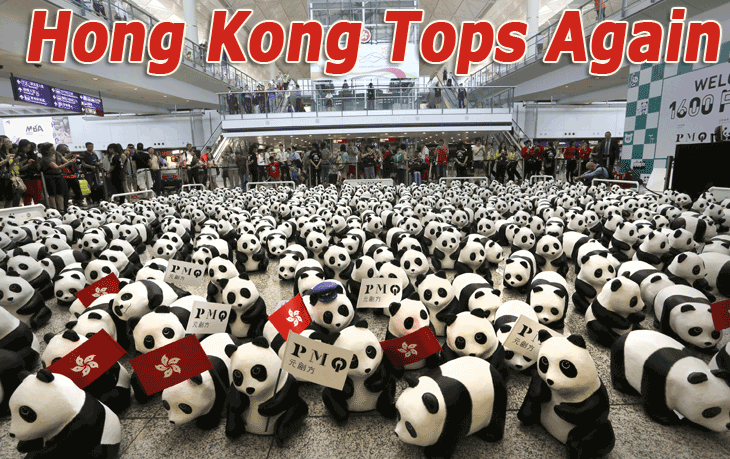 Art & Airports . . . "1,600 Pandas World Tour" brought several hundred of the 1,600 paper pandas created by French artist Paulo Grangeon to the Arrivals Hall of Hong Kong International Airport (HKIA) last June.
Latest numbers confirm HKIA once again tops world cargo.
Hong Kong International Airport looks set to retain its place as the world's largest freight airport after racking up record volumes in 2014. Intense competition between its three ground handlers has underpinned its success.
Last year HKIA handled 4.38 million tons, up 6 percent year-on-year. Although the final numbers have not yet been tallied, it looks like enough of an increase to ensure its status as the world's largest international freight hub remains in place for another year, ahead of rival contenders such as Memphis, Shanghai, Incheon, and Dubai.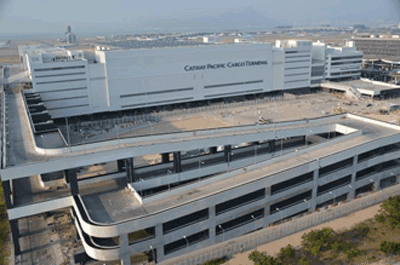 HKIA's enduring competitiveness is in no small part down to the high standards of freight handling it offers, not least since the phased opening of Cathay Pacific Cargo Terminal in 2013, which threw down a significant gauntlet to established handlers HACTL and AAT.
Cathay's new facility, operated by Cathay Pacific Services Limited (CPSL), handled 1.45 million tons of HKIA's throughput in 2014, up from around 600,000 tons in 2013 when it was not fully operational.
HACTL ended 2014 with its strongest quarter of the year, handling 491,476 tons, up 4.9 percent on the same period of 2013. This helped the handler record full year tonnage of 1,814,726 tons, up 8.7 percent compared to a year earlier.
HACTL remains HKIA's leading handler by volume. But amid its upbeat PR about year-on-year gains it is worth noting that it continues to lose market share. And its tonnage figures remain more than one million tons lower than in 2012, when HACTL was still handling Cathay Pacific's fleet—2012 was the second best performance in the firm's history and just 4.2 percent short of the 2,899,603 tons recorded in 2010.
The rivalry for airline business at HKIA is now placing all of its handlers under intense commercial pressure. Although airport handling rates are fixed, HACTL, AAT, and CPSL are free to negotiate rebates based on delivered tonnage on a commercial basis with airlines. "Handling rates are set by the authorities," explained one Asia-based executive for a European airline. "What can change is the rebate that each handler offers. With more competition, there is clear pressure on these."
And that pressure seems certain to grow as CPSL looks to boost its market share. With capacity to handle up to 2.6 million tons per annum, CPSL has the ability to further expand and is promising customers extended cut-off times, last-minute cargo acceptance, and reduced connection times for transshipment cargoes.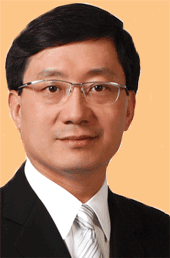 Certainly, volume growth is on an upward curve. CPSL saw an increase in volumes in Q4 over Q3 and expects further gains in 2015. Already this year it has announced a contract to handle EVA Air's cargo handling and documentation services at HKIA. It was a major win—BR operates 60 scheduled passenger flights and 15 scheduled freighters a week and was formerly handled by HACTL.
Apart from Eva and Cathay, CPSL's 1,800-strong workforce currently also serves AirAsia, Air Hong Kong, Dragonair, Royal Brunei Airlines, and Thai AirAsia. But with around 100 airlines now using HKIA there are still plenty of potential customers at which managers can shoot.
"It is very difficult to give you a projection for 2015 as our market share is also dependent on airlines' business performance," a spokesperson told FlyingTypers. "However, what I can say is Cathay Pacific Services Limited is becoming more proactive in expanding its customer portfolio. We have made a good start to 2015 by securing EVA Air, one of the key air cargo players in Hong Kong."
Luckily for rival handlers they, like CPSL, are at least fighting for shares of an expanding market. "Air traffic demand continues to grow, and we expect 4-6 percent growth in passengers, cargo volumes, and flight movements this year," said Fred Lam Tin-fuk, CEO of Airport Authority Hong Kong.
SkyKing