On December 21 the U.S. FAA began drone registration, and right now they are awfully glad they did.
As of today, the number of drones potentially flying in U.S. skies outnumber the number of piloted aircraft—including private and commercial crafts—as more than 325,000 people have registered their drones as of last Friday.
The FAA Administrator Michael Huerta reports that in the U.S. there are 320,000 piloted aircraft registered with the agency. The kicker in all of this is in less than two months the average operator could hold 1.5 drones, which means the FAA drone count might be a bit conservative and could even exceed one half million.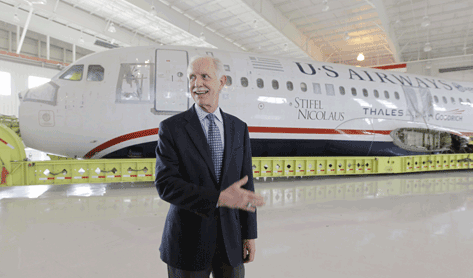 Former Capt. Chesley "Sully" Sullenberger with US Airways Flight 1549, an A320-214 built for US Airways in 1999. Today Flight 1549 is on permanent display at the Carolina Aviation Museum in Charlotte, North Carolina.
"About 7,000 planes fly in U.S. skies any time during the day," according to the FAA, "along with an untold number of drones."
"FAA receives about 100 reports per month from aircraft pilots who say they spotted drones flying near them, but the remote-controlled aircraft can be difficult to trace," the agency said.
"With registration, the FAA can track down operators flying dangerously or after a crash.
"The agency has opened 24 investigations into unsafe or illegal drone operations," Mr. Huerta declared.
Chesley Sullenberger, the retired US Airways Captain who landed a jet on the Hudson River after geese knocked out both of the plane's engines on January 15, 2009, tells USA Today he has warned about the need to prevent drones from colliding with airliners.
"The sheer numbers concern me, as they increase the risk of a collision and it is likely that the actual number of drones is much greater than the number registered," Sullenberger said.