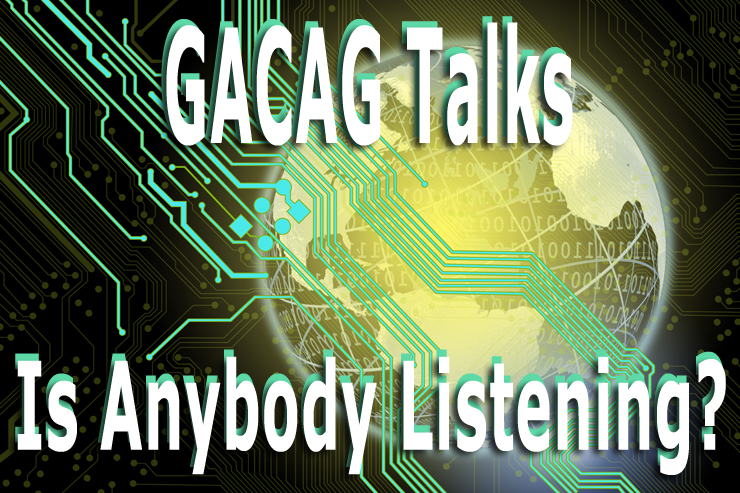 No one can say that the Global Air Cargo Advisory Group (GACAG) is not trying.
The question is whether or not anybody is really listening and if anything will change in air cargo once the PR dust settles.
The latest word from GACAG was issued Friday March 2, fresh from Roche Public Relations, a UK company run by ex BA PR stud Jamie Roche. The message carried with it the faint whiff of being timed to impress, or perhaps more charitably put, "motivate" air cargo before the World Cargo Symposium in Kuala Lumpur, scheduled to begin in less than a week.
Maybe we are confusing what appears to be an honest effort by GACAG, with all the pre-WCS pablum e-mails that we are getting lately?
Nevertheless, we make the point to emphasize that, in a world where appearances count, GACAG must accept that (minus traceable, tangible results) folks might wonder when an additional position paper comes into being.
Since it was organized with lots of hoopla and hope nearly two years ago at TIACA AMS, GACAG has unleashed a paper trail of press releases and position papers, which leaves many questioning:
What is changing because of the actions of GACAG?
Maybe it's time for everyone in air cargo to join the old lady in the hamburger commercial from the 1980s that looked at her sandwich and asked:
"Where's the beef"?
There has been quite a lot of conversation about the name GACAG.
People either love it as an acronym or hate it.
But we think that alongside (and somewhat in league) with GACAG, there is a larger group at play here that we have decided to call GIFT.
"GIFT" consists of GACAG, IATA, FIATA, and TIACA.
And GIFT keeps on giving.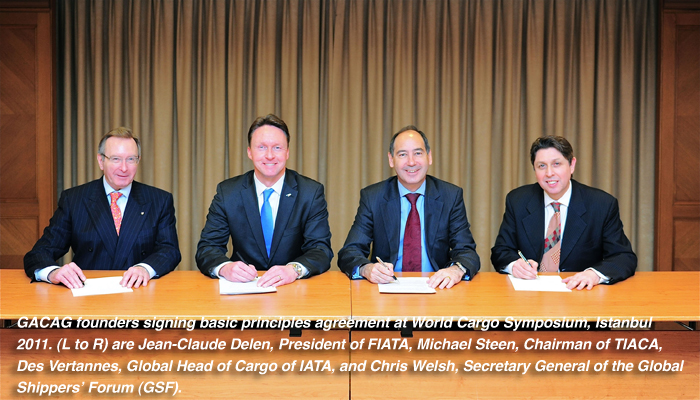 This latest call to ICAO, WCO, and national regulators to adopt a standard Consignment Security Declaration is a case in point.
The roots go back to IATA Recommended Practice 1630, adopted at the last World Cargo Symposium, which took place in Istanbul during March 2011.
Security being the driver that it is, IATA was intent on delivering a strong stand on the subject.
A resolution is binding on members, but what emerged for the security declaration was a much weaker recommended practice, which, as the name implies, is just that.
Be it as it may, RP1630 refers back to action taken by ICAO and its member states, acknowledging the IATA Operations Committee and also amendments to the Cargo Agency Conference rules on security.
Taken at arm's length with history as the lesson, it all seems rather byzantine, and now one year later the GACAG call this week seems a rehash call to none other than ICAO to adopt the very same declaration.
GACAG encourages and supports processing the Consignment Security Declaration in electronic form and then somewhat surprisingly for a high level strategic forum, gets into the weeds and "recommends that the standardized information included on the Consignment Security Declaration be limited to the following critical elements…" going into full descriptive language and repeating in verbiage what is organized in neat boxes on the adopted IATA form, or in its electronic equivalent, which points back to the web site: www.iata.org/security-declaration.
What is the point of this loop?
Who knows?
Last year, ICAO's Secretary General noted that securing supply chains "are a customs issue." The ICAO Aviation Security Branch Chief at that time declared:
"We are working very closely with the World Customs Organization… because the world's custom system has increasingly provided for electronic data interchange."
Deconstructing the aforementioned statement a bit reveals that it is far removed from the real world; "the world's custom system"—the implication can easily be misinterpreted to make one believe there was such a thing, or that each and every national customs system follows a single global standard, which is simply not the case.
Much work has been done in IATA to map out a business process for this security declaration, charts and all, focusing on the message flow, which again depends entirely on the forwarder generating and transmitting a FWB message to the carrier in the first place.
We seem to recall that this is an everlasting war raging on unabated.
This is the same FWB wherein postal codes often get input as, for example,"00000," and are not properly content-validated at source (the postal code is alpha-numeric), yet are also used by customs.
As if there weren't enough options which open the door to a slew of participant specific alternatives, which deviate from and diminish any standard, sure enough the security information can also be included in a FHL (consolidation) message, subject to it being "bilaterally agreed between the parties."
Both the RP and the Business Process talk about "known shipper" and "regulated agent," yet the October 2010 debacle surrounding the highly explosive printer cartridge shipment from Yemen to a synagogue in Chicago, which passed security and was found in the nick of time because of an informer tip, was caused by a shipment tendered to an express carrier and involved no forwarder, i.e. "regulated agent," and there was no "known shipper."
But at the heart of the matter today is GACAG, and all our hopes and dreams for a new level of cooperation and universal understanding necessary to get things done.
Again, the individuals participating in GACAG are high-level executives from many different countries who manage billion dollar businesses, and we applaud and are grateful for their yeoman effort to bring on change for the better in air cargo.
Given that level of executive power and what is at stake right now, just six months short of being in business for two years, GACAC has yet to step up and deliver more.
For example, how about some deadlines?
What is the realistic expectation that this press release stands to accomplish when there are no timelines associated with any of it?
Earlier, TIACA Times reported on its meeting with the US CBP commissioner, Alan Bersin, and commented on its Air Cargo Advance Screening (ACAS) pilot, primarily involving express carriers, and now expanding.
TIACA stated that "GACAG believes that, at a minimum, the following should be accomplished through electronic means: Record keeping and archiving for all participating parties (shippers, forwarders, airlines, etc.)"
There should be no requirement for participating parties to print documents (for example, complete airline manifest and supporting printout for all U.S. departed flights) unless by exceptions (e.g. in case of an audit) and "printout of electronic records should be accepted." Compare that with the IATA Business Process 15.
"The Regulated Agent (freight forwarder, handling agent or self-handled carrier) are able to produce on paper the consignment security declaration for audit purposes."
And the IATA text in Recommended Practice 1630 "3.12 Security Declaration, 3.2.1
The appropriate authorities and/or air carriers may require for each shipment a security declaration to be provided in paper, electronic format, or any other means that may be allowed in the future."
You need some serious word-parsing experts to discern whether these statements indicate one and the same principle or variations on a theme.
While clearly, having equivalent electronic messages using an internationally standard format is a good thing, the details are suspect and ripe for causing much confusion, and things usually fall apart because the procedures surrounding electronic data interchange leave much room for interpretation.
Either way, at this pace, just as we have Cargo 2000 in the year 2012, GACAG stands a good chance of grinding slowly for many more years to come while results can be measured in decades.
Quite a contradiction in terms when speaking of delivering goods at air speed!
But hope springs eternal, and we will keep reading the pressers' and hoping and reporting as the story unfolds.
Ted