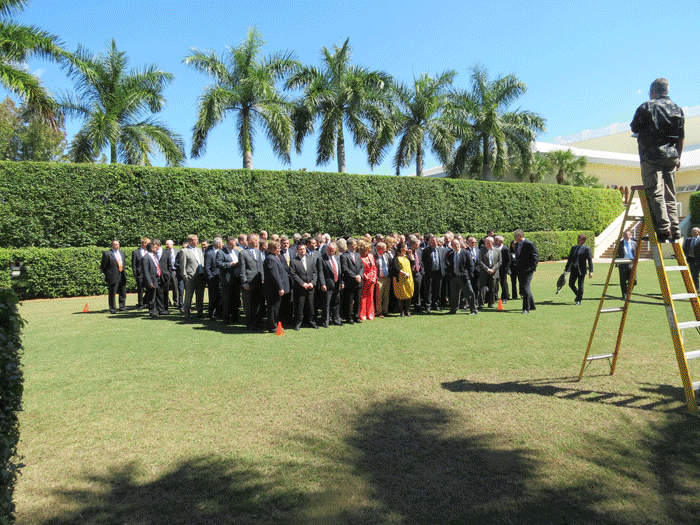 Open meetings done and everyone dressed smartly in the garden outside, as the Florida sun poured over a photo-op gemütlichkeit moment.
At EMO Trans Global Network Meeting in Bonita Springs, Florida, EMO President Olen Woods began the open business meeting by counting down the past 10 years that this company has gathered, saying:
"All of our meetings have drawn us together and now EMO is the strongest we have ever been.
"Recently we met with a Fortune 500 company—we were concerned it thought it needed to work with a bigger company than EMO.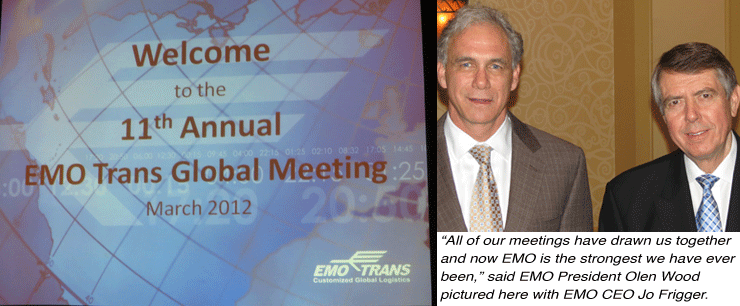 "We told them that we were aware that their company was utilizing several bigger resources for their shipping needs, and after naming the names we said that we were wondering if there was anything that would prevent them from continuing to do business with EMO.
"The client said we had named some other companies that they did not like at all!
"What we care for is value for money, data, service, commitment, consistency.
"EMO kept the client because on those points, we can compete with anyone."
In his remarks, CEO Jo Frigger told the audience gathered from EMO offices around the world:
"The meetings of our global alliance have become a tradition of developing relationships while making new friends.
"The backdrop to all of this is the many groups of forwarders who attempt to form alliances.
"EMO's group of network partners is among the strongest forwarder alliances in the world and our growth is due in no small part to our ability to build success upon success by utilizing our strengths.
"Mutual trust and the possibility to develop new business is a must and we remain determined to continually better ourselves through innovation and upgrading of our systems.
"One area I am happy to report has been greatly enhanced, is EMO IT.
"Demands for information from both our customers and also from government security and others have resulted in implementation of a new information system that went live in early January 2012; it is a major step in what will greatly enhance information and transparency in every phase of the shipping process."
Thomas Huchler, EMO Trans Germany, led the parade of what's new and next, as he discussed recent development of EMO Log, which did not exist a year ago, but today is a multi-million dollar logistics company providing fulfillment service for Brooks Running Shoes and other companies, including a U.S.-based auto parts manufacturer with a distribution set up in Muenster, Germany.
"We have as a 3PL, literally come up from nothing utilizing our synergies with EMO Trans and are on a steady growth spiral adding new business.
"EMO Log is the result of our long-standing, excellent relationship with Brooks on the shipping side and their desire in 2012 for full service logistics to get their goods to consumers," Thomas Huchler said.
The next speaker Ian Ahern, Managing Director-EMO Trans Australia got some attention as he stood up and said out loud:
"There are still plenty of opportunities to build new business even as the Asian market currently recedes a bit, and we happen to live next door to one of them.
"Papua, New Guinea has most recently become a market that is in rapid need of almost everything, driven by vast oil fields under development.
"Infrastructure is minimal and costs are quite high in addition to other business challenges, both with the government and also with building a culture for air cargo across the country."
But under Nalin Rodrigo, Air Niugini Cargo has been working to add air cargo services, including freighters, to their program.
At the same time, EMO Trans Australia is involved almost alone in developing transportation connections via Port Moresby to facilitate bringing all manner of consumer goods and oil equipment into the country.
"The task of developing a market in this case is both exciting and daunting, because basically there is nothing there and everything has to be brought in.
"But we know that there are markets out there if you are willing to search for them and then roll up your sleeves and make things work," Ian Ahern said.
Underscoring EMO Trans' growing Asian presence were Masa (right) Shimizu, Managing Director & CEO and Kiyoshi Ishii, Director International Strategy of AKL Tokyo, the newest partner members of the network.
Mr. Shimizu, AKL CEO, noted that he is now 100% owner of AKL, and with that the executive promised a higher standard of knowledgeable, hands-on, personalized services from a company that in the near future will also have a new name.
"Our 44 employees are very well versed on the specifics of moving freight in and out of Japan with specific knowledge of the very complex import and export restrictions.
"We are looking to increase our portfolio of small- to medium-sized customers," Mr. Shimizu said.
A breezy approach from Michael Austin and Tucker White, both of Maersk Line, included a tag team presentation with Austin (a global Maersk sales executive) inviting the audience to contact him as resource for all things Maersk.
"I will be your escalation point," he said.
Tucker White (who is the local Florida USA sales executive) also chimed in, taking the opportunity to say "thank you" to EMO, which counts ocean as a vital part of its business.
"Maersk is phenomenal growth," Michael Austin said, "despite costs of fuel and some lane traffic slowdown due to the Asian situation and the Eurozone financial crises."
But Maersk is there despite flagging consumer confidence.
In the USA, business is improving as manufacturing is increasing.
"We see growth in Latin America and Africa, but business is flat to marginally improving from Asia to the USA.
"Measuring Europe to USA, the trade by ocean is essentially balanced.
"What is it about Maersk?
"We are 88 percent on time and that number includes our partner's vessels, and our goal is 95 percent for 2012."
Then Ausin told this expert logistics audience:
"Maersk has recently operated inland, moving shipments from our vessels via rail to cut delivery times."
Brendan Furlong, (left) Emirates SkyCargo Business Development Manager, USA, told EMO conferees that the build up in new aircraft at the booming Dubai-based carrier will continue, with dozens of Airbus A380s and B777s yet to join the fleet.
"We took delivery of the 1000th B777 earlier this month as Emirates launched daily services from Seattle to Dubai."
Currently more than 10 percent of all B777s ever built are in Emirates livery.
Emirates is adding services to Washington, D.C., this September 12 and with Dallas has added three new U.S. gateways in 2012, with more planned during the next few years.
"In terms of air cargo, Gateway Dubai continues to build success upon success as the true global crossroads with state-of-the-art modern facilities and up-to-date information technologies, coupled with the most advanced systems to expedite shipments."
As the EMO public sessions moved toward conclusion, Kim Ekstroem, Vice President of Shipco Transport noted that Shipco, which, once upon a time, as a neutral wholesaler was mainly ocean, is today also quite successfully expanding its services into air cargo.
"The TSA mandates afforded us that opportunity because we had the screening facilities, and customers realized our infrastructure offered an ideal platform to also handle air.
"We are increasing our impact on both businesses with sea-air combinations as well," Mr. Ekstroem said.
Geoffrey