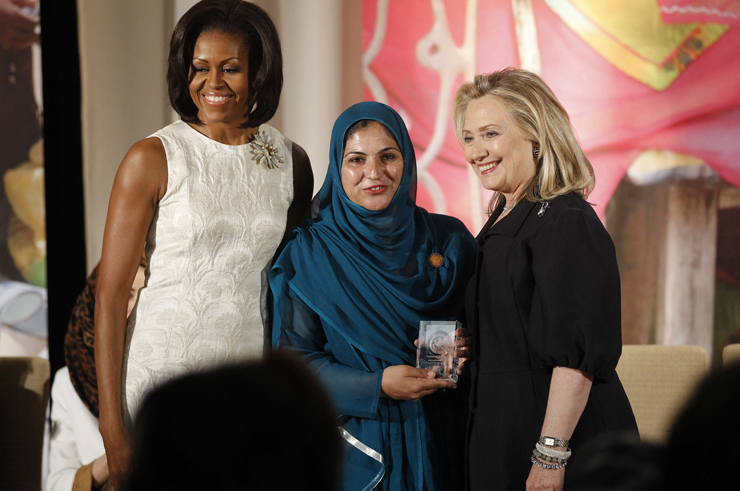 In Washington, D.C, at the U.S. State Department, First Lady Michelle Obama and Secretary of State Hillary Rodham Clinton present the 2012 International Women of Courage Award to Shad Begum of Pakistan, for providing education opportunities, political training, and microcredit to Pakistani women, on the 101st Anniversary of International Women's Day.
Today, March 8 marks the Anniversary of International Women's Day, and we here at FlyingTypers would like to take a moment to recognize and appreciate the achievements of women, in both air cargo and the world at large.
We invite our global readers to click the pictures here and read all about the extraordinary group of women at work today that are building our industry to new heights.
But first, a bit about this very special day.
International Women's Day began nationally in the United States in February 1909, following a march of 15,000 women in New York City for better pay, voting rights and shorter working hours. The day was adopted internationally when Clara Zetkin, leader of the "Women's Office" for the Social Democratic Party in Germany, proposed that there should be a Women's Day every year, in every nation—a day in which women's rights and demands could be unified and put forth on an international level.
In March 1911, a million participants in Switzerland, Austria, Denmark, and Germany marched for IWD. The day was marked as a day to recognize and promote equal rights and women's suffrage. International Women's Day has only grown larger since then, spreading as an official holiday in Afghanistan, Armenia, Azerbaijan, Belarus, Burkina Faso, Cambodia, China, Cube, Georgia, Guinea-Bissay, Eritrea, Kazakhstan, Kyrgyzstan, Laos, Madagascar, Moldova, Mongolia, Montenegro, Nepal, Russia, Tajikistan, Turkmenistan, Uganda, Ukraine, Uzbekistan, Vietnam, and Zambia. While other countries may not have adopted the day as an official holiday, it is nonetheless recognized as a special day across the world.
Over the past few years, IWD has been 'themed,' with 2010 shining a light on displaced women and 2011 marking the 100th Anniversary of the day with celebrations in over 100 countries.
The 2012 theme for IWD is "Empower Women – End Hunger and Poverty." Oxfam America is inviting people to celebrate inspiring women in their lives by sending a free International Women's Day e-Card—you can also host an event to honor a woman in your community who is making a difference. (http://actfast.oxfamamerica.org/index.php/issues/women)

Celebration all over the world…Flowers are sent to female highway maintenance workers as the world celebrates International Women's Day in Maanshan, Anhui, China, on Thursday, March 8, 2012.

Turkey has honored IWD by passing a number of laws today that protect women and children from abuse. Prime Minister Recep Tayyip Erdogan (left) said, "We will provide legal and financial assistance and shelters to the victims." The laws passed will increase penalties against abusers, allow police to intervene sooner in cases, and force abusers to wear electronic monitoring devices. These laws come on the heels of the death of a Turkish mother, who was killed by her husband for leaving the house after an argument. In response, four Ukrainian women activists staged a topless demonstration to protest domestic violence against women in Turkey. Inna Shevjenko, a member of Femen, the women's group, said, "The message for Turkish women who are celebrating Women's Day is not to wait until your husband brings flowers or chocolates. Just remember about your rights. Go out on the street and fight for that. This is the message."
While I wish I could say that everything has changed in the hundred years since the day's inception, in many cases, we see that it has not. In America, International Women's Day this year was preceded by verbal attacks on women's reproductive rights and on individual women like Sandra Fluke, coming from the conservative movement.
At FlyingTypers, we routinely receive comments regarding our use of the term "Women on Top" for our series that celebrates women in air cargo—mostly accusations regarding the double entendre some readers choose to see. I've always found it interesting that readers should choose to interpret "Women on Top" to mean something dirty, unseemly, and overtly sexual, when our use of it is only meant to convey that women are, in fact, on top in areas of air cargo. To me, it speaks more about the audience then it does about us, and if I had to point any fingers, I would point them squarely at our society, at the way we raise our children, and at the scripts we write regarding gender roles and sexuality. Turn on the TV to any channel in America, and you will find commercials cleanly divided along gender lines—women using cleaning products, cooking food products, parenting with baby products, or using products to enhance their physiques; men drive automobiles, work on the house/lawn, or drink alcoholic products. Women in advertising are reduced to food (such as the sexualized female M&M), inanimate objects (such as cars, like in the recent controversial Fiat commercial aired during Superbowl 2012), and sometimes, just body parts (see any GoDaddy commercial ever aired). These stories we tell ourselves have a direct effect on how we view one another as men and women, and so of course, a woman on top must translate sexually because, at the end of the day, women are seen as sexual objects and rarely more than that. The brain immediately associates women with sex because it has been programmed to do so. How could the term "Women on Top" mean anything else? And more importantly, if the term were "Men on Top," would we take it the same way?
Today we celebrate the women featured in this issue and all women in air cargo and otherwise. This International Women's Day, we hope everyone will do their part to help empower women, even if it means rewiring one's brain to see women as more than sexual bodies—even if it means reimagining "Women on Top" as women in charge.
Flossie Arend