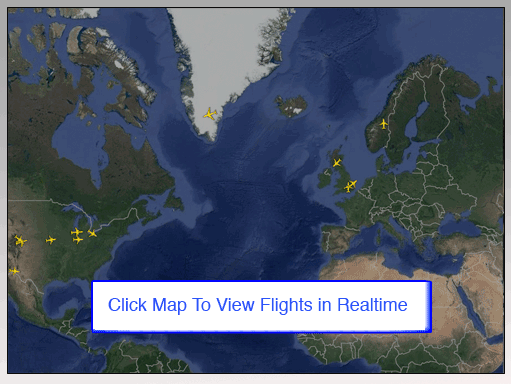 Right now, despite global society's best hopes and dreams for a green world, only a small (albeit growing) number of daily flights in commercial aviation utilize biofuels.
Just click this global biofuel flight map and see for yourself.
United Airlines, SAS, KLM, Lufthansa and some others have marshaled scheduled biofueled flights, which measured against global airline operations are a modest first step in the right direction.
SAS, it should be mentioned, is the home base airline of the Nordic countries, where major movement of biofuel technology for aviation is under development.
You may have noticed, dear reader, United Airlines' efforts to bring attention to their bio-fuel pioneering efforts in FlyingTypers for the past year.
We asked our colleague and old friend Robert Arendal, who founded and today is the driving force at the 'Sustainable Biofuel Network,' to break the biofuel conundrum down for us. He graciously agreed to create four stories that will be featured in FlyingTypers in 2017 and on our website forever.
Please direct your thoughts and contribution here.
Biofuel Drives Aviation Future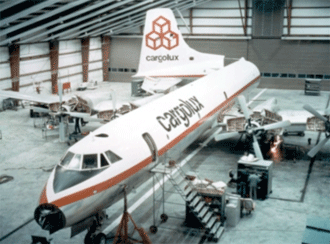 Back when fuelling an all cargo aircraft cost "10 cents a gallon," during what some might term the "good old days," Robert Arendal had just started with Cargolux Airlines International in Luxembourg.
The year was 1972.
"We were calculating the operating cost for a CL44 Freighter flight to somewhere in the world with jet fuel prices of US .10 per gallon.
"Today, forty-five years later, fuel costs have increased to between USD 3.00 to 3.50 per gallon—a tough new world for the aviation industry."
Christer Saw The Need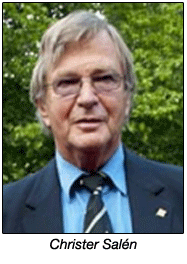 "Christer Salén, one of the founding fathers of Cargolux and long-time member of the CV Board of Directors, said to me after I had retired from Cargolux:
"'Robert, you better look at this.' He wanted to get the aviation industry to move away from fossil Jet A1 kerosene-based fuels and on to renewable and sustainable biofuels for aviation.
"Christer insisted on biofuels based on different types of biomass and waste, as well as residues, such as forestry residues, in order to reduce CO2/GHG emissions and pollution.
"'We must find and utilize a more stable and reasonable energy base, avoiding the risk of political and speculative influence on the aviation industry's only source for fuel,' Christer insisted."
Put His Money On The Table
"At that time, Christer had sold his shares in Cargolux and among other interests taken a small involvement in a biofuel project in Eritrea, Africa, and also started a pilot project in North West Mexico."
Road To Discovery
"I decided to have a first-hand look at the project and traveled to Houston to meet the project leader of the Integrated Seawater Agricultural System (ISAS), or Seawater Foundation (SWF). I got a good introduction from Carl Hodges, the founder and a highly interesting and creative gentleman.
"I then flew on to Mexico to visit the pilot site.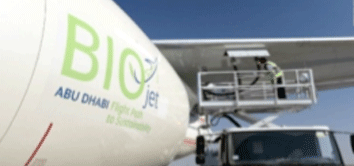 "In Mexico I learned that an advantage of this initiative is that halophytes can be irrigated by seawater, and also can be established in areas that are otherwise unsuitable for growing food products.
"The Mexico pilot phase not only grew halophytes but was also able to incorporate shrimp and fish farms as well with halophytes, such as the Salicornia plants (excellent biomass for biofuels) and mangrove trees that absorb and store GHG/CO2.
"Interestingly, this concept has also been developed in Egypt and Abu Dhabi (Masdar City) and has the support of Etihad Airlines, Boeing, and others.
"That activity generated in the development and search for alternative fuels has the added benefit of providing new employment and business opportunities in areas of the world that need new revenue sources for its population."
Other Biofuel Sources
"Halophytes are not the only interesting plants to use as feedstocks for biofuels; a number of other feedstocks and biomasses are available.
"In the Northern hemisphere, forestry residues are available in abundance as well as various plants, household waste, and in the future (awaiting improved and cheaper technologies), algae.
Feedstock Availability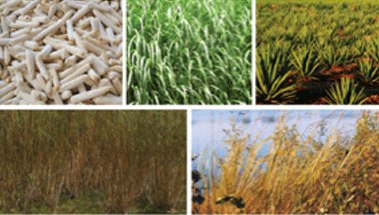 "The Nordic Report on sustainable jet fuel lists the following sources:
"Several domestic feedstock candidates for sustainable jet fuel exist in the northern hemisphere, and as such in the Nordic countries.
"The most ideal candidates in the foreseeable future, with respect to availability and price, are wood residuals, wheat straw, and organic waste fractions.
"All the feedstocks face heavy competition from alternate uses in production of heat and power and biofuels for road transport.
"Wood residuals from logging, pulp, paper, and timber industries are used in vast amounts in Finland, Norway, and Sweden. Estimates of the total potential range are well over 250 PJ annually.
"The price for wood residuals range between EUR 5–8/GJ and is highly dependent on the specific source and region of origin.
"Wheat straw left to compost in large quantities at fields in Denmark and Sweden amount to a potential of 37 PJ annually.
"The price for wheat straw ranges between EUR 5–6/GJ."
Waste Candidates For Biofuel
"In theory, all organic waste fractions can be used in sustainable jet fuel production; in particular, vegetable and animal waste oils are highly suited.
"The total potential is complex to estimate. Prices are highly variable, with negative estimates for fractions with a gate-fee and up to EUR 5/GJ.
"There exists no available data on the cost, but import of waste fractions from outside the Nordic countries may even prove a cost effective solution (including transportation costs), and is therefore also considered as a last option."
Other Sources
"Other sources of feedstock are also possible, but not currently available in any significant amount in the region.
"These include energy crops and marine resources, such as seaweed and algae.
"In the longer term, these feedstocks may become available, given new processing technologies and developments in their cultivation."


The process of producing biofuels.
Technologies Available Right Now
"In 2017 the Nordic countries have strong competencies in biorefining technology. Within a biochemical conversion route, this includes suppliers for pre-treatment of lignocellulosic biomass by enzymatic hydrolysis, as well as yeast cultures for fermentation, and within a thermochemical route it includes gasification of biomass and reforming of syngas.
"A range of suppliers also provide technologies for producing intermediates, currently used in Nordic production of other biofuels such as renewable diesel, which can potentially also be used for sustainable jet fuel production."
Nordic Tech
"Finally refining technologies relevant for all biofuels is also part of the Nordic technology portfolio.
"A handful of firms are currently in active pursuit of sustainable jet fuel production. With the exception of NESTE in Finland, who has the capacity and technology to produce sustainable jet fuel, all of these other actors are at a lower technological maturity and require significant development before they can be considered part of a possible commercial scale production.
"However, one or two of these potential producers have new innovative technologies that if they can live up to their 'promises' may offer SJFs at very competitive prices versus fossil fuels."
Best Prospects Ahead
"The most promising pathway scenarios for Nordic production of sustainable jet fuel is HEFA/HEFA+, based on waste-oils and oil crops, Fischer-Tropsch (FT), based on wood residuals, and Lignocellulosic Alcohol-to-Jet (AtJ).
"These pathways have a maturity level in terms of technology and infrastructure that can make biofuel production realistic in the short to medium term.
"The scenarios involve a more available and affordable feedstock production in comparison to other pathways.
"They are also already available to some extent in two or more of the Nordic countries.
"Lastly, all three pathway scenarios have potential Nordic suppliers of technology and roles in the different stages of the scenarios identified."
Which Biofuel Source Is Best?
"Comparing the three scenarios, the HEFA-based scenario is superior to the two other scenarios when it comes to maturity and cost efficiency.
"Also, HEFA has the lowest production complexity and is therefore most attractive as an initial technology.
"This scenario is thus likely to be initiated first, around 2020 (provided that the demand increases), while the FT and the AtJ scenario are expected to be initiated towards 2025–2030.
"The downside of HEFA is the limited availability of waste oils as a feedstock in the Nordic countries and generally poorer conditions for cultivating oil crops like Jatropha or Camelina compared to warmer countries.
"The FT scenario has an international comparative advantage, as it utilizes the forest biomass in Finland, Norway, and Sweden, which represents the largest forest resource in Europe, with an existing, well-established industry and infrastructure for collection and utilization of the feedstock. Most Nordic forests are also in a state of net growth, and this extraction can be increased if economically and sustainably viable.
"In terms of life cycle GHG reductions, the FT scenario is most likely to achieve the highest performance out of the three scenarios.
"The AtJ scenario is by comparison the most immature technology, as well as presently the most expensive production process.
"All technologies have different levels of production footprints in each country.
"The downstream of the HEFA-based scenario will most likely be physically located in Finland, due to infrastructure. However, long-term expansion could in principle be located in any of the Nordic countries.
"The FT-based scenario is likely to be produced in Norway, Sweden, or Finland, close to available forest biomass and forestry/pulp and paper production infrastructure.
"The AtJ scenario will especially benefit Denmark or Sweden, due to the utilization of straw.
"Iceland has large access to low cost energy, which could be utilized for hydrogen production, though any other production processes are unlikely to be located physically in Iceland."
Location For Production Wide Open
"The location of the final processing steps of refining for all scenarios can, theoretically, also be located in any of the Nordic countries, as the transportation costs of the more energy dense, intermediate products are low, compared to the costs of transporting pure feedstocks."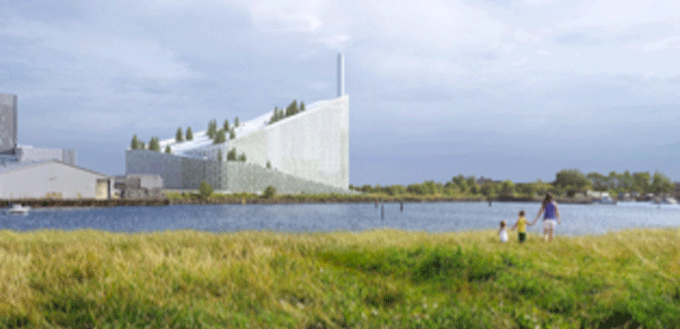 A Danish Biomass Power Plant.
Why Biofuel In Nordic Countries?
"In comparison to the rest of the world, the study identifies the following advantages for the Nordic region in engaging in sustainable jet fuel production:
Commercial scale production facilities already exist.
Placing biofuel production's refining stages in retrofitted units or integrated close by has made available an increasing over-capacity in refining.
Knowledge and feedstock capacity allows the three most promising scenarios to exist in parallel.
The bio refinery concept is already well established in Nordic energy production and is closely linked to an increasing awareness of circular economy and the utilization of by-products.
The Nordic countries have strong competencies and technological know-how within advanced utilization of forest biomass, such as gasification and extraction of higher value products in bio refining.
There is a basis for production synergies and increasing the production differentiability between biofuels and biochemical.
Fermentation and enzymatic hydrolysis technologies exist, with similarly strong technological competencies and know-how.
The positive impact on climate mitigation and socio-economy.
Catalytic technology for refining of fuels and reforming/conditioning of syngas exist.
There are numerous types of feedstock and biomass that can be used to produce biofuels, facilitate production opportunities in most parts of the world, and again create new business opportunities around the globe."
The Regulators
"Sustainable jet fuels for aviation are highly regulated and must meet strict specifications in order to be used in both commercial and military aviation.
"Jet fuels are approved by, among others, the American Society for Testing and Materials (ASTM) and are added as an annex to the ASTM D7566 standard."
Accepted & Under Review
"As of yet, three pathways have achieved an ASTM certification, three are under review, several are in the testing phase, and others are in earlier stages of development.
"ASTM-certified biofuels represent no technical or safety problem in flights. Currently, the standard approves the following fuel categories:
Hydrogenated Esters and Fatty Acids (HEFA)
Fischer-Tropsch (FT) based on biomass (BtL - Biomass to Liquid)
Renewable Synthesized Iso-Paraffinic (SIP) fuel (renewable farnesane hydrocarbon)."
Other Options
"Other options include ATJ Alcohol to Jet Fuel and Hydrogenated Pyrolysis Oils (HPO).
"As EC's European Biofuels Technology Platform (EBTP) describes, globally, research organizations and fuel producers are currently at work developing various sustainable feedstocks and conversion technologies for production of biofuels for aviation. The airlines and aircraft manufacturers support their work.
"In the short term, HEFA appears to be the most promising alternative to supplying significant amounts of biofuel for aviation. In the medium term, the most promising alternative is drop-in FT-fuels."
What Flies Ahead
"The aviation industry is unlikely to rely on just one type of feedstock.
"Blends of biofuels from different types of feedstocks, along with jet fuel, will power aircraft.
"Biomass sources for advanced bio-jet fuels include oil crops such as Jatropha and Camelina, waste fats and oils, and, in the longer term, biomass sugars, algae, and halophytes (IEA Bioenergy 2012, ATAG 2009, EBTP 2014)."
Testing, Testing, Testing
"Testing of biofuels is crucial to determining suitability for aviation.
"In the testing process, which aims to maintain the highest standards in safety, biofuels must undergo dozens of experiments in the laboratory, on the ground, and in the air (ATAG 2009).
"Many major airlines and air forces have been involved in some kind of test flights with biofuels and the number of commercial flights continues to grow, indicating the increasing interest in biofuels for aviation.
"Biofuels have been used in commercial passenger flights since the autumn of 2011, and several subsequent biofuels test flights are included on this page."
Prioritize Biomass For SJF?
"Viewing numerous alternatives for producing sustainable energy for electric power for heating, various industries like trains, buses, metro, EVs (Electric Vehicles) and many other land-based trades, the question has been raised if biomass should be prioritized for aviation. ATAG has recommended that the EU evaluate this option, as it's feared that insufficient biomass is available to meet the energy needs of all types of transportation as well as power plants and the like, especially as these land based activities have other options. Aviation, on the other hand, only has biofuels produced from feedstocks and biomass for sustainable aviation jet fuels. This subject is up for discussion in the EU and elsewhere; if it remains unsolved, it could clearly complicate and delay a smooth transition from a fossil-based world toward a much-needed clean, sustainable, and renewable society that will safeguard a healthy environment and planet for generations to come."
Robert Arendal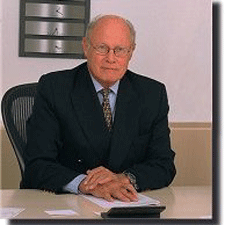 Air cargo pioneer, dreamer, and doer Robert Arendal has over 45 years of experience in the air cargo industry, occupying various shipping and air cargo management positions in Europe as well as the U.S. In 1970 he became part of the management team that founded Cargolux Airlines International SA, spending 29 years as Senior Vice President Sales, Marketing and Cargo Services as well as Deputy CEO.
Mr. Arendal is a founding father and first Chairman of TIACA (The International Air Cargo Association). He is a past President and presently a member of TIACA's President Council and entered the legendary TIACA Hall of Fame in 1997.
He is co-founder of the Cool Chain Association and has been its chairman for 10 years.
More recently, Mr. Arendal became a founding member of the 'Sustainable Biofuel Network,' a group of stakeholders facilitating aviation's transition from fossil fuels to sustainable and renewable alternative biofuels.
Up Next: Political support, SJF Investors, and much more in the journey to achieve a global, sustainable aviation industry. Look for that additional coverage in an upcoming article.