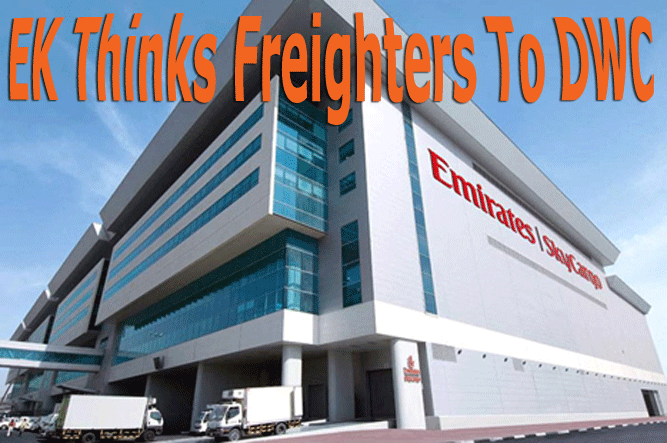 Ground terminal leader at Emirates SkyCargo, Dave Gould is the ultimate operations executive.
For years now he has been on a never-ending adventure as the most important (if not most visible) Emirates SkyCargo individual to be mentioned in the same sentence as 'cargo terminal,' or, in the parlance of today's operations, 'Air Cargo Mega Terminal.'
A life-long air cargo operations man, Gould started his career at the fabled British Caledonian (as did Emirates President Tim Clark, and a handful of others still working at the Dubai-based carrier). Today he oversees an absolutely critical part of Emirates SkyCargo from his offices located on the fourth floor of the big, DXB Cargo Mega Terminal handling facility.
From this launching pad he roams about the facility, keeping a well-weathered eye out for anything that might slow down the process in a place that always seems to be operating in over-drive.
Actually, the Cargo Mega Terminal was designed to handle 1.2 million tons annually and is currently handling more than that, so Emirates still finds use for its original air cargo facility, located right next door where overspill of various flights and commodities are handled.
But barely four years into Cargo Mega Terminal Dubai operations, there comes word of another major move with big changes in the wind, and Dave Gould once again must call upon his considerable expertise and inventiveness.
If he is worried, he sure doesn't show it, as he outlines what lies ahead for Emirates SkyCargo operations Dubai.
"The Cargo Mega Terminal is doing rather well," Dave assures us.
"As we celebrate our fourth year here I think it is safe to say that we have handled the step change from self-handling to automation, migrating quite well and with some speed into a procedural upgrade that was so alien to how we had operated previously.
"But people took to it very quickly; actually in most cases, much faster than we expected.
"We've got a very mature operation now—our service dependability levels are up in the almost perfect 99-plus percent range.
"But believe it or not, that is not really the story here right now," Dave Gould says.
"Because of the capacity challenges at Dubai International Airport, we are considering and looking at moving our freighter operations to the new Dubai World Central Airport (DWC). To this extent we are now engaged in looking at building new facilities and moving our freighter fleet to DWC.
"So for today, and actually for some months now, I have been quite busy working with consultants on the design for a great new Emirates SkyCargo facility at DWC.
"We are now embarked upon a very aggressive time-line to design, build and bring into operation a brand new facility."
Dave Gould faces a massive challenge.
He describes splitting the Emirates SkyCargo operation from a combination of freighters and belly lift, which, to date, have operated alongside one another at DXB, into a freighters-only operation at DWC and belly-only at DXB.
The logistical challenge is no small potatoes; it must be done correctly for one of the fastest growing air cargo operations on the planet to continue operating at top efficiency.
But come to think of it, Dave Gould has been down this road before: first operating the original Emirates SkyCargo Terminal hub, with its thousand workforce, and then moving into the Cargo Mega Terminal with its complex automation.

Now, once again, as if to prove all of these advances were not a dream, there is demand to not only build an even bigger air cargo facility some 60 kilometers down the road, but also coordinate all the freighters, belly lift, trucks, security, and everything else, and get it all in ship shape within a very short period.
As he speaks, we wonder when workmen will bring in a convertible couch for sleeping; we can only imagine that as it gets closer to the deadline, Dave may be forced to camp out at the airport.
"We will have to get it right as there are significant transfers of load between our two fleets, both all-cargo and belly lift.
"We are working closely with the folks from RTA (Dubai's Roads and Transport Authority) to develop connections between the two airports and are getting positive feedback so far from that sector.
"The moving of air cargo to and from DWC will put many trucks on the road and will require a well-articulated plan of feeding traffic basically into Dubai, which is a downtown airport unlike most other airports of the world.
"We are also working with the collateral challenges of cargo security that of course is a top priority with Emirates SkyCargo.
"Security as a must is also quite intrusive to operations, which in our case will demand rapid connection times with cargo that we have to screen and truck from here to there and unload and reload and vice–versa.
"At DWC, our first building phase will see creation of a facility that can handle 750,000 tons per year.
"We have a tentative second phase that will add an additional 300,000 square feet."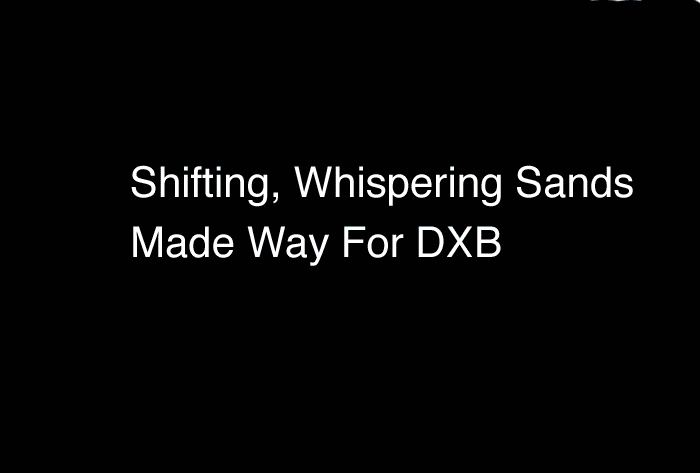 We wonder what lessons were learned building Dubai Cargo Mega Terminal that might be applied to the new mammoth project now underway at DWC.
"The biggest lesson that we learned here at CMT (without meaning to offend anyone) that may be of some benefit at DWC is that we at Emirates SkyCargo need to be involved in every step of the design plan because, for the high demand business we are in, getting things right is absolutely essential.
"At the new airport we have been given a massive plot of land with plenty of room to grow.
"But looking ahead, while the challenge is great, it is not so much the building and the physical construction that looms large, but rather hitting the time lines as described whilst maintaining our service levels: that remains under close scrutiny as our number one priority right now.
"There is about a 60-kilometer distance between the two airports and, with all the other factors that will come to the fore as described earlier, ferrying the loads is our biggest challenge and concern right now.
"As before when this place was built, I am certain we will get it right."
Dave Gould placed head and heart in the Dubai adventure after some 18 years in the UK with British Caledonian Airways and then British Airways Cargo.
Dave moved out to Dubai at the end of 1992 and took the position of GM Cargo Terminal Operations, dnata.
During his time with dnata Cargo, he played a leading role in the introduction of an Inter-airport road feeder network within the UAE and introduced the Freezone Logistics Center, aimed at low cost charter operators.
Since 2007, Dave has been Senior Vice President Global Operations Worldwide with Emirates SkyCargo and has overseen the move to self-handling and other advanced, 21st century cargo handling procedures now considered business as usual at the ultramodern Cargo Mega Terminal.
Looking ahead, thoughts immediately drift back to talk of a bonded highway between the two facilities, which was considered a must in the original plan, but now some years later, with the growth of population and other road connections between DXB and DWC, cannot be built.
Undaunted, Dave has his eyes on the prize and in between deep breaths offers this:
"Hope springs eternal and as mentioned we are talking to RTA so that maybe some areas of road can be dedicated to us."
There is a strip of road here called the Outer Bypass Road that goes around Dubai, which is slated for use by Emirates SkyCargo.
"We plan to use that highway, although connecting that road back to the airport will require a spur."
It is interesting that, at this point in time during a migration toward belly lift, with kero prices spiking ever upward, Emirates SkyCargo is splitting up its services with additional expense.
Dave breezes by that one, confirming, "It is indeed expensive to operate freighters… unless you happen to have the B777s as we do.
"So we continue to plan for the day as, for example, our Hong Kong freighter drops in here with 100 tons of air cargo that is redistributed amongst a score of passenger flights.
"In our tomorrow that freighter flight will land at DWC (pictured right) and our plan will be to bring that cargo to the DXB ramp into outbound aircraft without a hitch."
"Initially we will utilize less automation as freighter traffic is quite built up anyway, and I have always believed that air cargo should not be complicated, but rather utilized in straight lines.
"Also, although this may sound a bit cliché and in the moment, we shall be making our cargo as paper-free as possible to speed us along as we move between gateways.
"Overall, the mission is to keep things direct and as simple as possible.
"The idea is to line up every process: the security, police, customs, our people, their people, everyone, to make the movement of air cargo as seamless as possible.
"Security does not ever go away, but we can make it a more integral part of the system so that when there is a call out, the entire process does not stop, but rather accounts for the incident whilst continuing to flow.
"I guess the upshot of all of this is that we will once again pioneer a great advancement in air cargo that, once on display in Dubai, will become the norm elsewhere.
"Right now, it is pedal to the metal around here.
"The way this Cargo Mega Terminal operates almost without a hiccup gives us that opportunity to reach even higher," Dave Gould says, reaching for his rolled-up plans as another thought occurs, and we take our leave.
Geoffrey/Flossie