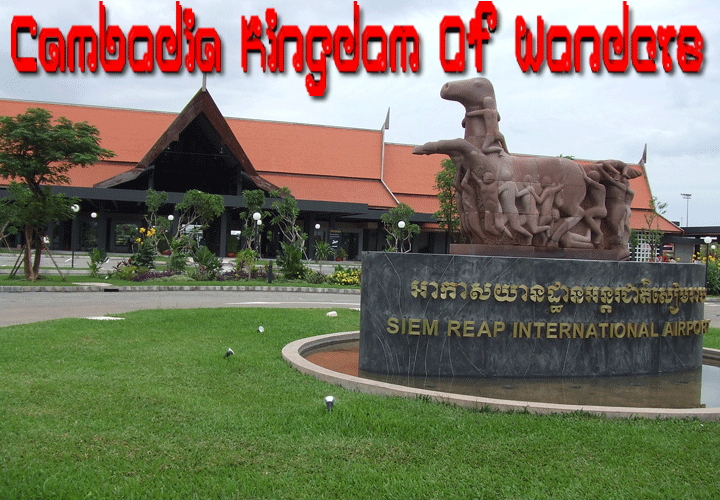 The resort town of Siem Reap in northwestern Cambodia is breathtakingly beautiful. It stands as the gateway to the ruins of Angkor, which was the seat of the Khmer Kingdom from the 9th-15th centuries. The airport has a small-town feeling—quite understated and lovely.

Phom Penh Exclusive
Looking for new markets remains a priority for some executives, especially after a rather lackluster and in some quarters even sluggish 2015.
Now in 2016, uncertainty over China finding the next big thing continues as the long predicted migration of manufacturing to the low cost labor pool areas of Southeast Asia occurs.
Looking at the airlines, despite the apparent continued success of Gulf operators EK, EY, QR, and others—notably Turkish Airlines— a growing portion of their cargo business is a trending shift from European and Asian operators to the more sophisticated cargo products offered by these carriers.
However, further growth in terms of new business remains a challenge as the pace of opening new gateways has also begun to gain a regular, if slightly slowed, rhythm.
A driver affecting both ocean and air is the slowdown in China, with its growing middle-class, which now constitutes roughly the population of the entire USA.
Chinese workers having pulled themselves up from the sweatshops, many with positions in the future of China—they are off buying Buicks and other consumer goods.
Enter the efforts of the Chinese government looking to farm out or even release some manufacturing to other, less advanced Asian countries.

Cambodia The Kingdom of Wonders

A recent article in The Phom Penh Post suggests some interesting possibilities that, if realized, might bring this ancient, often overlooked country—with its burgeoning, underpaid population eager for an economic breakout—four square into manufacturing and transportation,
But first we must back up a bit and look at the air transport industry in Cambodia, which we learn from The Post is enjoying a previously unprecedented success despite the shortcomings in the Cambodian regulatory system, a serious lack of oversight, and a legal system making operating an airline quite a daunting task.
Cambodia has long been known as the one spot in Asia where airlines sprout like mushrooms after rainfall and vanish even faster than they have started.
Here are only some airlines that have come and gone in Cambodia: Aero Cambodia Airlines, Air Dream, Angkor Airways, Cambodia Airlines, First Cambodia Airlines, Imtrec Airlines, Kampuchea Airlines, Mekong Airlines, Progress Multitrade Transport PMT Air, and President Airlines.
Notably, the carrier Siem Reap Airways International (FT), a spin-off from the Thai-based Bangkok Airways (PG) with Thai-trained crews and aircraft maintained in Thailand, was doomed by the political tensions between Thailand and Cambodia. Siem Reap International shut down its operations in 2008.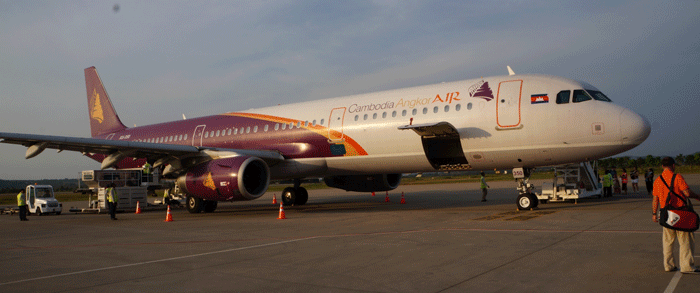 Cambodia Angkor Air (K6), owned jointly by the Cambodian government (51 percent) and Vietnam Airlines (VN), with planes leased from VN and maintained and staff trained in Vietnam, succeeded Siem Reap International.
Apsara Air, IP, restructured in 2014 after near bankruptcy and with operations recommenced in October 2014, currently operates a lone A321.
Cambodian and Chinese investors jointly own IP.

Some Newer Cambodian Services

Bassaka Air, 5B, launched its maiden flight in December 2014 and currently operates two A320 between Phnom Penh and Siem Reap as well as Macao.
Another stronghold is 5B's connection with the Cambodian/Chinese Naga Corporation, which operates multiple casinos in Cambodia; on behalf of Naga Corporation, charter flights to the Chinese mainland fly wealthy and not-so-wealthy gamblers to Cambodia from Changsha Hunghua (CSX) and Xi'an (XIY).
Another upstart is Cambodia Bayon Airlines (BD), which commenced service in December 2014.
Cambodia Bayon Airlines currently serves the Cambodian domestic market and Vietnam as its sole international destination and operates flights between Phnom Penh (PNH), Siem Reap (REP), and Sihanoukville (KOS) as well to Ho Chi Minh City (formerly Saigon, SGN).
As a wholly owned subsidiary of Chinese Joy Air (JR), BD has 10 A320-200 and another 18 MA-60 on order, slated to enter service between late 2016 and 2019.
BD will, if their ambitious business plans come true, shake up not only the Cambodian domestic market but also gain a significant chunk of the traffic between Cambodia and neighboring Vietnam, Laos, and Myanmar.
Founded in 2011, Sky Angkor Air (ZA) caters to the booming tourism trade with Korea, operating flights between Cambodia and Singapore (SIN), Busan (PUS), Daegu (TAE), Seoul-Incheon (ICN), and Hanoi Noi Bai (HAN) as well as operating charter flights to mainland China.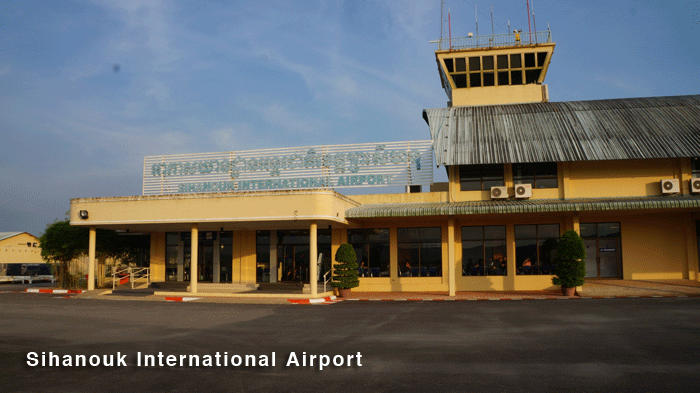 Enter The Airports

Phnom Penh Pochentong International (PNH) has recently seen its international terminal expanded by more than half, making it one of the most attractive airports in Asia with a taxi-to-gate time of less than 45 minutes. The facilities in Siem Reap (REP), home of Cambodia's biggest attraction, Angkor Wat, have also been upgraded and expanded to accommodate the increasing flow of tourists—as well as a small but steadily growing number of Cambodian domestic passengers—to this world wonder.
The third airport in Cambodia dubbed "international," Sihanoukville (KOS) has also awoken from its long dormancy, owing to a rush of European and Asian tourists flocking to some of the most beautiful Asian beaches, which are still largely untarnished and fairly empty.
KOS was abandoned during the Khmer Rouge regime and never reopened until 2007. Services were halted again in June 2007 after the fatal crash of PMTair (U4) flight 241, and didn't resume until late 2011. However, so far no international services are operated to and from KOS.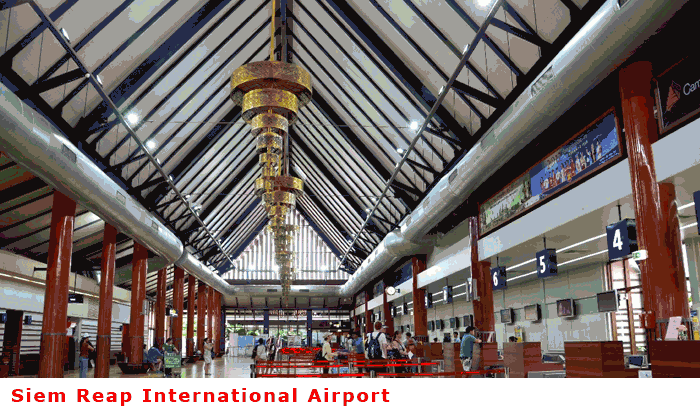 The Air Cargo Factor

As The Phom Penh Post pointed out, air cargo saw a 15 percent rise to and from Cambodia, bringing the total tonnage to 38,065 metric tons according to CAMS, the operator of the Cambodian airports.
Growing labor unrest in Cambodia's all-important garment industry boosted these figures, The Post reported.
It is important to point out that while garments are usually shipped by sea using Sihanoukville Port, outages caused by labor action forced a speedier means of transport, meaning air cargo carried a considerable percentage of the exports in 2015.
Whether or not such a forced shift to the air mode indicates any sustainable growth remains to be seen, but Cathay Pacific (CX) feels confident enough in the Cambodian market to deploy freighters twice a week.
EVA Air (BR) has withdrawn their biweekly MD11 freighter after focusing on higher yields to and from the U.S.—a strategy that might backfire, since the markets do not take kindly to carriers jumping and abandoning each wagon as they fall in and out of favor.
Still, the booming tourism to and from Cambodia necessitates strong air transport links both internationally and domestically, and carriers like K6, BD, and 5B—backed by Chinese and Vietnamese investment capital—are in for the long haul.

Who Are The Watchdogs?

One main issue overshadowing Cambodian aviation is the almost complete lack of regulatory oversight exercised by the government, a lack of safety regulations and the implementation of internationally accepted standards, and the biggest problem plaguing Cambodia—and its ordinary citizens—widespread, runaway corruption.
So far Cambodia has neither a labor safety code nor a fire code, and reports about flagrant abuse by government officials are frequent.

Growth In Private Initiative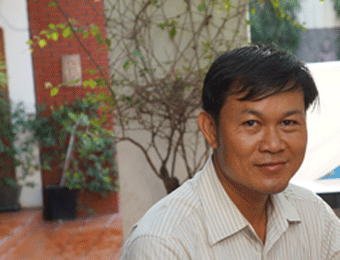 For example, while international hotel chains adhere to the fire codes or standards applicable in their home countries, most of the guesthouses and smaller hotels all over Cambodia are unfortunately little more than firetraps.
Still, private initiative in many cases covers what governmental regulation lacks:
FlyingTypers spoke to Hen Leat Cheang, General Manager of the Eureka Villas Hotel, a lovely, small hostelry in the heart of Phnom Penh City, about 25-minutes from Phnom Penh International Airport.
The place is owned by a retired Australian firefighter who trained Hen in fire fighting and prevention techniques.
Today Hen promotes and sells this equipment in Cambodia and conducts classes in firefighting training.
"As the only reliable source of specialized fire-safety equipment, we see our small business as an essential that has been instrumental in saving lives throughout Cambodia," Mr. Hen told FlyingTypers. Contact: hen@eurekavillas.com
Jens