Emirates' Flanagan
Greatest Airline Builder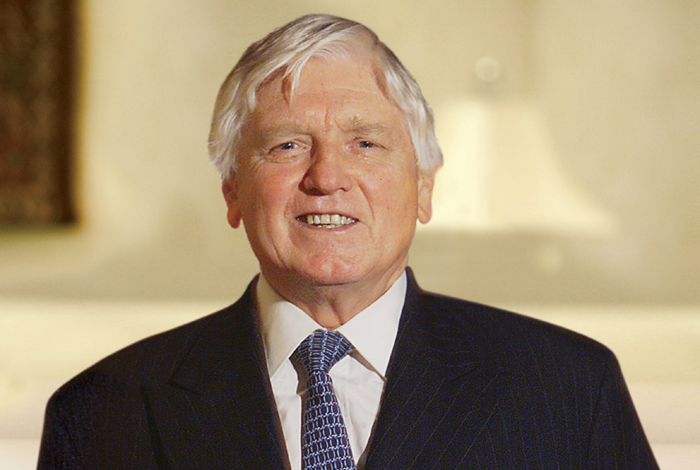 Ask Sir Maurice Flanagan, KBE, CBE, BA, Hon. FRAeS, FRAeS, FCIT to suppose for a moment what history might say about his spectacular and long-lived aviation career, which has included the founding of a great global airline, and the Executive Vice Chairman, Emirates Airline Group says simply:
"I've been lucky.
"I think it's that simple."
Throughout history there has been much written about men and women who have pioneered and changed history.
In aviation, Lindbergh and Earhart come to mind.
Present at the creation, Sir Maurice Flanagan continues upon an epoch journey begun some 34 years ago in Dubai, UAE. Once upon a time, two leased-in aircraft grew into a transportation resource that today reaches out on the wings of its airline to almost everywhere on the planet.
As you read this, EK's current fleet of 153 is expanding with the addition of more aircraft every month, such as B777s and A380s.
No one can doubt that Emirates, which began a scant 25 years ago, has its gaze firmly fixed on becoming the greatest international airline in the world.
Now in his 80s, Maurice Flanagan shows no signs of slowing down, although there is a slight hitch in his giddy–up—he moves around cane in hand due to some corrective knee surgery, which Dr. Deepak Bhatia, his orthopaedic surgeon insists is prolonged in healing because Sir Maurice insists on working out on his treadmill every day. It's a knee injury that preventing him from playing football and made the Blackburn Rovers Football Club in Lancashire quite upset, but the cargo community can thank that injury for leading him into the industry as he abandoned sports and began work for British Overseas Airways Corporation.
But if speaking softly and carrying a big stick is on the menu for this vital and connected man as he continues his adventure at Emirates, so be it, as his outlook and views remain razor sharp.
You learn something when you walk alongside Maurice Flanagan. It happened to us a couple weeks ago in Dubai.
Despite some challenges, he takes the stairs instead of the elevator.
He is tough as can be, sweet and human despite seeming indestructible, with an abundant interest in all that is going on around him.
Flanagan Targets European Gateway Growth
"We need more capacity," Sir Maurice says, meaning new airplanes for his beloved Emirates, and also new places to land the fleet like Berlin and Stuttgart Germany.
"Lufthansa hates us with a passion, but the German government takes no notice.
"We have double daily Munich and Dusseldorf while Hamburg will soon go double daily and we hope to increase Frankfurt to triple daily. In addition we have eight weekly freighter flights to Germany.
"We want Berlin and Stuttgart and they are blocking us on that.
"But in Germany, the Mayors and population of people who run the airports and cities want Emirates.
"And we will get there.
"Everything will fall into place.
"Even Canada will fall into place eventually.
"Airlines historically represented countries, so they received this kind of protectionist behavior.
"You can't tell BMW not to produce more cars than Germany wants—just like you cannot tell airlines not to produce capacity.
"After all, airlines are a service.
"For example, the Canadian government has restricted us to three flights a week, even though we could open several double dailies into Vancouver, Toronto and so on.
"They are shooting themselves through the foot.
"Where they (Canada) could benefit from a major uptick in tourist and business traffic, instead their politicians choose to protect Air Canada, which by any measure is just a financial basket case.
"So we slot three A380s into Toronto and wait for things to change.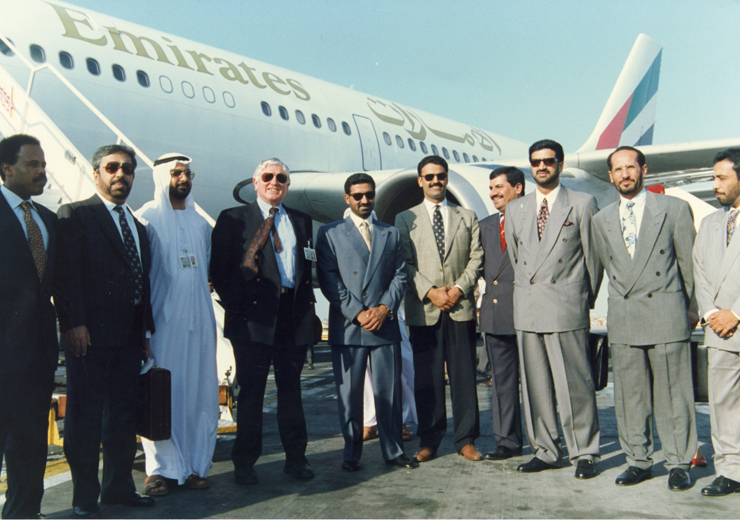 "Dubai offers complete freedom of the skies," says Sir Maurice, who apparently still prefers to be spoken to simply as Maurice, as he quickly corrects this reporter.
"We began with a $10 million stake and a couple of leased airplanes from PIA as a regional airline with absolutely no protection, and we continue to operate in a fair and balanced competitive airline environment in Dubai."
Taking a wider view of things, we wondered about the international airline industry and how Emirates was handling some of the major challenges?
"The finances of the industry are at present very dependent on the cost of aviation fuel.
"Last year it cost Emirates 40 percent of all costs, more than the sum of the cost of owning our aircraft, our total payroll.
"In the last three months of our financial year, fuel reduced our bottom line by $250 million.
"So our very good financial result for the year would have been $250 better, had it not been for that spike in fuel cost.
"The fuel price impacts different airlines differently, of course.
"A low-cost airline does not incur many of the large costs which a full service airline such as Emirates does.
"Therefore in normal times fuel would be a much higher proportion of its total cost than with a full-service airline.
"There is more to it than fuel costs of course. Emirates exploit Dubai's geographical location - in the center of the way the world works - to the hilt.
"With our long range aircraft we can connect any two points in the world, with one stop only, in Dubai.
"We fly non-stop to Los Angeles, San Francisco, Houston, Sao Paolo, Sydney, Perth, Melbourne, and will shortly add Rio de Janeiro.and Buenos Aires.
"The point is that Dubai is a viable north/south hub.
"Despite getting either an A380 or a Boeing 777 almost every month for many years ahead, we are still short of capacity, one of the reasons for Emirates' profitability.
"Other airlines are not so fortunate, not only in geographical location, but in the quality of the ownership and the management.
"For Emirates, looking ahead means more of the same challenges - the imperative to expand rapidly, whilst remaining profitable and maintaining a high standard of service.
"In terms of potential growth, I would guess business travel and long haul tourism hold the greatest potential.
"Both are capable of further development, and there are smart tour operators and airlines working on that.
"In principle, none of the fundamentals have changed since I began in this business. Value for money still must drive all that we do."
Asked about new airlines that might achieve major route and passenger/cargo numbers scale & success, Maurice Flanagan noted:
"There may be new groupings as with BA and Iberia, but I do not see major route and passenger/cargo numbers scale & success.
"It is well established that economies of scale go into reverse in airlines beyond what Christopher Chataway, when he headed the British CAA, described as a relatively low point in scale.
"Some airlines seem to think that size, by amalgamation, will automatically bring economies of scale.
"It just does not work in that way."
When we asked Sir Maurice to think back over his career and recall what had surprised him, his answer was immediate and direct:
"More than anything else, Dubai has surprised me.
"I came here on secondment from British Airways, for two years—33 years ago.
"I've seen centuries of change here in that time, all to the good."
| | |
| --- | --- |
| | |
Maurice arrived in Dubai in 1977, having been selected by the Government of Dubai to become General Manager of Dnata, which was already emerging as the region's leading ground handler, General Sales Agent and travel agency. At that time the business was still known as its full name - the Dubai National Air Travel Agency and had no visibly recognized brand. One of his first tasks was to oversee the creation of an identity for Dnata which would capture the hearts and minds of Dnata's customers and lead the business on to even greater heights.
"It was Sheikh Mohammed's vision and master plan that was driving the airport and aviation business within Dubai – he had the final say on the Dnata logo," Maurice recalls. After a few observations of his own, Sheikh Mohammed approved the crisp, modern red and yellow logo, that would forge Dnata over the years which followed.
Under his guidance Dnata grew as Dubai and its airport grew – constant increases in the number of airlines, flights and passengers, all benefitting from Dnata's renowned level of service for the airlines and their customers. International expansion began in 1993 with the company's first foray into the overseas market with a joint venture business in Pakistan, still operating today as Gerry's Dnata.
During the years in between, the Dnata business has continued to grow exponentially and today is the fourth largest combined air services provider in the world. Its global footprint has increased still further by both growth and acquisition in recent years and the business now has ground handling and catering operations spanning some 73 airports in no fewer than 38 countries. Just in the last couple of weeks, after a period of review, the Dnata brand has been re-launched with a fresh new logo – rebranded as dnata - to take it forward into the coming years.
We were also curious as to whether the growth of regional and international airlines in the Middle East might lead to an Emirates-led, SAS type of arrangement between the carriers
"That would never happen.
"There would be no advantage whatsoever to Emirates; quite the opposite, and without Emirates it could not work."
Emirates deserves to possess confidence and swagger—it is well earned at this point in time. But there must be some in the industry who resent or are envious of the rapid success of Emirates. We asked Sir Maurice what he would say to those who proclaim, "I hate Emirates!"
"I've never heard that said.
"The only response would be:
"Get a life!"
Sir Maurice's sentiments are that there couldn't be much more that you would want from an airline; Emirates has it covered. To those who believe that Emirates' growth spurt happened too quickly to retain momentum and excitement for the airline, his response is simply,
"It's an assumption that might be made by someone simply contemplating Emirate's rate of growth."
When you fly Emirates, it is all class. You would be hard pressed to find a negative experience among fliers, and for that reason there are no plans in the future to add things like low-cost services to the business package.
"Dubai's low cost service is there already in FlyDubai, which has the same ownership and chairman as Emirates, but is totally independent of Emirates," says Sir Maurice.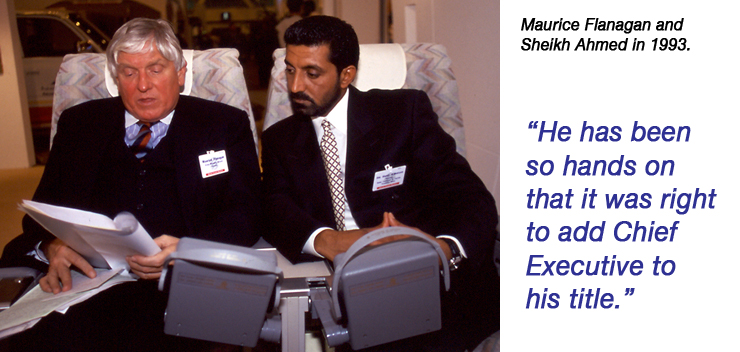 In 1985, Maurice Flanagan was appointed by the Dubai government to start up an airline, and Emirates is the happy, successful result. Dubai could not have placed the task in more capable hands.
"I was selected by Sheikh Mohammed to start the airline.
"When the airline started I had daily airline tutorials with Sheikh Ahmed.
"He has a brilliant mind, and had a memory like a steel trap.
"He has been so hands on that it was right to add Chief Executive to his title last year.
"Today, Emirates Group is a community of 50,000 people; that's as much as a small town. That makes it much more than an airline, particularly when you consider the multifarious activities that come under Gary Chapman, President Dnata and Group Services."
Finally, while he acknowledges that young people today can still find airline business as he once did: "exciting, with prospects of travel," Sir Maurice admits that he might have done something else with his life:
"I wrote a prize-winning TV play, with Leonard Rossiter in the main role.
"It was suggested to me by Kenneth Tynan, the theatre critic, that I should do that full-time, but I had a stable career with BOAC at the time, and did not want to take the risk."
So given the chance to take the other path, would he choose an airline career again?
"Certainly," Sir Maurice Flanagan said.
"Dubai International traffic has grown tenfold in ten years and it still continues at around 18 percent a year.
"The only other place that is happening like Dubai is China.
"Elsewhere, growth is flat or declining.
"You don't have to be in Dubai very long to realize that extraordinary things happen here principally because of leadership and the people.
"The visionary leadership here is amazing and the reason I think for Dubai's great success."
There is a down to earth and unaffected side of Maurice Flanagan evident when he talks about his Knighthood by Queen Elizabeth II.
"The investment actually took place in Abu Dhabi.
"That was quite a wonderful day, especially since I was able to bring 20 people including my family and and our Chairman, His Highness Sheikh Ahmed Bin Saeed Al Maktoum, to celebrate a very special moment in my life
"If the ceremony had been held in England, my guest list would have been just two."
Asked what he does to relax, Sir Maurice notes a fondness for "boogie-woogie, which I pick up on the computer via You Tube."
"I also enjoy playing that stuff on keyboards.
"I enjoy the classics too, including listening to the amazing voice of Kathleen Ferrier (English Contralto 1912-1953), especially when she sings Franz Schubert's An Die Musik or Dame Janet Baker, who among other works sang one of the most beautiful arias of all opera, from Purcell's Dido and Aeneas.
"We also (with wife Audrey) are quite fond of attending the Arabic Mass here where the singing is just magnificent."
With his varied interests and talents, with music, writing, athletic stamina and a fantastic attitude to push him through, it is small wonder that Sir Maurice was able to take a modest investment of $10 million and shortly turn it into one of the most successful airlines on the planet.
We look forward to seeing what else he has in store.
Geoffrey/Flossie