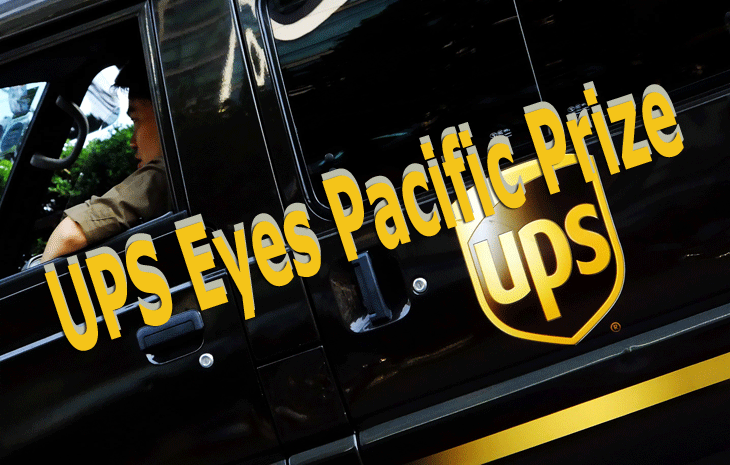 Brendan Canavan, the newly appointed president of UPS Asia Pacific, has no doubts about where integrators will see the fastest growth in the years ahead.
"Asia is probably the most exciting part of the world to be in now," he said. "With a weak U.S. economy and a problematic Eurozone, all eyes are on Asia to lead the potential recovery. "
The 31-year UPS veteran recently replaced Derek Woodward as the lead executive in an AP region that incorporates more than 40 countries and territories for UPS.
"UPS's international operating margin is by far the best in the industry and the Asia Pacific Region is a key contributor to that," he said.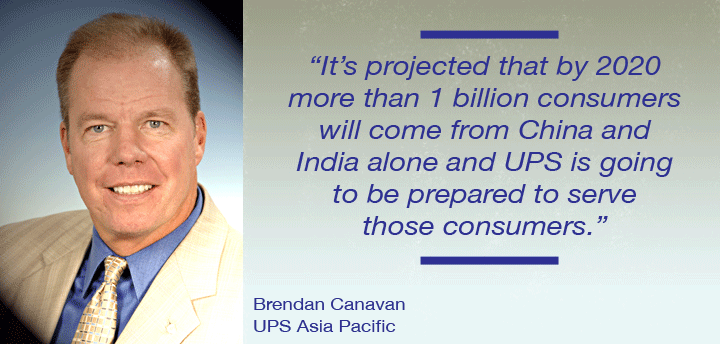 Previously, Canavan served as president of UPS's North-East District in Europe, based in Brussels, where he led the realignment of the company's operations and the acquisition of Stolica, a leading parcel and express delivery service in Poland. Prior to that he managed Worldport in Louisville, where he oversaw the integration of Menlo Worldwide Forwarding, which UPS acquired in 2004.
Canavan concedes that realizing Asia's huge potential for UPS will require overcoming a number of challenges in the current economic climate. "The slow global economic conditions are an immediate concern and we are working diligently to maintain our service levels profitably," he said. "But in the long-term, we are focused on improving our intra-Asia and global network, rolling out technology enhancements such as the new DIAD V, innovating new logistics solutions for our Asian customers, as well as developing and retaining our talent."
This, he says, explains why UPS invested heavily in two Asian air cargo and express hubs at Shanghai and Shenzhen even during the recession. "We expected to reap the benefits of being ready when the economy recovers," he said.
He highlights the rapid growth of the intra-Asia trade as an area where expectations at UPS are high, pointing out that volumes continue to grow faster than trade with the rest of the world and already account for more than 50 percent of all exports in the region.
"As per UPS's Change in the Chain survey in 2011, high-tech companies, for instance, are in favor of intra-Asia trade and are focused on fulfilling growth demand within the region," he said. "Trading plans in the next five years show that more than half of the trade lanes used by these companies will be primarily intra-Asia.
"With this in mind, I remain cautiously optimistic of the region's growth and I'd like to focus on developing our capabilities within Asia, which include network enhancements within our Asia lanes, technology expansion and building healthcare solutions."
UPS's Asia Pacific hubs are located in Shanghai, Shenzhen, and Hong Kong, and the company currently has an aircraft fleet of about 29 aircraft in the region, with over 230 weekly flight segments within Asia and over 160 international routes. In total these flights serve over 20 airports in Asia and over 370 internationally.
Canavan said UPS's brand has it well positioned to tap into demand from Asia's fast-growing middle class. "It's projected that by 2020 more than 1 billion consumers will come from China and India alone and UPS is going to be prepared to serve those consumers," he said.
Most focus will center on China, particularly its fast-growing interior markets. "We grow and invest wherever our customers need us to be," said Canavan. "We have long been exploring expansion in tier 2 and 3 cities in China because of their growth potential."
The Chinese government, which had been active in building infrastructure that supports the logistics and transportation sector, is encouraging this, he says.
"According to China's 12th Five Year Plan, the government is working on enhancing its road and rail network," he added. "Some key targets include the construction of a highway network to reach 83,000km and the length of a high-speed railway to reach 45,000km—and plans to invest more than RMB 1.5 trillion in developing the aviation industry.
"All this bodes well for UPS, which has invested over USD$900 million in China since 2002."
Apart from its hubs for the region, UPS also uses six gateways specifically for China located at Chengdu, Beijing, Guangzhou, Qingdao, Shanghai, and Shenzhen. "Our current infrastructure enables us to serve more than 330 cities in China and we are still on the lookout to do more," he said.
He identified Chengdu as one of the main cities that is benefitting from China's 'Go West' campaign to develop interior areas.
"Tax and investment initiatives from the Chinese government have seen many MNCs set up shop in this dynamic city, making it a focal point of high technology manufacturing," he said.
"As trade flow in the region increased tremendously, so did the need for smart logistics solutions required to facilitate it.
"Last year we began operating flights out of Chengdu, and we were the first international express carrier to operate out of the Chengdu Shuangliu International Airport. UPS's Chengdu gateway will boost the connectivity for western China's business and manufacturing communities to the world."
SkyKing