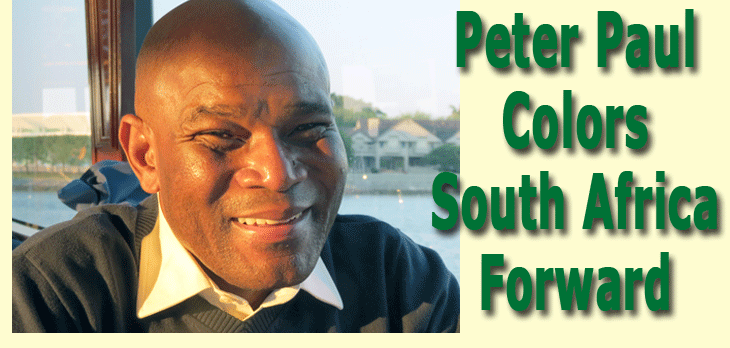 Naples, Florida, is as unlikely a place as you might expect to meet someone who has seen it all and lived to tell about it, but there I was aboard a big dinner cruise boat—the kind that push gamblers out beyond U.S. jurisdiction to play games of chance and are also available to host company events—having a once-in-a-lifetime encounter.
While everybody else was getting jolly at the open-deck cocktail hour, I was down below in the dining salon checking out the grub. It was there that I noticed a well-dressed gentleman, slight of frame, sitting at a corner table all by himself.
I am not one to allow for loneliness at a party. It just doesn't sit well with me. My instinct to engage was only further solidified by the fact that this perfectly nice looking gentleman was black. I must say, I cannot remember the last time I saw a black person at an air cargo event, let alone at a management level meeting or an industry party.
My instinct to engage goes rather hand in hand with my desire to cut to the chase—a desire that has both expanded my horizons and perhaps at times put me in a pickle. Fortunately, that night was an adventure in the former.
I walked right up to the gentleman and said:
"We don't see too many people of color at air cargo events."
His face broke into a broad grin, all smiling eyes, as he looked at me—Mr. American Cheese on White—and munching on a hard roll, laughed out loud and said:
"I almost didn't make it here… you know I am still on the TSA terrorist list?"
"You know," said his friend and host on the boat ride, Jo Frigger, (in photo left) CEO of EMO Trans, "you're speaking to Sibusiso Peter-Paul Ngwenya, who spent plenty of time disturbing the peace, blowing up rail lines, and otherwise caused all manner of disruption in South Africa during Apartheid."
"I wasn't easy," said the 57-year-old Peter Paul.
"I spent seven years of a fifteen year sentence in jail with Nelson Mandela and was not released from Robben Island until 1991."
There I was, riding on a dinner boat off the golden-age coast of white privileged Florida, speaking to a man who gave up part of his life to help millions and secure the freedom for what is now the new South Africa.
Robben Island was first used as a political prison in the mid 17th century, a place that housed convicts, slaves, and indigenous people who would not adhere to colonial rule. For 30 years (from 1961-1991) it was used as a maximum-security prison for apartheid fighters. It is now a museum where visitors can see the 7-by-9-foot cell that held Nelson Mandela, a room that Mandela wrote about in Long Walk to Freedom: "When I lay down, I could feel the wall with my feet and my head grazed the concrete on the other side."
Today Peter Paul's selfless patriotism to South Africa has developed into several business ventures, including Engen, South African Breweries, and the investment company Makana Trust, where he is a founding trustee and former chairman.
He later co-founded Makana Investment Corporation, of which he is the current executive chairman.
Peter-Paul is the treasurer of the Ex-Political Prisoners Committee.
He is also the chairman of South African Airlink, radio stations Heart 104.9 and Igagasi 99.5, and Sebenza Forwarding and Shipping Consultancy.
Sebenza Forwarding and its long standing partnership with EMO Trans has brought him this day all the way from the head office in Johannesburg via Dubai to Naples, Florida.
"You know," Peter Paul confided, "we have a real challenge with our forwarding business.
"When Apartheid ended and the balance of business ownership and positions in various companies came to be more racially representative of more than 80 percent of the population, the move was to put people in positions they may have been less than qualified to hold.
"Consequently, I am here in the USA looking for management-level expertise that is willing and qualified to both work and make a career in South Africa while we build our cargo infrastructure and expand our transportation expertise today and for future generations.
"Our business in 2012 has not been that good; in fact, we are struggling.
"But there are lots of opportunities in South Africa," Peter Paul insisted.
"Part of our problem is that there are so few trained people.
"We have lost key people to various factors, including to the competition, so replacement is quite difficult.
"South Africa is a major trading partner to other African countries, including for example, Zimbabwe and Mozambique.

"With continued interest in the African market from everywhere else in the world, the talent pool for logistics personnel is greatly challenged for everyone at home."
Looking ahead, Peter Paul just put the finishing touches on an autobiography of his life, expected out later this year.
Here is a man whose life began in poverty and repression, and who has now blossomed into generating business and creating civic greatness in his homeland. His pride and strength were instantly recognizable just in talking to him.
It is too easy to overlook people like Peter Paul, because they make what they do look so simple.
We are so glad that didn't happen on that big party boat in Florida, when the great Peter Paul and his vision of a thousand tomorrows sat undetected, a quiet hero amid a crowd of revelers.
Geoffrey