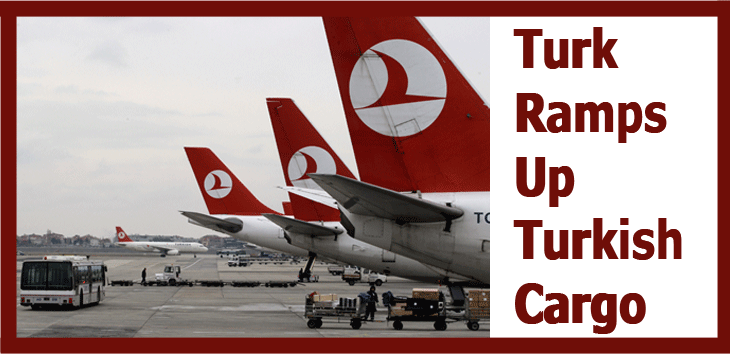 In a world where "what have you done for me lately" is a mantra to many, high-flying Turkish Airways Cargo has racked up some impressive achievements in just Summer 2012 alone.
The season began with the carrier's launch of an impressive new regional headquarters operation in Frankfurt, Germany, for central and southern Europe.
That early June development was followed closely with the launch of new freighter services into Minsk and Vienna.
Looking eastward, Turkish Cargo moved to establish an over the road truck network in China that began on June 22 and was brought to the fore at the recent Air Cargo China trade show, where Turkish Cargo held sway at the event.
Most recently, as part of its close contact with markets both old and new, the IST-based carrier arranged a meeting with forwarders, GSAs, and handling firms in Vienna.
No big deal, you say? Well, the 'getting to know you' opus event in Vienna was also attended by the Austrian Ambassador!
So little wonder that when the World Cargo Symposium brought its annual, mandated, global cargo community dog & pony show to Istanbul in early 2011, dynamic Turkish Airlines took center stage.
Before that event, which, among things, was memorable because it snowed—a rarity for IST—and almost monthly ever since, the flag carrier has continued an almost unbroken string of success upon success by moving into new markets whilst acting as the spark to generate Gateway Istanbul as a new center of the air cargo universe.
And as mentioned at the top, the beat goes on.
Turkish had just launched four-times-weekly service into Leipzig, a rising star of Eastern Germany, when we caught up with Ali Turk, the carrier's top cargo executive.
"When we look the figures and the international economic conditions for 2012, we can easily say that we have expected a difficult year for the air cargo sector.
"But we still have cautious optimism for the second half of the year, so we are projecting to close 2012 with numbers moving upward as compared to 2011.
"Turkey's growing economy, both in terms of exports and imports and the geopolitical importance of Turkey, are a comparative advantage as we labor to achieve our targets.
"We expect a more optimistic trend for 2013, as the current European situation brightens," said Mr. Turk.
"In terms of where growth is this year, the African continent offers great potential and we will continue to add services there.
"As example, during the first quarter of 2012, the Turkish economy grew 11 percent on average in both imports and exports compared to the same period in 2011. But for Africa, that growth rate was an incredible 55 percent.
"So, Africa is quite an important potential market for Turkish Cargo."
A quick look at any trade map underscores easily why shippers would want to utilize Turkish Air Cargo—location alone makes it a smart choice.
Notwithstanding timing and location, Turkish Cargo also carries a positive buzz in the market place as customer-savvy, doing the utmost to ensure customer satisfaction.

Do I hear a waltz? Turkish Cargo expanded the dialogue amongst the principles in Vienna, one of its newest freighter markets last month.
"Seventy percent of intercontinental business, both for passenger and cargo side, mainly European-Asia Pacific, is based on Turkey's geographical location.
"It's on the traditional Silk Route.
"Turkish Airlines leverages location with the sixth largest global airline network, offering shippers the ability to reach more than 200 international destinations.
"In a competitive and fragile international air cargo market where business competes for the customers, customer satisfaction becomes a key element of our business strategy.
"The primary focus of Turkish Cargo is to achieve maximum customer satisfaction and to deliver a 'customer-oriented approach' as a standard of our quality policy.
"To achieve this end, we have constantly examined our quality standard, renovating our operational procedures to deliver a shipment process that is both transparent all around, and fast.
"For example, one objective to keep things simpler for our customers was a renovation of our website www.turkishcargo.com.tr to offer the easiest way to monitor every step of shipments aboard Turkish Cargo.
"Moreover, Turkish Cargo has participated in Cargo 2000 to increase its performance operationally and to meet customer expectations for higher service quality. Thus, we target the sustainable growth with an ever-widening flight network and cargo capacity by increasing our share in global air cargo market.
"We re-engineered transportation processes from the shipper to consignee, considering the agreed applicable standards on the assistance of our IT department.
"When we look in general, we provide a service quality above the sector level to our customers. But we have a primary vision to maintain sustainable quality and operational excellence in our services.
"In order to achieve this, Turkish Cargo make continuous investments in IT and in infrastructures.
"Recently we launched an operational optimization process while rejuvenating all the existing systems in our warehouse in IST, and also adapting our internal IT system to latest business processes.
"We are aware that IT and infrastructure are significant issues, and we are in a tender process to fully change our IT structure, which we expect will be in full operation by 2014."
"Turkish Cargo offers the safest and fastest sender-to-recipient transport service for a wide variety of product lines: from textile to plastics; machines to aircraft parts; consolidated cargos to electronic materials; perishables to dangerous goods; live animals to valuable cargos.
"Turkish is especially experienced with dangerous goods, having huge loads on these commodities every year."
In terms of the challenges air cargo faces, Mr. Turk has an interesting take not seen or heard from by many in the business today: the air cargo family might just be too small.
"The airline business has an oligopolistic market character.
"Added to that situation are restrictions from some countries that suppress growth.
"Building a successful cargo business is also challenged by the amount of investments that must be made to enter new markets, and the small profit margins versus the time and money spent."
Ali Turk is no newcomer to the air cargo business. He has worked in the logistics sector for 14 years; before Turkish Cargo, he held many different positions related to logistics, in warehouse management and supply chain.
"I think air cargo is still quite open to development," he insists.
"Turkish Cargo as a dynamic, mobile business is determined to be at the forefront of developing world trade, and as flag carrier for Turkey, we are leading the way.
"Aside from all the rest, this business fits well with my personal character," Mr. Turk smiled.
Geoffrey/Flossie