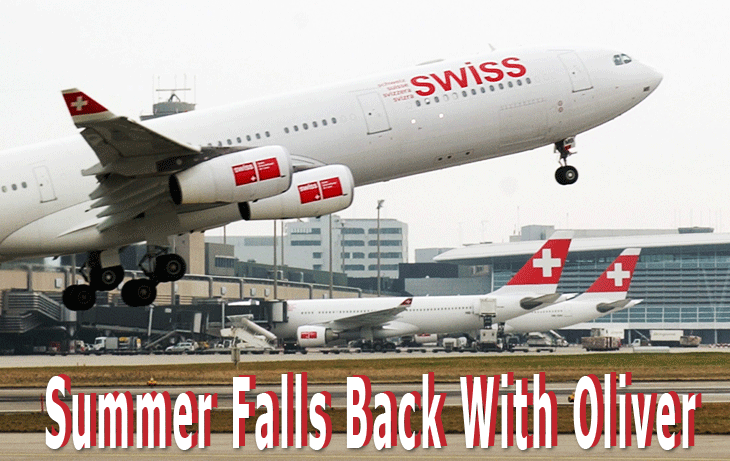 Oliver Evans, Chief Cargo Officer at Swiss WorldCargo, feels good about family, his job, and the business he has worked in for most of his life.
If you believe that something good can come from that you will get no argument here.
Whatever might be said of Oliver, he has certainly distinguished himself as team leader at a dynamic global air cargo enterprise and also as an iconic industry leader who gives plenty of time and brilliant attention to furthering better cooperation and understanding amongst all the stakeholders in our business.
Little wonder that in an era of wholesale change, Oliver has been able to withstand and remain at the helm, turning Swiss WorldCargo into a major profit center after the bankruptcy of Swissair and later takeover of Swiss into Lufthansa.
If the sum total of the classic three-point touchdown is continually landing squarely on one's two feet, then Oliver Evans is certainly a pilot for all situations.
Thankfully for all of us, he shares just about everything here. And he has a unique perspective about being in the air cargo business… although he wouldn't call it that.
"I am not in the air cargo business.
"I am in the global people business.
"I am driven by self-exploration and development, which of course includes my role as the leader of a community, and I am committed to helping all those around me in their own self-exploration and development.
"We need to make a living and in order to do that we must serve our customers and our stakeholders to the utmost of our abilities, but my motivation is the people and the global stage on which we operate.
"I therefore travel extensively (on average perhaps 1 intercontinental trip per month and 1 European trip per week).
"Although Paris (where I was born and grew up) and Zurich (where we have chosen to settle down) are wonderful cities, my favorite cities have to be Kyoto and Florence: both cradles of civilization and art, which have managed to preserve in their buildings, their hotels and restaurants, and in their people the hallmarks of the highest quality.
"My favorite restaurant is in the outskirts of Kyoto, I don't know exactly where and I don't know its name: it is a tiny family-run place, my daughter Alison who has lived in Kyoto takes us there; we always dine in a private room upstairs with translucent paper walls, and we always end drinking sake while my daughter and the lady of the house discuss subjects worthy of such a magnificent setting in their fluent Japanese," said Mr. Evans.
Speaking of air cargo, we wonder if Evans has encouraged his children to follow in his footsteps.
"Would it do any good?
"I do not see my role as a father to encourage or discourage my children from going in any particular direction: rather I must try to open up for them as many windows on the world as possible, and to guide them to make their own choices.
"I am married for over 30 years to Elizabeth, whose smile goes back to Irish roots, which also give me the opportunity every year to enjoy the wild and wonderful coast of Donegal.
"My daughter Alison, after graduating from Oxford University, spent a year in Japan, followed it up with an internship with the European Commission in Brussels, and is now continuing with a Masters in International Relations at John Hopkins University in Washington, D.C.
"When my son Luke was 16, I engaged him in a conversation to find out what he might want to do with his life. He had no idea, but he was very clear about what he did NOT want to do, namely get into air cargo (as I was of course the living embodiment of the dire consequences of living in the industry). "Today (aged 24), he is working and thriving in the air cargo industry," said Mr. Evans.
As far as Oliver's cargo business goes, he is certain to keep his top priorities in order as 2012 moves along.
"OE Top priority is and has to be the day-to-day business.
"It is tough out there, not just for airlines but also for forwarders and shippers, and as the attention of many turns inwards to cope with their challenges, the winners will be those that weather the storm best and focus on the customer and the cargo entrusted to them.
"I think there are significant shifts going on, both temporary and long-term. The protracted stagnation or even recession is forcing many manufacturers to rethink their supply chain, shifting not only to slower or cheaper modes of transport but even relocating some of their supply.
"An eventual pick-up in the market will reverse some of these changes, with air the main beneficiary as time-to-market reverts to rule. But there are other, deeper changes underway. "More and more passenger aircraft are being delivered that have huge bellies and available payload (B777s, etc.), and even the lean-bellied A380 is often coupled with new freighter flights where it is deployed.
"This has led to a glut of capacity, which is not about to disappear. And yes, the relentless forward march of Middle Eastern airlines (now including Turkish Airlines) is now seeing a very busy fast lane, while Americans and Europeans trundle along in the slow lanes," said Mr. Evans.

With new flights to Newark and elsewhere, Swiss has some definite standout markets in 2012 that deserve some focus from the cargo community.
"As ever, Swiss WorldCargo's specific and well-known strategy and focus is enabling us to outperform the market and gain share, just as it did in 2009.
"Although Newark is to be honest a challenge (as we expected) we have been enjoying some respectable loads. In contrast, Beijing has reached "cruising altitude" as we call it (i.e. full loads in both directions) much earlier than we expected and has been a positive surprise.
"All in all the market is tough and oversupplied, so that rates have been under some pressure in many markets.
"No one area stands out; results are uneven within regions as well as across regions, reflecting the thin market. Nevertheless, we did reach our targets for the 1st half-year, and remain cautiously optimistic," said Mr. Evans.
As for the rest of 2012, as always, it's all up in the air (pardon the pun).
"Air cargo develops in line with global trade, and I need not tell you the assessment of economists and sundry pundits.
"The fact is that consumer confidence remains very low, and uncertainties regarding the Euro are not about to go away, anymore than belligerent noises about e.g. Syria.
"I have said numerous times internally as well as externally that we simply have to be ready for different scenarios from a stable, rather weak market to worsening conditions due to economic or political turmoil or to a steadily or even rapidly improving outlook due to solutions in some of these areas," said Mr. Evans.
"I was bowled over when I went to Beijing with our inaugural flight and met our local team: all young and eager, mostly women, very proficient in English, anxious to learn, proud to be working for a company like Swiss, and above all smiling.
"These are of course all characteristics that we like to instill in our teams, but to see all of those qualities just after recruitment, before internal trainings and team-building start to have their effect, is a measure of the overwhelming drive that is transforming this giant country, and turning it into a natural and responsible leader of the modern world.
"We Europeans and Americans need to make room for them in the cockpit," said Mr. Evans.
For Swiss, the message remains the same.
"The wonderful thing is that after celebrating our first 10 years, we have no need to change our strategy or key messages, and people are just asking us to continue and go even further on our chosen path. But that's just it, by continuing on a path that we have made our own, we keep on discovering new things or areas for improvement, so we are keyed up and ready for challenges.
"It's hot in the European or North American summer, so take your shirt off (or at least roll up your sleeves) and get on with the plentiful work at hand," said Mr. Evans.
When it comes to GACAG, where others may have some negative words, Oliver Evans remains positive and upbeat.
"Industry observers are sometimes impatient or expect to see dramatic changes when such initiatives as GACAG are announced.
"Actually the task of coordinating the progress of a whole huge industry like ours and tuning the sometimes divergent interests of all stakeholders is a monumental task.
"Furthermore we should not forget that this is the first time the representatives of all industry stakeholder groups are collaborating publicly and effectively. Or that one of our signatories, the GSF, is a relatively new global association still in the process of establishing its reach and gaining support from all parts of the world.
"I therefore consider the degree of trust and mutual understanding and support we have achieved in a short time to be truly impressive and encouraging. I would like to give much credit not only to our colleagues from FIATA, IATA, and GSF, but also to the leadership shown by our Chairman of the Steering Committee Michael Steen: all have freely given much time and energy to the process. And our list of achievements keeps on growing: engaging regulators and international bodies (WCO, ICAO, UPU, CBP/TSA, DfT), position paper on standard consignment security declaration, common vision for e-commerce, common definition of sustainability, etc.
"I grant that this is steady rather than spectacular progress, but it is substantial and groundbreaking nevertheless. And I am very confident that the pace will pick up over time for the reasons listed above.
"A number of top airline and integrator executives representing leading global companies have for years voluntarily given some of their time to advance the cause of the industry by participation on the Cargo Committee of IATA or the Board of TIACA.
"I would like to see more top executives of top forwarding companies or other stakeholders similarly engage, especially leading global logistics companies, as they are the organizers of the air supply chain. I am therefore very encouraged by some of the contacts my colleagues or I have had around the industry, and I am confident that TIACA amongst others may soon welcome new Board members.
"At the end of the day, it must be obvious to everyone by now that the quality of electronic messaging across the industry is far short of what is required, that this is the biggest factor hampering the adoption of e-commerce, that advanced customs notification so necessary to combat crime is coming, and that the industry will only make a quantum leap in terms of reliability, efficiency and costs when achieving 100 percent quality of messaging becomes a permanent focus of top management attention and investment with all stakeholder groups," said Mr. Evans.
Geoffrey/Flossie