Sometimes when the air cargo industry awards season rolls around, we start thinking:
Why isn't there an award for all the true-blue, unvarnished, unsung heroes of air cargo?
There is certainly plenty of recognition and (even self-aggrandizing) advertising extolling the virtues of great companies and people, and also superior programs, all of which are vying for air cargo industry awards.
But in an increasingly commercial venture, we do wonder where a selfless effort, beyond award-driven individuals and companies, can be recognized just for the sheer decency of saluting a job well done?
So rather than just gripe about industry awards, here begins a series celebrating people, companies and events in the air cargo experience.
The aim here is to tell stories that touch the heart of our global air cargo audience, which, after all is said and done, may be the best award of all.
William R. (Bill) Boesch is a high-level executive who has been in the transportation and logistics industry for almost 50 years.
He entered the field of global transportation and logistics in 1965 as a graduate student working for Seaboard World Airlines, a pioneering cargo carrier serving the U.S., Europe, Africa, and Asia.
He held various marketing and operations management positions with the company before becoming its Vice President and Director of Worldwide Sales in 1978.
Mr. Boesch assumed similar responsibilities at Flying Tiger Line after it merged with Seaboard in 1980.
He joined Emery Worldwide in 1982, a major airfreight forwarder, aircraft operator, and logistics provider, as Vice President of its International Division.
He became Senior Vice President and General Manager of Emery in 1985 and Executive Vice President and General Manager in 1987, before leaving the company to become Pan American World Airways' Senior Vice President of Cargo.
Mr. Boesch assumed broader responsibilities as Pan Am's Senior Vice President for Passenger and Cargo Operations at the beginning of 1988, but left later that year to become American Airlines' Vice-President of Cargo, a division AMR wished to expand.
He became President and CEO of the Cargo Division in 1991 and Chairman of the Cargo Division in 1996.
Under Bill's direction, American became a world leader in the air cargo and logistics business, with annual revenues of over a billion dollars.
Bill served as CEO of DLH/DP Global Mail in 2004, led the company out of its financial difficulties, and managed the integration with Smartmail.
He directed the movement of both companies' corporate headquarters and the branding change to DHL Global Mail.
But then Bill did something a little different, taking on a task (just recently completed) as a transportation advisor to the U.S. military—first in Iraq and later Afghanistan.
His work was not at some military base stateside, either.
He went and lived in both war zones, operating in places where he was constantly in harm's way, to the point where he carried personal weapons.
But as with all things, Bill Boesch, who has just recently returned to America from Afghanistan, is quite self-effacing and even matter of fact when talking about the high adventure of supplying the military with a critical skill set after a remarkable life in air cargo.
"I went to both Iraq and Afghanistan because I believed that by organizing tribal transportation companies we could significantly reduce the number of American casualties.
"The War in Iraq was on going in 2004 and the military truck transportation was taking very high hit-rates (as high as 30 percent).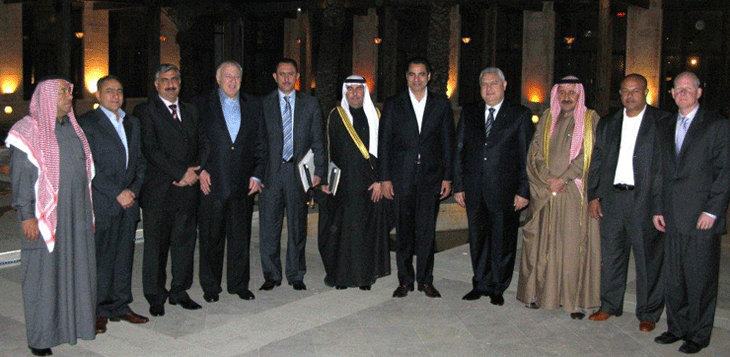 "The soldiers guarding the supply trucks, which were mostly coming out of Kuwait and were driven by USAF personnel or 3rd country nations (people from India, Pakistan, Philippines, etc.), were hired by a Kuwait company called Agility and later PWC.
"Many Iraqi people hated to see these American goods moving on non-Iraqi trucks with non-Iraqi drivers guarded by U.S. military gun-trucks, rolling through their villages while their people were unemployed and their families suffering from lack of food, clean water, medical attention, and schooling.
"Many transferred these negative feelings toward Americans who said they came to liberate them.
"As a result these convoys were reportedly continually attacked with IEDs, rockets, or small arms.
"My feeling was, how do we explain to a U.S. family that their sons or daughters were killed or mutilated guarding a shipment of Kool-Aid soft drinks?
"The United States Secretary of Air Force, Mike Wynn, asked me to study the culture of Iraq and see if this gave us a hint on how to improve the trucking operation.
"Right away, the analysis needed to take into consideration that, in addition to being Americans in a foreign country and the challenge of foreign language and cultures, the complexity was doubled by Sunnis and Shiites fighting each other hand to hand, which included pulling each other off trucks, with beatings and killing running rampant
"The Sunnis also viewed the U.S. as supporting the Shiites after Sadaam Hussein's departure, which resulted in the Sunnis in the West and North supporting Al Qaida.
"As a counter the Shiites were teaming up with Iran. So the cultural complexities within Iraq were extreme. Our studies showed us that the tribes were strong and could protect the trucks.
"So my task in Iraq and later in Afghanistan was to reduce number of American casualties by working with the tribes to get them to transport our materials.
"I went into Iraq as a civilian businessman trying to find and talk with the top tribal sheiks, who were mostly hidden because of fear of being killed by the U.S. forces.
"After many months we penetrated the tribes and set up tribal companies to transport U.S. goods in al Anbar within the so-called 'Triangle of Death.'
"The operation worked and the trucks did not suffer any attacks or loss of goods.
"We then expanded to the Shiite area in the South and finally to the mixed regions in the north.
"During the 3 years of the Iraq Transportation System's operation within Iraq, there were no attacks on any of our operated trucks.
"Further the system is now credited with taking over 300,000 U.S. soldier man/days out of harm's way.
"I truly believe that many of our soldiers came home because of the work my team accomplished.
"As time goes on and peace finally comes to this region, the hope is that someday, with all of the facts on how our mission was conducted, people will recognize the scores of very brave people who risked their lives every day.
"They are the true heroes in my view.
"Because Iraq was so successful, once again we were down on the ground attempting the same type of program in Afghanistan.
"Right away we found out that Afghanistan is quite a bit more culturally complex than Iraq.
"The tribal system was not as strong as in Iraq, so we had to deal with village and tribal elders all along the truck routes.
"We formed a program to only go to the most dangerous areas in Afghanistan, which were those areas that the normal, military-contracted trucks (Host Nation Trucking, which was replaced by National Afghan Trucking) would not go even with full security.
"So to get supplies to those areas, either air or military convoys were used.
"Our elder operation, Afghan Trucking Network, put together the elders and started operations with local village owner operators in the west, then went into the SW and connected the two regions going through the highly dangerous drug smuggling regions. Again, the systems were successful, with the result that ATN is credited with taking over 16,000 U.S. soldiers out of harm's way, with an on-time delivery of goods reliability at 98 percent.
"For the moment, expansion of this program has been put on hold for technical reasons so I am back in the U.S., but think daily of those brave man and women fighting an unseen enemy in the mountains of Afghanistan.
"Looking ahead there is no reason why the program cannot eventually be resumed to the South and the highly dangerous Eastern areas of Afghanistan.
"The need is great with so many American lives at stake.
"I cannot ever forget the personalities and faces of our brave young soldiers in these two conflict zones, with the abiding wish to continue to help insure that many more soldiers are taken out of harm's way so that they might safely come back home.
"The realization that my experience might help save even one soldier's life has led me to believe giving back and helping others is in fact the best work of my life."

Cultural and sociopolitical factors form a balancing act that is difficult to the extreme in the case of the Middle East, and it would be one thing if that were all Bill had to deal with. But unfortunately, sometimes the simplest things, like common practices for best efficiency along the cargo chain, become mangled in the process.
"The military moves long-haul air cargo mostly through AMC (Air Mobility Command), which uses its organic aircraft (C130s, C17s and C5s). Most of the heavy-lift cargo is moved on these aircraft along with palletized cargo.
"AMCs organic lift is supplemented with CRAF (Civil Reserve Air Fleet) using mostly palletized cargo on commercial 747s—in both peacetime and during conflicts. CRAF can take all the committed aircraft assigned to the program depending on the scale of the conflict.
"Within Iraq, cargo was carried by a few commercial carriers who bid daily on the movements using mostly low-cost Russian aircraft (An12s or IL76s) and crews.
"The problems that I saw with the movement of military cargo were low utilization of cube and weight.
"I can understand this happening from time to time on hot incoming cargo, where it would be against the mission to delay material by waiting for additional cargo to fully utilize the cube and weight, but I cannot understand why this is happening with outbound cargo during the drawdown in both Iraq and Afghanistan.
"The military fully utilizes the trucks so there must be some reason why they do not do the same with aircraft.
"Many pallets are built knee-high and in a commercial operation, that would never be acceptable.
"Also, the booking and performance systems need to be centralized and done through one system, as the systems in many cases are different and cannot synchronized with each other. An example is that it is difficult to book outbound cargo because one of the systems does not have a code for that.
"Operations like AMC try to do their best to move cargo, but are never-the-less criticized by the in-country operations, which appear to have lack of control or oversight of the situation," said Mr. Boesch.
With admiration for companies like Emirates, it's no surprise that after forty years in the business, Bill believes innovation technology is the key to making cargo a better business on the global scale.
"There have been many improvements.
"The industry needs to keep on target with its IT systems and find ways to be more customer friendly and to be compensated fairly for product; it needs to have a top focus on revenue per tonne mile rather than load factor; and it needs to work with world governments on security that protects both the public and the vital air cargo industry."
With his service having lasted "five LONG years," Bill is finally ready to settle a little bit at his beach house in Treasure Island; he's most looking forward to "getting to know my two girls again."
We have in our minds the idea of what makes a good soldier—Strength, Efficiency, Caution, Intelligence—but we seldom talk about the other side of being a soldier: Hope.
Without Hope, you couldn't see the possibility for changes, you wouldn't dare to make any, and you would miss the most important part of the job: coming home.
It sounds to us like Bill is a true military patriot.
Geoffrey/Flossie