President of American Airlines Cargo Jim Butler has delivered many speeches and comments during his tenure, but his words have never been more heartfelt:
"On behalf of the thousands of dedicated employees of AA Cargo, it is an incredible honor for us to have been entrusted with this move.
"This is a moment for us to reflect that air cargo is far more than just a business."
As the world prepares to once again recall September 11, 2001, and the attacks on the World Trade Center in New York City and the Pentagon in Washington, DC, American Airlines Cargo (AA Cargo) was entrusted with moving an artifact of that terrible day—a 2,000-pound World Trade Center beam—from New York to the Kennedy Space Center, where it will forever reside in the Fire Rescue 9/11 Memorial at Cape Canaveral.
Working in close cooperation with a diverse group including the Kennedy Space Center Fire Rescue and the Transport Workers Union (TWU) — International Association of Machinists and Aerospace Workers, AA lifted history, arriving without a hitch at the Cape on August 14.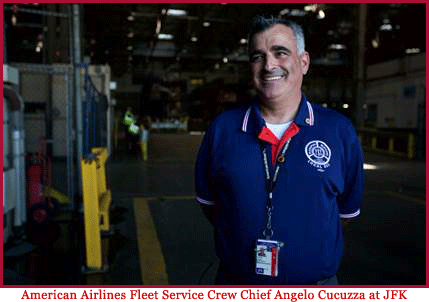 American Airlines Cargo and partner trucking company Ground Services Inc. donated all transportation costs.
The beam was recovered from a Port Authority of New York & New Jersey storage facility.
In New York at John F. Kennedy International Airport, where American Airlines operates a major air cargo center, the JFK team created special crating and also provided a tug and dolly specifically to transport the beam, which was housed in an American flag-draped container to Philadelphia (PHL), where the artifact was loaded onto a Boeing 767-300 for Miami Airport.
"Korina Trinh, a Cargo Operations Control Analyst from American [Airlines] organized this special move and worked very closely with Rich Burkhardt, our cargo operations manager at JFK, to get the move set up.
"All of our teams in New York, Philadelphia, and Miami were highly motivated and involved with this shipment," a spokesman for AA Cargo told FlyingTypers.
Geoffrey Arend