Düsseldorf Building Airport City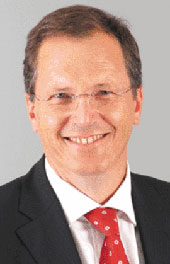 Düsseldorf brings much to the table as the third largest airport in Germany, although as compared to FRA & MUC the gateway is rarely in the headlines.
Christoph Blume, (left) the airport CEO notes the gateway offers great transport connections and the location is at the center of one of Europe's most important commercial regions with millions of people, but also benefits from the dynamics of the Düsseldorf region.
DUS also offers room to grow.
Currently Flughafen Düsseldorf Immobilien GmbH (FDI), a subsidiary of Flughafen Düsseldorf GmbH, is planning, designing and developing the property.
For Düsseldorf International Airport real estate development represents an important component of corporate strategy for the systematic buildup of the location.
Centerpiece at DUS is the development of Airport City.
Overall concept was developed by Düsseldorf International Airport in cooperation with the architectural office JSK that has also designed the airport's new terminal.
"Flughafen Düsseldorf GmbH is constantly expanding its range of services all around aviation," says Christoph Blume.
"An important growth sector is, for example, the non-aviation business.
"We will continue to expand our offer, develop new products, and orient our plans to our customers' requirements," says Blume.
"As example, a series of buildings with a total of some 250,000 square meters of gross floor area can be built here.
"Since the size of various construction sites can be varied individually, allowing for structures to be designed from 3,000 to 30,000 square meters of space.
The DUS sites are sold to investors who then execute their projects. More than half of the sites have already been sold.
The first construction phase - covering about one third of the total area - has already been realized.
The airport expects that the entire site will have been sold to investors by 2013.
Currently 77 airlines call at Düsseldorf serving 180 destinations around the world, with about 625 departures and arrivals a day.
"DUS Airport City is located at the center of an economic region with immense potential.
"Nine million people live within a radius of 50 kilometers, 18 million people within 100 kilometers.
"The market compares in size to the markets of London and Paris.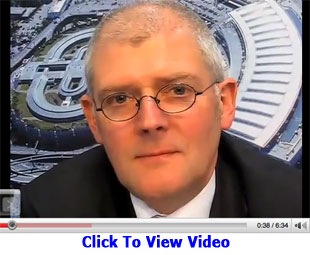 "In terms of importance, ten of the thirty DAX companies are based right here at the heart of the North Rhine-Westphalia, and some 400,000 companies operate in the Rhine-Ruhr region."
Air cargo has been steadily growing and as mentioned at the gateway offers room to grow with potential throughput of 300,000 tons annually.
It's worth mentioning one of the truly original ideas and businesses to come to the fore in the past few years, leisure Cargo that serves the cargo needs of 18 carriers, is based at DUS.
Gerton Hulsman (right )is managing director of DUS Cargo Logistics, the major handling agent at the gateway that operates, 24/7/365 as 100% subsidiary of the Düsseldorf International Airport Group. DUS Cargo employs160 at the airport.
"We guarantee outstanding quality combined with short handling times thanks to a top-grade location with direct access to the apron and state-of-the-art equipment," Hulsman points out.
"As example, we have become an active member of the "Cool Chain Association (CCA) since 2008.
"We support our customers to be the best in providing world-class service and we will use and constantly improve our know-how to remain best in practice."
Geoffrey