Amelia Flight Of Fancy 70 Years Later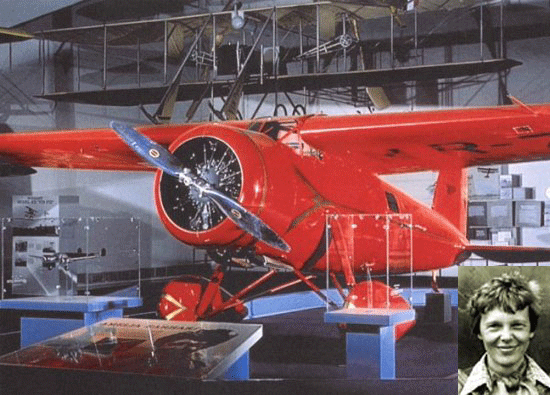 Although she disappeared somewhere in the Pacific Ocean July 2 1937, seventy years ago this summer, Amelia Earhart has remained the most famous, if not favorite, female aviator in history.
Indication of that is, earlier this year USA Secretary of the Navy Donald Winter named the newest underway replenishment vessel, USNS Amelia Earhart (T-AKE 6).
Amelia Earhart's name became a household word in 1932 when she became the first woman—and second person—to fly solo across the Atlantic, on the fifth anniversary of Charles Lindbergh's feat, flying her blood red Lockheed Vega from Harbor Grace, Newfoundland to Londonderry, Ireland.
That year, she received the Distinguished Flying Cross from the Congress, (the first ever given to a woman), the Cross of Knight of the Legion of Honor from the French government, and the Gold Medal of the National Geographic Society from President Herbert Hoover.
But backing up a moment, credit the great aerial pioneer pilot Frank Hawks who on December 20,1928 gave her a ride that would forever change her life. "By the time I had got two or three hundred feet off the ground," she said, "I knew I had to fly."
Later with Publisher George Putnam who she developed a friendship with and married, she prepared to make a solo flight across the Atlantic On May 20, 1932, she started the trek from Harbor Grace, Newfoundland, to Paris.
Strong north winds, icy conditions and mechanical problems plagued the flight and forced her to land in a pasture near Londonderry, Ireland.
"After scaring most of the cows in the neighborhood," she said, "I pulled up in a farmer's back yard."
Ms. Earhart for her part felt the flight proved that men and women were equal in "jobs requiring intelligence, coordination, speed, coolness and willpower."
In the years that followed, Amelia Earhart continued to break records.
On January 11, 1935, she became the first person to fly solo across the Pacific from Honolulu to Oakland, California. Chilled during the 2,408-mile flight, she unpacked a thermos of hot chocolate. "Indeed," she said, "that was the most interesting cup of chocolate I have ever had, sitting up eight thousand feet over the middle of the Pacific Ocean, quite alone."
Later that year she was the first to solo from Mexico City to Newark.
A large crowd "overflowed the field," and rushed Earhart's plane.
"I was rescued from my plane by husky policemen," she said, "one of whom in the ensuing melee took possession of my right arm and another of my left leg."
The officers headed for a police car, but chose different routes.
"The arm-holder started to go one way, while he who clasped my leg set out in the opposite direction."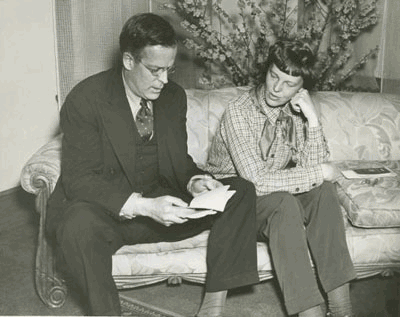 In 1937, as Earhart neared her 40th birthday, she was ready for a monumental, and final, challenge.
She wanted to be the first woman to fly around the world.
"I have a feeling that there is just about one more good flight left in my system, and I hope this trip is it," she said.
On June 1st, Earhart and her navigator Fred Noonan departed from Miami and began the 29,000-mile journey.
By June 29, when they landed in Lae, New Guinea, all but 7,000 miles had been completed.
Frequently inaccurate maps had made navigation difficult for Noonan, and their next hop—to Howland Island—was by far the most challenging.
Located 2,556 miles from Lae in the mid-Pacific, Howland Island is a mile and a half long and a half-mile wide.
Every unessential item was removed from the plane to make room for additional fuel, which gave Earhart approximately 274 extra miles.
The U.S. Coast Guard cutter Itasca, their radio contact, was stationed just offshore.
Three other U.S. ships, ordered to burn every light on board, were positioned along the flight route as markers. "Howland is such a small spot in the Pacific that every aid to locating it must be available," Amelia said.
At 12:30 p.m. on July 2, the pair took off.
Despite favorable weather reports, they flew into overcast skies and intermittent rain showers.
This made Noonan's premier method of tracking, celestial navigation, impossible.
As dawn neared, Amelia Earhart called chief radioman Leo G. Bellarts and asked for Itasca's location.
She failed to report at the next scheduled time, and afterward her radio transmissions, irregular through most of the flight, were faint or interrupted with static.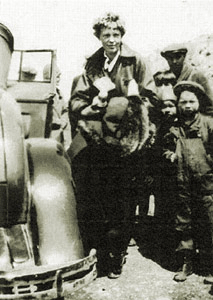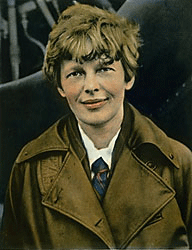 At 7:42 A.M. the Itasca picked up the message,
"We must be on you, but we cannot see you.
"Fuel is running low.
"Been unable to reach you by radio. We are flying at 1,000 feet."
The ship tried to reply, but the plane seemed not to hear.
At 8:45 Earhart reported:
"We are running north and south." Nothing further was heard from Earhart.
A rescue attempt commenced immediately and became the most extensive air and sea search in naval history.
On July 19, after spending $4 million and scouring 250,000 square miles of ocean, the United States government reluctantly called off the operation.
In 1938, a lighthouse was constructed on Howland Island in her memory. Today, though many theories exist, there is no proof of her fate.
There is no doubt, however, that the world will always remember Amelia Earhart for her courage, vision, and groundbreaking achievements, both in aviation and for women.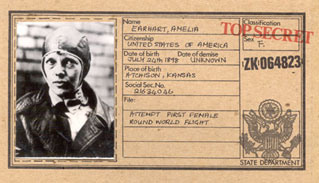 "Please know I am quite aware of the hazards," Amelia once said.
"I want to do it because I want to do it. "Women must try to do things as men have tried.
"When they fail, their failure must be but a challenge to others."
Today for many, she still flies, not a day older, forever young as part of the legendary and heroic first generation of flight.
But Amelia Earhart was much more than flinty pictures in old scrapbooks and yellowed newspaper clippings.
She was the embodiment of the youth and vitality of the so-called "Golden Age of Flight."
Amelia Earhart also left a written and spoken history that is often overlooked but included here in this text and amongst some of her most famous still pictures.
Brave Amelia Earhart for some will always be "First Lady Of The Air."
Geoffrey