Volker Dunkake, LH Cargo Charter, Bernd Grün, Geodis Wilson Germany, Ulrich Brenner KN Airlift, Geoffrey Arend, Air Cargo News FlyingTypers, Nils von Buxhoeveden, LH Cargo Charter, and the pilot with the plan and plane—Thomas Schrade.

The flight was more a smoke dream than any reality, an out of body experience suspended between reality and imagination: we were flying above Germany, traveling from Frankfurt to Darmstadt in a tiny, vintage 1920s aircraft.
Our cabin was shaped like a small boat and lined with wood and wicker chairs. From inside, we could look out at roaring, twin reciprocating piston engines attached to a 70-foot wide wing, amidst a cacophony of wires and struts that cradled and lifted our aerial boat aloft.
Up and away into the wild blue yonder we flew, dancing in and out of the clouds and up through the sky at an unfathomable height – have you ever had dreams where you could fly all on your own, despite the limitations of your flightless body? Those dreams where you can see everything happening on the ground, where you never fly so high that your passing doesn't cause the grass to bend underneath you? Aloft, but still tied to the earth. That was what it was like. From the S-38 we could clearly observe activity on the ground; wash being hung on a backyard clothesline, neatly manicured farms and herds of sheep and cattle, stranded motorists on a jam-packed spur of Autobahn. All these sights slipped by under our gaze, almost at our fingertips.
I kept thinking that if this were Sunday and not Wednesday, we might have seen the now empty parking lots around town churches full of cars and the Autobahn less busy.
No one that has spent any time around an airplane can deny the stuff of legend and lore as history came alive Wednesday.
Nina Lamprecht, Chief Information Officer at Frankfurt Egelsbach Airport, is both beautiful and animated about her gateway, which records 85,000 aircraft movements yearly, and with just 23 staff.
"We do what we do," says Nina, who once upon a time worked for Pan Am.
"Our airport is the perfect host for fliers and aviation romantics - it's also great for those who want to come and watch the world go by and enjoy a wonderful meal in our restaurant.
"I loved the S-38, especially the garden chair (wicker) seats aboard the craft.
"A bit bumpy but thoroughly exciting and wonderful."
We were at Egelsbach Airport, an FBO base near Frankfurt Am Main, Germany, where Netjets operates and Lufthansa's JU-52 is based, and a fabulous restaurant that brews its own beer is joined by vintage aircraft that fly in every so often for a day, offering joy rides to the locals.
This day, September 9, 2010, we were aboard the only Sikorsky S-38 still in the air. Pilot Tom Schrade flew the lovingly recreated vintage cargo and passenger aircraft into Germany all the way from Minnesota to raise money for the charity group "Wings of Help."
"Osa's Ark," painted in zebra stripes to honor and respect the S-38 filmmakers/authors Osa and Martin Johnson, who once upon a time flew a similar aircraft in Africa on various wildlife expeditions during the 1930s, stopped traffic dead, while on the ground and flying above this vest pocket-sized aviation facility.
Even Lufthansa's vaunted 1934 Junkers JU-52 "Templehof," which remains a main attraction here and flies sightseers, romantics and thrill-seekers regularly, crew-tipped a wing in salute to the elder S-38.
"Wings of Help" boss Frank Franke, (left) who is otherwise occupied 24/7/360 raising money to send emergency help around the world, was caught up in the moment as he sang the praises of Pilot Tom Schrade, who he says, "is one of a kind."
But Herr Franke, who carries a definite sense of dedication and purpose, set aside any consideration except the plight of the hopeless and also raised money to sponsor the S-38 trans-Atlantic adventure by selling miles to people from all over the world.
"Some sponsored one mile of the S-38 journey from USA to Germany," Herr Franke said.
"Others reserved 500 and 1,000 miles.
"Some of the money raised, including a very generous sponsorship from Lufthansa Charter, is being applied immediately next week with a relief flight to help people in Pakistan, while here in Europe we have scheduled another flight of supplies to Romania where the need for help continues."

Reto Hunziger, Manging Director Lufthansa Cargo Charter and Heide Enfield, Head of Marketing & PR.
"Wings of Help is a great charity that is constantly at crises points everywhere in the world with special emphasis in helping children. Next week as example, Wings has organized and provided the movement of tons of disposable diapers to Pakistan, as unimaginably severe flooding continues to challenge every facet of life in that country.
Lufthansa Charter is proud to support Wings of Help."

Apropos of the Egelsbach S-38 flight date of September 9, 2010 – it was exactly 82 years ago to the day that Charles Lindbergh departed Miami Airport on September 9, 1928, piloting a Pan Am S-38 to Havana, Cuba, the first U.S.A. Air Mail to fly across the route.
"It's been a great ride and something I'll think about for many years," said Volker Dunkake of Lufthansa Charter.
"It was also special to ride up front in the right seat.
"Since we used road maps and I know the country around here, I guess my local knowledge made me navigator for a day," Volker smiled.
Later, the S-38 departed for Jersey and an end-of-summer aviation show, right after the BP Avgas truck topped off each of the S-38s tanks.
Tom Schrade, who is just as regular as your best fitting shoes, with an easy smile and a flight jacket that says, simply, "S-38 Pilot" on the front, handled the Av Gas filling chores and the accounts payable with his Amex card.
"I'm glad I did not have to use 5-gallon cans and chamois for a filter as was the norm during the early days of flying these aircraft," Pilot Tom said.
Later, Pilot Tom Schrade skipped a celebratory luncheon held inside the Egelsbach Terminal in a place called, Schuhbeck's Check Inn which may be the best airport restaurant in the world with delicious fish, fowl and meat courses carefully prepared and elegantly presented by world famous chef Alfons Schuhbeck.
Instead, he said his goodbyes, tossed his gear and some sandwiches in the rear hatch of the Sikorsky, and taxied out to the main runway for departure.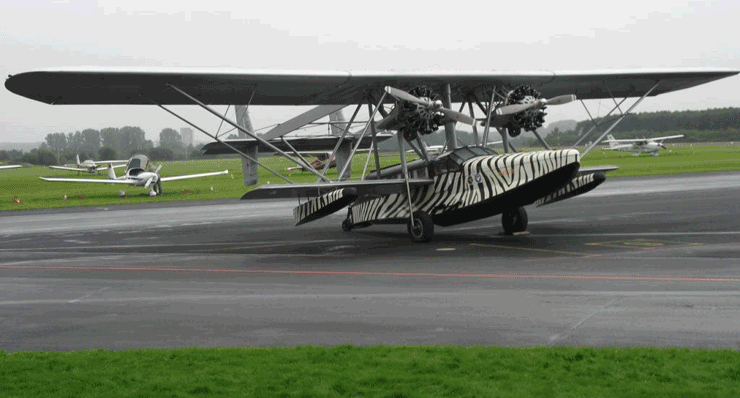 The last look we had at the legendary S-38 aircraft as it banked in the air, turned and headed for the coast was a flash of the bright "international orange" paint applied to the upper wing surfaces of the aircraft.
The painted upper wing was standard for all the great flying boats – The Sunderland's, The D0-X, The Boeing 314, Martin China Clipper and every Sikorsky including all the S-40, 42, 43 and of course the 101 S-38s.
The bright paint served as a beacon for airplanes that doubled as boats so that spotter aircraft could locate a flight that wound up a bit short of land during an era of less dependable engines and no GPS.
But today in 2010, Pilot Tom Shrade's S-38 is the only flying boat of all those aircraft still operating, and while all are gone with little more than flinty black and white newsreel film and some publicity pictures to attest that they ever existed, Pilot Tom says he expects to stay on the wind, maybe fly down to Africa, maybe even across the short route to Brazil before returning to Minnesota "as long as I can find some gas."

Contact: Wings of Help Donation account: Frankfurter Sparkasse, Account No. 200 33 22 44, Routing No. 500 502 01.
Geoffrey/Flossie