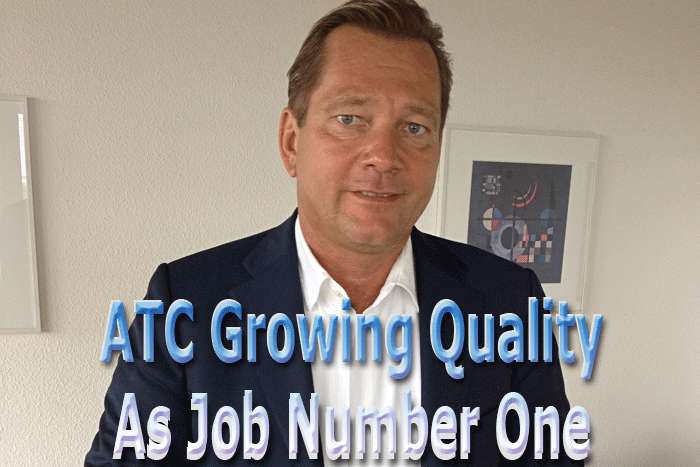 Everybody might be having a tough year, but that hasn't stopped or even slowed down high-flying ATC Aviation from expanding its operations—both in Asia, and (as expected to be announced later this year, perhaps at TIACA early next month), elsewhere as well.
Much of the credit for the continued surge in ATC's fortunes can be placed squarely on the energetic and ambitious company CEO, Ingo Zimmer, who has become a familiar face and resource GSA for the global air cargo industry.
No doubt also playing into ATC success are the many airline companies that have chosen—in an increasingly competitive air cargo business—to stick to flight whilst leaving various aspects of their business on the ground to others.
But with so many choices, ATC has become both a GSSA niche player that is expanding globally by leaps and bounds, offering an impressive client base a wide range of custom services, driven by a special style of customer relations.
"Although the move is definitely to outsource sales and marketing, our customers demand a seamless experience for their clients, so we must always be totally committed to delivering the very best quality product," Mr. Zimmer declared.
"Right now, with business challenged all over, how we do our job is even more important, as everyone knows.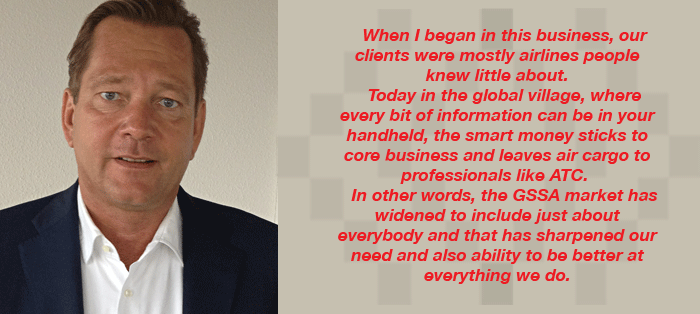 "Despite gains everywhere else, we recently said goodbye to Asiana Germany, which was a very good customer, as they decided to do their own thing.
"However our business keeps on growing as others have joined ATC, and we continue to expand.
"Right now we are in an acquisition mode with eyes on America and Asia as we expect to be making some further announcements as 2012 continues.
"Very safe to say that on balance our business is good; we are a strong company that will grow exponentially in the months and years ahead," Ingo Zimmer said.
Although it has been in business for more than 40 years, when ATC Aviation Services Ltd. stepped up as general sales and services agent (GSSA) managing all aspects of Etihad Cargo's sales and service delivery in Germany just four years ago, the company displayed a kind of savvy that propelled it right along with the runaway success enjoyed by EY.
You play the big game, you win the big prize, and for ATC there has been no looking back.
At 6' 5" inches tall, Ingo Zimmer stands out in any crowd. He is able, despite all his business responsibilities, to nonetheless stay relaxed and well grounded, and manages success in both personal and business endeavors.
He enjoys family, sports, and vacation time, and was proud to speak of his youngsters beginning their year in school.
Ingo, it turns out, couples intelligence and matinee good looks with a genuine, down-to-earth, nice guy demeanor and a willingness to listen.
He is one former freight forwarder who has figured out how to score big as a GSSA in the 21st century.
ATC's roots date back to the early seventies, when ATC Air Transport Consultants Ltd. was established in Switzerland as a charter broker.
By the 1980s, ATC had gained a solid reputation as a pioneer in the field of cargo GSA for scheduled carriers, a concept which was then introduced successfully in other European countries, and as the first GSA organization to provide coverage with dedicated offices across several European countries.
During the mid-1990s, the company was taken over by key management, and ATC Aviation Services Ltd. was born.
New strategies were introduced based on the corporate slogan: ATC Always Takes Care.
In 2004, ATC Aviation Services Ltd became a member of the "World Freight Company" Group, a holding owned by 3i and AXA Private Equity.
For the past two-dozen years, while Ingo is on board, the company has represented (in addition to Etihad) Kuwait Airways, Royal Air Maroc, Ethiopian Airlines, Qatar Airlines, Turkish Airlines, All Nippon Airlines, United Airlines, Eyptair and others.
"All the airlines that we work for in my district are equal—everybody gets the golden touch at ATC," Ingo said.
"The key ingredient of our organization here is to never forget that this is a highly personal business that never lets the customer forget how important he or she is regarded.
"We also make it a point to handle specialized markets like Africa and The Middle East, East Asia, Eastern Europe, and Central Asia (and soon to come in the Americas) better than anyone else.
"When I began in this business, our clients were mostly airlines people knew little about.
"Today in the global village, where every bit of information can be in your handheld, the smart money sticks to core business and leaves air cargo to professionals like ATC.
"In other words, the GSSA market has widened to include just about everybody and that has sharpened our need and also ability to be better at everything we do.
"Of course, there are problems.
"However, the reason we have grown—in addition to our great team—is that ATC has the financial power to deliver a first-class product in our role as an airline cargo organization—both in good times and in a global market such as this one right now."
Geoffrey/Flossie