Gadzooks! IATA Cargo Network Services (CNS) Partnership Conference is over.
Nobody competed for an award, but everybody was a winner with wall-to-wall business being done in suites all over the place.
So what happens when you forgo a blizzard of awards final dinner?
Everybody had a loud fun dinner as at the end of some long couple of days, folks just kicked it up a notch.
CNS Partnership was, where being there with Oscar was award enough.
We have been thinking about that one.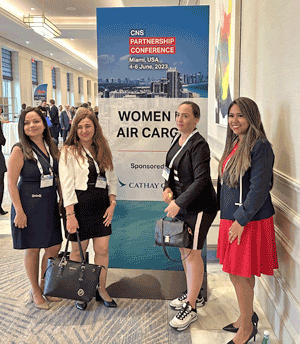 What emerged in Miami this week is a Brotherhood of Man . . . a sisterhood—benevolence toward each other, call it what you will, but a definite feeling filled the halls of South Florida for a couple days in June as CNS met.
Yup, we got those small packages back in the hold. All kinds of new people are starting air cargo careers.
"Empty the ashtrays, get out some ice,' cause we're having a party and the people are nice!"
Gripes? There were a few, the extra-long wait for room service, not very good for all the money.
It's just a hamburger.
But looking into the faces here, you can't help but be proud to be in this air cargo transportation society as it comes back, now finally together, meeting and once again advancing.
Saw people like Jens Tubbesing, Mike White, Warren Jones, and thought of Michael Vorwerk if we could only find him. Wondered why the Ex-Presidents and maybe some long-time advocates of CNS didn't get together and share some thoughts during a special session?
Would have loved to have had Laura Pullins, the first lady CNS President as a "surprise" special guest being allowed to ask each ex-President a question!
Maybe the Ex-Presidents could present Laura a golden key to the executive Ladies Room that for 38 years since CNS was founded has been vacant.
A little screwball comedy might be the best post-COVID prescription!
Dear hearts and gentle people is how we see it.
It really does matter that we are together.
CNS and when you think of it, TIACA matter because every time these uniquely original groups meets there's more spirit to it!
CNS has the lofty goal of delivering partnership.
TIACA is the greatest effort ever to include everybody in air cargo.
Glyn Hughes, who once and for as long as we knew him, was a fixture at IATA Cargo, now has come to TIACA as their leader. Are we glad he did.
It's an exciting time. It looks like the storm of COVID is over.
We (you and me) are what's left, but what that offers is incredible hope for the future.
Look again at the faces, they tell the story.
Now what will happen next in organized cargo has input from most sectors, some strong leadership, not to mention legions of long overlooked women.
Cannot wait until tomorrow, because things look better every day.