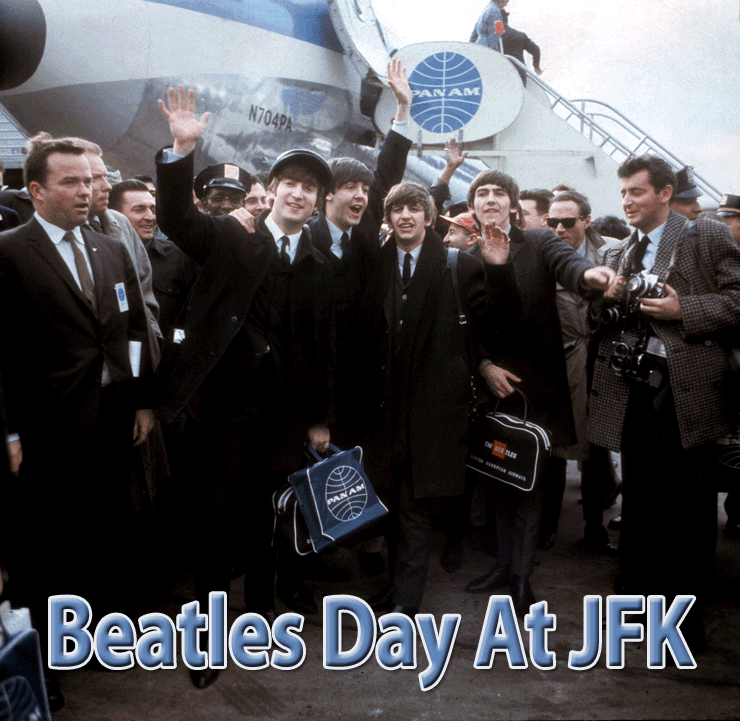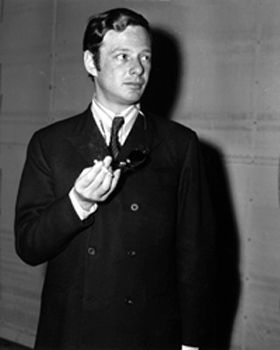 he mannered manager of the English band whose name few had previously heard had a message for all those present in the conference room at JFK's International Arrivals Building (IAB, now Terminal 4). Speaking to mostly seasoned representatives of Pan American Airways, the Port Authority, and the New York Police Department, Brian Epstein could not have found an audience less likely to believe that they were weeks from experiencing a crowd unlike anything they had seen before.
Mary Ann Trainor had joined Pan Am's public relations department after moving to New York from Michigan in 1963. She sat across the table from Epstein in the hours-long planning meeting, during which the Beatles' movements from aircraft to an on-site press conference and through curbside departure were plotted in detail.
She recalls Epstein as thoroughly serious as the assembled representatives discussed which mix of local, national, and international media would have access to the tarmac and press conference.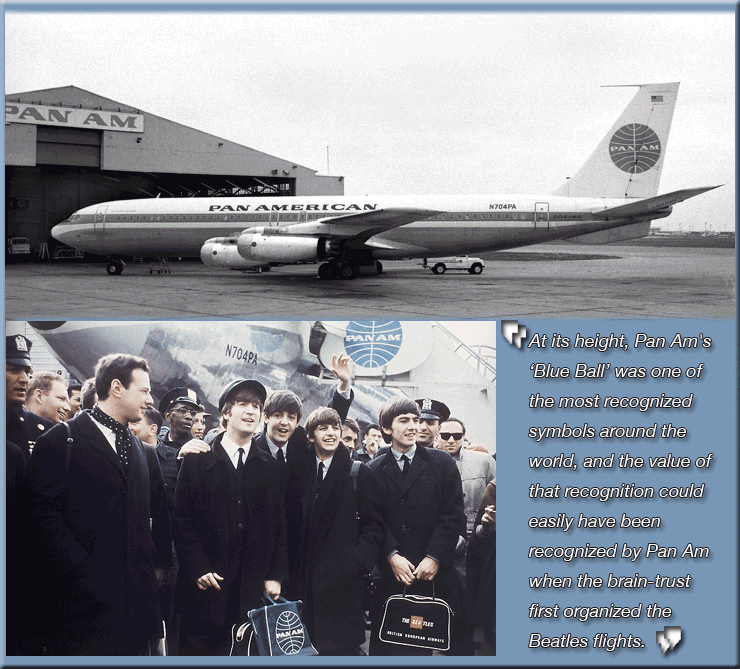 Trainor recalls how Epstein (in photo above with polka dot krawatte)—a man whose classmates had included Albert Finney and Peter O'Toole at the Royal Academy of Dramatic Arts—confidently repeated his assertion that no matter how big they could imagine this would be, it would be bigger. One can easily imagine how such a message went down with a group largely comprising native New Yorkers. They scoffed, but history validates Epstein's faith about what would transpire at JFK International Airport a few weeks later on February 7, 1964.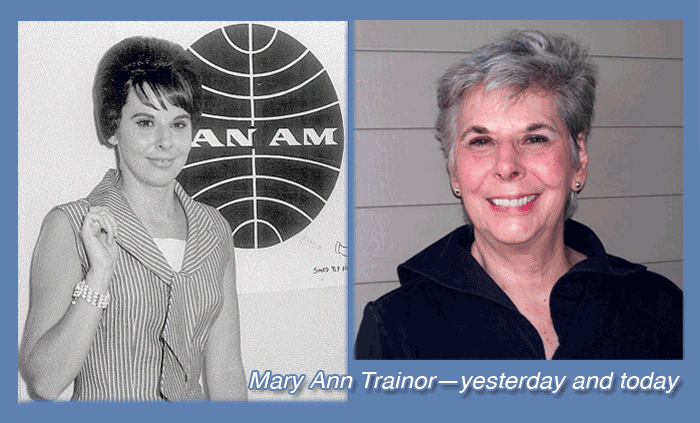 If not for a decision made at that planning meeting, the iconic images of the Beatles descending the stairs from the Boeing 707 would either not have existed or would have been profoundly less impressive. Several options could have allowed The Beatles to arrive more privately obscured from the viewing areas above the IAB but those in the planning meeting had agreed that they had to give the fans "something."
While he may have been cagey about it, Epstein relished the kind of massive reception about which he was warning. Rather than pull closer to the gate, the aircraft Pan Am had named Jet Clipper Defiance would be parked on the tarmac in full view of the thousands of fans and gathered media. The scene was repeated—with even more fans in attendance after the appearances on the Ed Sullivan Show—days later when the Beatles left JFK for England. Owing to the pandemonium they had just endured, the Port Authority made a more conservative decision in 1965 in ordering that the Beatles' aircraft park in a remote location where the band could deplane into waiting vehicles without creating another spectacle.
While airfield and roadway access were coordinated with the Port Authority and NYPD, the Beatles were almost entirely in the custody of Pan Am from Heathrow through JFK.

Product Placement For Generations
How exactly the Beatles came to fly Pan Am rather than state-owned British Overseas Airways Corporation (the same BOAC that was name-checked by Paul McCartney in the Beatles' "Back in the USSR") remains uncertain.
All of the Pan Am veterans interviewed for this article believed that Pan Am's brain trust recognized the potential promotional benefit of operating these flights and took up the challenge of competing with The Beatles' own national carrier.
Regardless of how much it was Pan Am's good luck or foresight, it shaped "product placement" for generations.
Pan Am veterans suggested credit might be placed on the efforts of Richard (Dick) N. Barkle, who frequently seemed to be involved in such marketing opportunities for Pan Am.
Unfortunately, Mr. Barkle could not be interviewed, as he passed away in San Francisco on August 7, 2013.
His obituary from the New York Times (published 8/24/13) noted that he had been "responsible for accompanying VIP's and dignitaries from around the world" during his many years at Pan Am.
One can scarcely locate a single photo taken of the Beatles on the airfield in which Pan Am's aircraft and its recognizable personnel are not clearly visible.
Then once inside the IAB, the Beatles' press conference was conducted in front of a wall decorated with the classic Pan Am globes visible on all sides.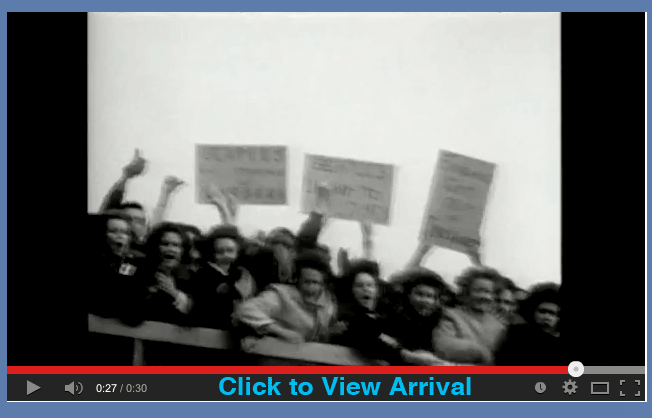 Even when walking, the Beatles can be seen toting clearly labeled Pan Am bags they would continue to use for the remainder of the trip; photos and news reels shot later on the trip showed the Beatles carrying newly purchased records and other bounty from America in these same bags.
By the time the Beatles returned to England, Pan Am had temporarily renamed its aircraft with a stenciled "Jet Clipper Beatles" in full view of the photographers and thousands of fans waiting to see them off at JFK.
Air transportation lecturer, writer, and consultant Jamie Baldwin maintains a blog about Pan Am and is a coauthor of the book Pan American World Airways: Aviation History through the Words of its People. Asked about that association for this article, Baldwin observed "at its height, Pan Am's 'Blue Ball' was one of the most recognized symbols around the world, and the value of that recognition could easily have been recognized by Pan Am when the brain-trust first organized the Beatles flights.
"This has transcended over the years to the point where it has become an art, through sponsorship, as perfected by Emirates Airline.
"At nearly every major world-wide sporting event, the name "Emirates" is strategically placed for maximum exposure.
"I have to think what Pan Am did during that February in 1964 was the genesis of what Emirates is doing today."

Jill Was Crew Aboard The Flights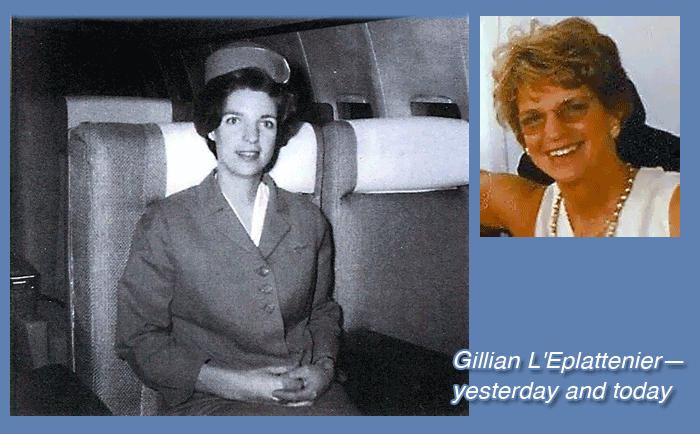 Including the preceding flight from JFK to Heathrow, the Beatles' maiden voyage to America was only the second commercial flight of Gillian L'Eplattenier (Jill Kellogg to those who knew her then) as a Pan Am flight attendant.
L'Eplattenier had declined an offer to join TWA in part because Pan Am would allow her to immediately fly internationally, while TWA required she first work two years on domestic flights.
Beginning in January 1964, a 24-year-old L'Eplattenier completed a month's training at Pan Am's training center in Hangar 14 at JFK; she then had a 2-day break before these flights.
For a newly-trained flight attendant working in First Class, cause for concern was only elevated by the fact that the plane had been reconfigured to accommodate 36 (in a 2x2 seat configuration) passengers in first class, rather than the standard 12-16, to accommodate the atypical entourage of the Beatles and accompanying media.
L'Eplattenier described the trip in original interviews for this article, as well as in Baldwin's Pan Am book.
Picked up at their London layover hotel, L'Eplattenier and the other crew had no unusual anticipations, but noticed the standard flight crew had been augmented by two stewardesses (the term flight attendant was still to come).

Crew Singing "I Want To Hold Your Hand"
Only as the bus left the hotel did the crew's first officer slip on a Beatles mask and begin (poorly, in L'Eplattenier's opinion) singing "I Want to Hold Your Hand" before teasing "Guess who we have on board with us today?!"
Rather than revel in the excitement about to come, L'Eplattenier spent the trip to Heathrow recalling all of her training.
The crew boarded the plane to check provisions and as she reconciled Pan Am's meticulous attention to meal preparation and service "with elegance and grace" with the dramatically increased number of First Class passengers, her primary concern was not her famous guests but "Oh, my God, what an enormous number of people for whom we would have A-1 service."
The range of specially prepared entrees available in Pan Am's First Class elicited an "I'll take whatever" response, in the manner of being unaccustomed to such choices, rather than being dismissive.
These Beatles had wrapped up their final two-week residency at Hamburg's Star Club in that city's infamous Reeperbahn only 13 months earlier.
Epstein had replaced their leather gear with suits and compelled them to stop eating, smoking and swearing on stage.
Fame was relatively new.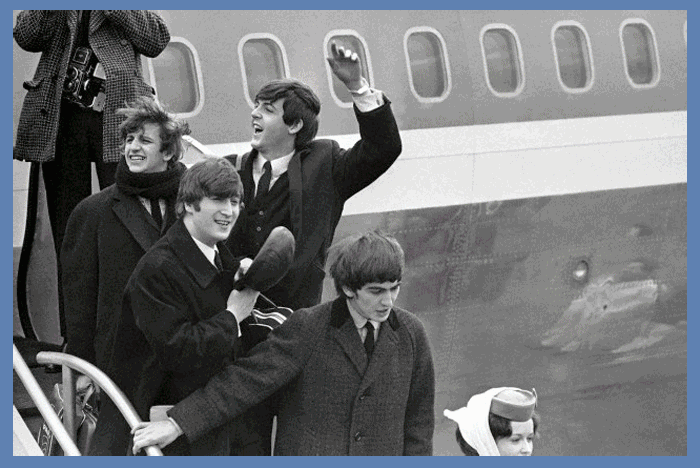 The oldest Beatles—John Lennon and Ringo Starr—were only 23, while Paul McCartney was 21 and George Harrison only 20. Previous international touring had mostly involved a van, a ferry, and that same van again.
These Beatles were decidedly working class. Only McCartney had actually graduated from high school, although Lennon had briefly been granted admission to art college based on his innate artistic abilities. L'Eplattenier was most impressed by McCartney, who comfortably interacted with passengers and crew alike.
In full tourist mode, McCartney took a photo of L'Eplattenier and she has always wished she could have had a copy of the image shot by one of the most photographed people of their generation.
Harrison and Starr also enjoyed themselves, moving around and talking with other passengers, while Lennon was traveling with his wife Cynthia.
The couple stayed mostly to themselves, although photos show them with record producer Phil Spector, who was also on the flight.
Spector would later produce The Beatles' Let It Be and solo records by Harrison and Lennon.

First Class and Economy aboard that fabled Pan Am flight were clearly separated, but stewardesses in Economy shuttled menus to stewardesses in First Class to be autographed by The Beatles who obliged gamely, even as their own staffer, Mal Evans, sat in Economy forging their autographs on promotional photos that would be distributed in the U.S.
Atmosphere Was Electric Arrival Meteoric
L'Eplattenier still recalls the electric atmosphere of the onboard trip and (happily) no exhibition of attitude or entitlement by the four young men who made the beginning of her Pan Am career singularly memorable. On landing, cheers broke out within the aircraft, but that was nothing compared to the noise already audible from the awaiting terminal at JFK, where thousands of young girls could already be heard singing the fictional Conrad Birdie-inspired song "We love you, Beatles. Oh yes we do."
In photos and footage of the Beatles arrival at JFK, she is clearly visible standing on the right hand side of the First Class cabin door as the Beatles disembarked. Asked if she told them "goodbye" or "good luck" after hours of serving them, L'Eplattenier acknowledged that the overwhelming excitement of the precise moment that the Beatles met their American public made that nearly impossible, but moreover, the sound of the fans up on the observation deck was so deafening that the Beatles may not have heard her standing only a foot away in that incredible moment.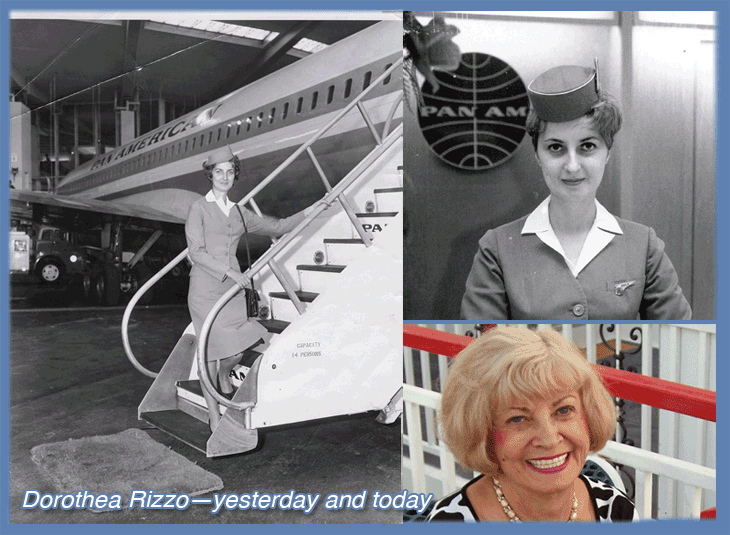 Once the aircraft had been parked on the tarmac, Pan Am's Special Services (VIP) representative Dorothea Rizzo boarded the plane, bringing with her a porter to assist with the Beatles' luggage.
Rizzo introduced herself and each Beatle introduced himself and then identified his bags to the porter.
Interviewed for this article, Dorothea spoke warmly of her impression of her famous customers.
Although still in their twenties in 1964, all of the Pan Am representatives interviewed for this article were older than any of The Beatles.
Rizzo observed that they "looked like little boys" but she admired "how neatly combed they were, well scrubbed and with mod suits."
Reinforcing the impression L'Eplattenier formed from the Beatles' entree orders of "whatever," Rizzo observed that when asked if they had any special requests from VIP services, the four had none.
"You would want to have a son like that," was how Rizzo summed up her impression of how the Fab Four handled the almost unimaginable situation unfolding in front of them.
Rizzo enjoyed that, unlike celebrities who seem compelled to act unimpressed, these four boys were clearly exhilarated by the clamor of the crowd, but still unfailingly polite and "laid back" to the professionals whose jobs entailed serving them.
After posing for photos on the stairs and tarmac, the Beatles entered the International Arrivals Building for processing by Customs, Immigration, and Health Services.

Already sick with strep throat that would prevent him from participating in the Ed Sullivan Show rehearsals, George Harrison asked right away on the tarmac if the four could speed up the process, but was told that The Beatles would have to wait until supervisors signaled it was alright to enter the building.
Following regulatory clearances, the Beatles would advance to a press conference in IAB's press lounge.
That legendary press conference can be found in its entirety in full-length documentaries and in clips on youtube (click below).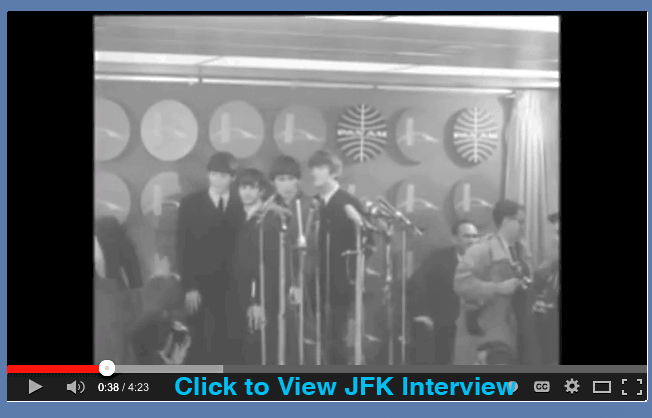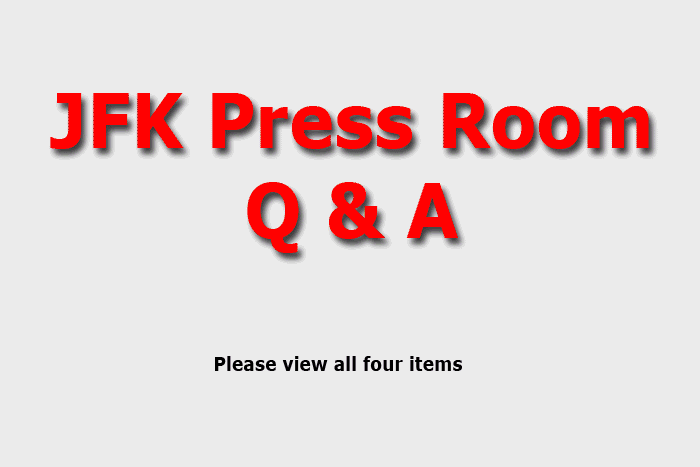 Following the press conference, the Beatles left JFK for the Plaza Hotel in Manhattan. One limousine ferried McCartney, Harrison, and Starr. Lennon and his wife Cynthia took another. Epstein, Neil Aspinall, and Mal Evans simply hailed a taxi.
In the Beatles Anthology, McCartney recalled:
"I remember, the great moment of getting into the limo and putting on the radio, and hearing a running commentary on us:
'They have just left the airport and are coming towards New York City...' It was like a dream. The greatest fantasy ever." Also in the Anthology, Ringo Starr recalled, "it was so exciting.
"On the plane, flying into the airport, I felt as though there was a big octopus with tentacles that were grabbing the plane and dragging us down into New York.
"America was the best.
"It was a dream, coming from Liverpool."

Product Of A Tough Environment
In almost every respect, the Beatles of 1964 had been shaped by a couple of tough port cities —their native Liverpool and their adopted Hamburg.
In 1964, London wasn't quite swinging yet, but far more cosmopolitan than the Beatles' hometown.
In terms of the popular music business, it is not mere jingoism to suggest there was America and then everything else.
In Philip Norman's classic Beatles biography Shout, George Harrison recalled his attitude about America on boarding Pan Am Flight 101 in terms of "they've got everything over there.
"What do they want us for?"

The Genius Of Brian Epstein
The doubt informing Harrison's concern and other Beatles' claims that they'd be lucky if their success lasted a year was not shared by their manager, Brian Epstein. While only anticipating their arrival a few weeks later, Epstein's told the IAB conference room full of New York reporters that whatever they expected, it would be bigger than that.
The Beatles sound was the product of thousands of hours played in homes and clubs, but their appearance was the product of the refined tastes of Epstein.
Their wit and charm are often claimed by the working class citizens of their hometown, and anyone who has been to Liverpool might find merit in that claim. From all accounts, the four young men about to appear on the Ed Sullivan Show were as polite and unassuming as anyone flying in First Class that day.

Everything Changed After That Day At JFK
This was a new world for them and it's tempting to wonder who was changed more when Flight 101's cabin door opened that day at JFK—the emerging generation of Americans or The Beatles. I'd call it a draw.

Defiance Flew Into History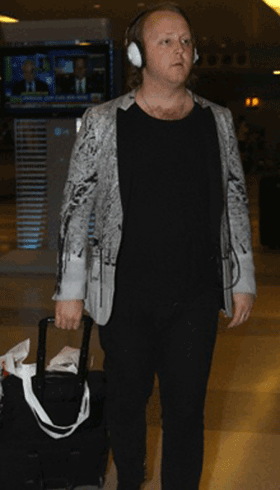 The Boeing 707-331 (N704PA) that transported the Beatles was given the name Clipper Defiance when delivered to Pan Am on March 23, 1960.
In 1972, Pan Am leased the aircraft to World Airways for a few months before placing it in storage.
Its final scheduled commercial user was Air Vietnam, to whom Pan Am first leased and then sold it on December 21st, 1973.
On August 13th, 1975, Pan Am repossessed the airframe from Air Vietnam and sold it a few months later to Aircraft Radio, Inc.
In June 1977, it was finally scrapped at Long Beach, California.
Bit Less Frenetic . . . James McCartney, son of Paul and the late Linda McCartney at JFK International recently.

The former International Arrivals Building (IAB) was replaced by the current Terminal 4 in 2001.
The Pan Am terminal (Terminal 3, also known as the Worldport) did not have customs and immigration capabilities until an expansion completed in 1971.
On their return trip on February 21, 1964, the Beatles first arrived on a domestic flight from Miami and then boarded their aircraft, again a Pan Am 707 renamed "Jet Clipper Beatles" for the occasion, from under the Pan Am Terminal's umbrella roof. The Pan Am Worldport was demolished in late 2013.
John Lennon and George Harrison have passed. So have Brian Epstein (in 1967) and Ed Sullivan (1974),.
As have many more Pan Am professionals, including Mary Ann Trainor's beloved late husband Patrick Trainor, who was Pan Am's manager at the IAB.
Pan American World Airways itself no longer exists, having gone bankrupt in 1991. But fortunately the airline's loyal staff has continued to serve honorably, to keep the name and most fabulous history of the iconic pioneer airline alive.

Pan Am People Most Proud Of Their Lives
The Pan Am professionals interviewed for this article counted themselves as fortunate to have briefly shared in the Beatles story, but were most proud of the families they had raised, and efforts such as Gillian L'Eplattenier's charitable work with the Manhattan Chapter of World Wings, which raised money for the burn unit of a New York Hospital, and Mary Ann Trainor's recent service to a Homeless Ministry in Michigan.
The Pan Am folks share one of the greatest cocktail stories of the twentieth century, but they have defined themselves on their own merits.
Reasonable efforts have been made to substantiate the details presented herein. Even after 50 years, some details presented herein may be new and even surprising to scholars.
The accounts presented here accurately depict the memories of the interviewees.
Michael Webber

All You Need Is Love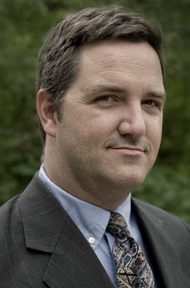 A postscript: Michael Webber is a much-sought after, totally professional air cargo consultant who—fortunately for us—also loves good music.
He was born in Kansas City, Missouri, in March, 1964, about a month after the events here occurred.
Until late 1963, Mike's parents and older siblings lived outside of London where his father was stationed while serving in the U.S. Air Force.
Webber's mom was a Beatles fan who recalls listening to the group as they became famous on a daily BBC radio request program known as "Housewives' Choice."
In June 1992 Webber's mother observed the occasion of Paul McCartney turning 50 made her feel older than when she had turned 50 four years earlier.
Now Michael Webber is turning 50 in March 2014.
He was raised around music, but the first record he ever requested was a 45 of "Hey Jude" in 1968, when he was 4 years old.
As his writings here for FlyingTypers indicate, Mike has lost none of his enthusiasm for Beatles music. (Geoffrey)