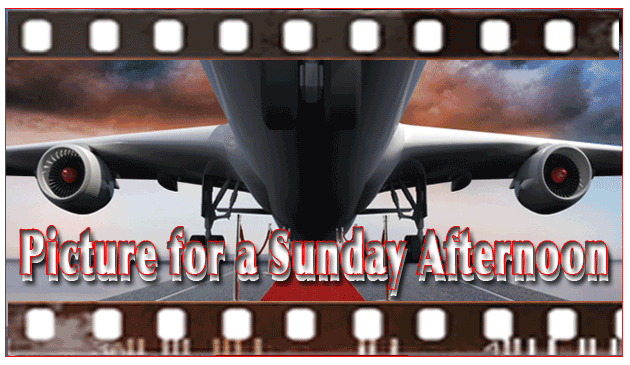 Okay, It's Friday, and the global pandemic swirling all about us, seems to showing a bit of let up, at least, in some quarters.
Whether or not we will have anything that resembles normal in 2020, is an open question, as COVID-19 has turned the world upside down.
In any case, for now, it really doesn't matter where you are, you're there and there you are!
Some years ago, Loudon Wainwright wrote a song tiled, "The Movies Are A Mother To Me."
"There's nothing like a movie,
To move me back to sanity,
When I've gone insane."
Not suggesting dear readers, that anyone has lost their mind, but rather suggesting that maybe a couple of hours in an alternative universe might open up some needed space between the here and now during one more weekend in the lockup.
Maybe, try one of these movies this Sunday afternoon.
All the selections here do offer a connection to our industry, so the break from reality will not be too severe.
Also look for Loudon in a scene in "The Aviator," leading a 1930s big band.
Guess we are all actors in a movie right now.
Geoffrey
Available to rent on Amazon Prime: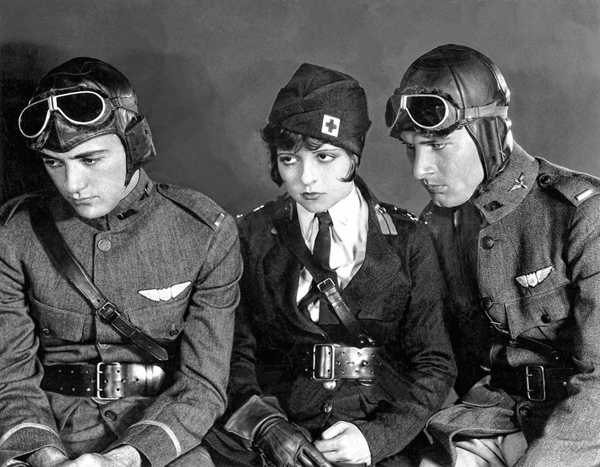 Wings-1927

Wings is a movie that won the "Best Picture" Academy Award in 1929.
A great silent film, it has been beautifully restored and features superb aerial combat scenes and "It Girl" Clara Bow as the romantic interest.
Shot in Texas with 220 Army planes, the action is nonstop.
To view click here.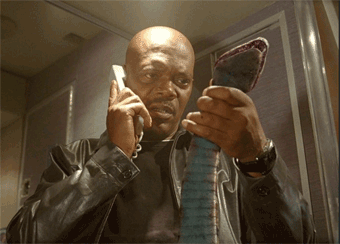 Snakes on a Plane-2006

Completely off the wall, this movie is still enjoyable. It's a must-watch if for no other reason than for Samuel L. Jackson, who steals the show and utters the most memorable line (cleaned up here for PG-rated readers).
"I've had it with these monkey-fighting snakes on this monkey-fighting plane."
To view click here.


The Terminal-2004

Tom Hanks does a great turn as a Russian who gets stuck without proper papers while travelling and ends up living in an airport terminal.
It reminded me of the Kingston Trio song "M.T.A.," about a man named Charlie eternally trapped on Boston's subway system.
To view click here.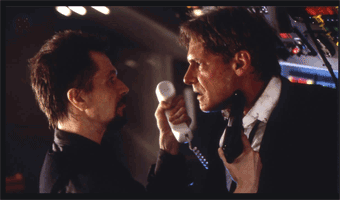 Air Force One-1977

Harrison Ford is the President of the United States in Air Force One, a movie about a wrecking crew of villains hijacking the titular super jumbo jet with only Ford to defend it.
Ford goes full Indiana Jones and tosses the baddies off the plane, but not before Gary Oldman puts this movie into his back pocket.
To view click here.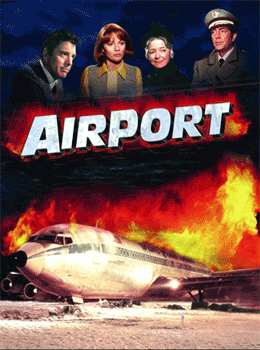 Airport-1970

The granddaddy of all airport movies. The fabulous cast includes Burt Lancaster as the airport operations manager, a role we are told was patterned after Ed Ingraham, who managed LaGuardia Airport for more than two decades during the 1950s and 60s.
Airport also features Dean Martin, Jacqueline Bisset, George Kennedy, Helen Hayes as a very funny old lady, and Van Heflin in a superb turn as a surprisingly sympathetic guy who wants to blow up the plane.
To view click here.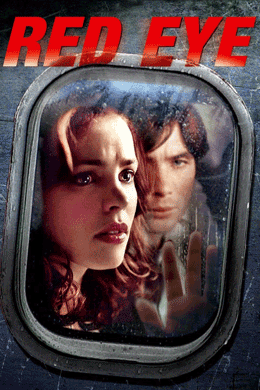 Red Eye-2005

Rachel McAdams takes the window seat next to Cillian Murphy on a red-eye flight, but it turns out he's a terrorist and she is to help kill the top executive at Homeland Security. This woman kicks some serious butt, is what happens here.
Available to stream on Hulu.

Catch Me If You Can-2002

Leonardo DiCaprio and Tom Hanks are irresistible in this true story of one of the world's great forgers who flew on Pan Am for free, deadheading it all over the world in uniform.
If you have missed seeing Pan Am and its regalia, there is plenty of eye candy here. The movie is a total romp.
To view click here.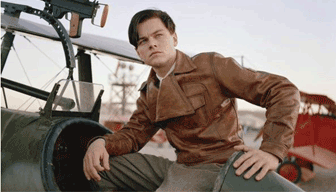 The Aviator-2004

Martin Scorsese's epic aviation film traces the early life of billionaire Howard Hughes and his airline, TWA. Dazzling special effects, sparkling set design, and rock-solid performances, including Cate Blanchett's superb transformation into Katharine Hepburn, flesh out the film. Leonardo DiCaprio should have won an Oscar for his portrayal of Hughes.
To view click here.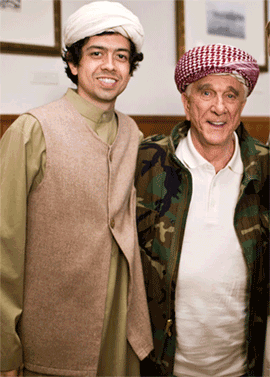 Airplane-1980
An American Carol-2008

These are two screwball comedies that feel a bit dated in some scenes, but are still laugh out loud funny.
"Don't call me Shirley" and some other oft-repeated lines in Airplane became part of the language in America.
Leslie Nielsen, who played the slightly bumbling lead in this farce, went on to make several similar movies for the rest of his life.
We recall taking our son Geoffrey II (the actor) to see Airplane when he was a little boy.
Here, Geoffrey is pictured on the movie set where he co-starred with Leslie in Mr. Nielsen's last movie, a comedy titled An American Carol.
To view Airplane, click here.
To view An American Carol, click here.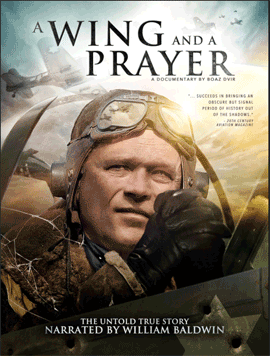 Available on YouTube:
Wing and a Prayer-1940

Wing and a Prayer might be the greatest wartime aviation movie of all time.
It features Don Ameche as a real hard-ass U.S. Navy aviator leading heroic young pilots aloft in squadrons. During World War II, dive bombers took off from aircraft carriers.
Something about the soundtrack and the throaty sound of those Curtiss SB2C Helldiver radial engines gets me every time… unforgettable.
To view click here.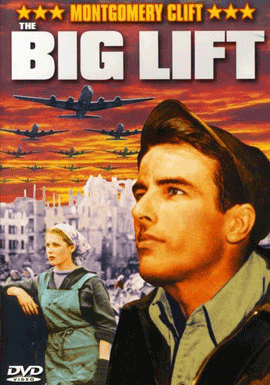 The Big Lift-1950

The Big Lift features a nuanced performance from a very young, nascent superstar Montgomery Clift.
For anybody in air cargo, this is a must-see film. Shot on location in the City of Berlin, Germany, this black-and-white film features several glimpses of cargo operations in the 1940s at Tempelhof (THF). It tells the story of "Operation Vittles," the 1948–49 Berlin Airlift, through the experiences of two U.S. Air Force sergeants (played by Montgomery Clift and Paul Douglas).
Woven into the drama and romance of the film is newsreel footage of the actual cargo airlift, which kept a city of two million alive during the 1948-49 blockade. Big Lift provides cinematic evidence of how the year-long Berlin Airlift gave birth to modern air cargo.
To view click here.