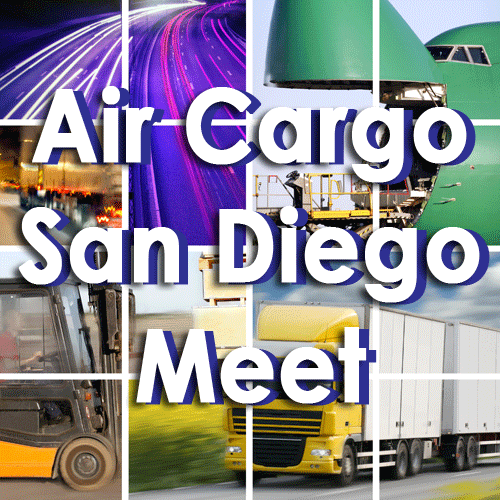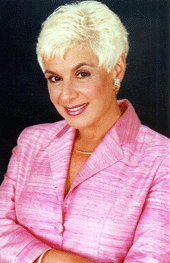 Necessary Roughness: New Rules for the Contact Sport of Business. What do you do with a room full of truckers and forwarders and airlines?
Bring in motivational speaker Mimi Donaldson and talk about football!

In USA The Air Forwarders Association (AfA) meets next week March 10-12 in San Diego California.
Actually the conference titled simply AirCargo, offers an interesting combination event of the Air and Expedited Motor Carriers Association (AEMCA), the Airforwarders Association (AfA), and the Express Delivery & Logistics Association (XLA), which have co-hosted AirCargo in March for the past several years.
"AirCargo claims a diverse educational program for attendees, outstanding business opportunities for exhibitors and excellent corporate exposure for sponsors.
"Each year, AirCargo brings together a virtual "who's who" of the industry within the express delivery, freight forwarding and expedited motor carrier industries."
The Air Forwarders Association has grown from three members in 1990 into a genuine force for good in air cargo that today boasts membership of nearly 400 companies.
AfA membership includes the nuts and bolts people of air cargo with many self-made entrepreneurs as well as big multi-national operators as well.
AfA is a varied interesting lot lead by Brandon Fried, an energetic president who for the past five years has built the organization with vigor and hard work and also by appearing at times to be almost everywhere at once.
Here in a wide ranging Q&A Flying Typers caught up with Brandon on the eve of San Diego as we spoke of everything from motivational speakers delivering the keynote to why should companies join AfA in the first place?
Q: Can you assess the air cargo industry in 2010 and also give some insight into what you believe lies ahead in 2011?
A: The most significant accomplishment of 2010 was that 100% screening on US origin passenger flights became a reality. Screening - an onerous unfunded mandate –demonstrated the industry's resourcefulness and resilience. Are there additional costs and complications experienced by forwarders and being passed on to consumers? Absolutely. Unfortunately, that was an inevitable consequence of the legislation passed in the Democratic takeover of Congress in 2006.
Industry performed well in the face of these difficulties, coupled with a tough economy. The lessons learned by industry in 2010 should make 2011 a somewhat easier year for air forwarders. CCSP is working and commerce continues to flow. The economy bounced back in 2010 after seeing unprecedented drops in volume the year before. This economic recovery, we hope and expect, will continue this year.
Q: What is the top priority of Airforwarders Association?
A: We are working with TSA, CBP and Congress to encourage them to make a better decision on inbound and all cargo aircraft than was made with domestic cargo security. In other words, it is our job to show that there are alternatives that provide better security than 100% screening on the piece level. AfA continues to advocate for a risk based, multilayered solution, using data mining for risk targeting, assessments and traffic segmentation. Clearly, the new TSA deadline of December 31, 2011 for international screening will occupy much of our attention.
However, domestic issues are extremely important to our members. We must find a resolution to the lithium battery proposed regulation, either through rulemaking, legislation or international action. Ensuring those are in harmony with ICAO standards to preserve competitiveness is an important priority. We are also watching the CSA 2010 and the hours of service rule making with great interest – trucking regulations impact our members and our agents on a daily basis.
Q: In an air cargo industry of associations, industry groups and mega companies what does AfA bring to the table?
A: The AfA brings a U.S. focused perspective containing the knowledge and expertise that the global association cannot be expected to possess. Our goal is to work with them to share our lessons and experiences with screening as U.S. forwarders have a compelling story to tell. There is also a need to represent freight forwarders as an equal partner and we're working to make sure that is actually happening in global negotiations.
Q: Why should a company be a member and also what types of memberships are offered? How many new members has AfA gained during the past five years?
A: There are many governmental forces, both legislative and regulatory, with a profound impact upon forwarder's daily business. A single forwarder working alone would have little impact on regulators and legislators; they would be attempting to cut through a dense forest of issues and bureaucracy with a butter knife. The connections, relationships and direct office lines available to the well-known and trusted trade associations like AfA function as a machete for member companies. We have the back of the airfreight forwarder so that he can do what he or she does best -move the cargo!
And speaking of numbers, five years ago the AfA had about 140 members. Today our membership includes almost 400 companies with over 3,000 offices employing in excess of 20,000 people.
Q: Next Wednesday begins the Annual AfA Event. What are the subjects of concern amongst the membership slated for discussion and what do you hope will be the takeaway from the meetings?
A: Our theme focuses on doing business in Asia, since experts tell us that is where the current and future growth can be found. The conference will tackle the new trucking regulations as all freight forwarders use trucks at one point or another. There will be an airing of common issues during our town hall meeting to encourage dialogue across the supply chain. There is also practical advice to be gained - a legal panel will discuss bill of lading contract provisions, new FAA regulations that hold the forwarder potentially liable for shipper HAZMAT violations and much more. It will be a perfect opportunity to ask lawyers for advice, free of charge!
Of course, the session would not be complete without a visit from the TSA. The agency will be sending a group of experts to discuss the current state of screening here in the US and what to expect with the upcoming international inbound requirement. Finally, there will be discussion surrounding the KSMS system and the dreaded appeals process.
Q: Explain the program the town hall concept etc. The opening session begins with a motivational speaker.
A: Since the AirCargo conference brings trucking companies, air couriers and airfreight forwarders together in one venue, this is a perfect opportunity to share ideas and derive efficiencies that make us a more competitive industry. The town hall meeting environment promotes a free yet respectful venue for such information sharing.
Q: Why was someone from outside air cargo selected?
A: It has been said that the pros never stop going to school and often the best lessons learned are from other industries and areas. Our keynote speaker, Mimi Donaldson, will use the game of football to show us how opportunity, intention and teambuilding are essential for success in the air cargo business today.
Women Move Forward
Jenni Frigger-Latham is the newest Director of the Air Forwarders Association Board that includes four women and eight men.
Although no women currently serve as member of the Executive Committee at AfA, previously Laura Sanders of Lynden Airfreight and Cathy Langham of Langham Logistics chaired the Executive Board at AfA.
Outspoken Jenni says that her tomorrow's looks bright indeed as she readies addressing some big issues of the day.
"The AfA, under the leadership of Brandon Fried has done a great job of representing the forwarding industry especially in discussions with government agencies.
"Recent expression of freight forwarder concerns about legal and regulatory matters is a step in the right direction as is heightened cooperation between IATA's Cargo Network Services (CNS) and AfA that today are working more closely together than before.
"Streamlining policies will produce a more powerful voice in government circles."

Q: Women in Air Cargo appear to be a new subject headlining AfA. Can you offer a preview of the content of that session?
A: This will be our third year offering a breakout session specifically designed for Women in Cargo. The participants for the Women in Cargo event are usually Regulatory (TSA, FAA), line haul carriers, passenger air carriers, integrators, forwarders and cartage companies.
Our goal has been to provide a venue for women to discuss industry topics that impact their careers, offer networking opportunities for mentorship and industry development and provide recognition for roles that are not solely focused on administration and customer service
This year our panelists are all professionals who have been in the industry for over 15 years. They will be speaking to our group on the success and challenges of doing business in a global market place as a female. Culture, language and mannerisms all play a significant role in women having successful interaction and business relationships in a global market. By the way, men are invited too!
Q: What approach is AfA taking to global implementation of security next week?
A: 100% screening of each piece cargo might make for good headlines but we believe it does little to assure complete air cargo security. A layered approach combining targeted screening with shipper data, shipment characteristics, intelligence sharing and worker credentialing will be more effective in the end.
Q: What do you say to someone who says "I Hate the AfA?"
A: Was it something I said??
Actually, members tell me that to know us is to love us and if you don't admire the AfA, clearly you do not know us. This organization and its committed leadership have worked tirelessly to become the recognized voice for the airfreight forwarder in Washington. Our efforts continue to assure that forwarders stay in business through sensible policies that keep freight moving.
Q: You have been heading up AfA since Jim Foster died which is how many years? Brandon, what accomplishment are you most proud of having brought to the group?
A: Jim Foster was the founder of the Airforwarders Association and the industry suffered a huge loss with his passing in 2006. I learned much from the great man whose wisdom and insight continue to guide my passion for the industry and its people. Jim taught me that we get much more accomplished when working with others in a cooperative fashion.
I am most proud of assisting the AfA membership in complying with the 100% screening mandate but most of all, the Airforwarders Association being considered the voice of the airfreight forwarder.
Q: Can you name some things that you would like to change about the way air cargo does business?
A: We talk a lot about partnerships but all too often, the participants - forwarders, airlines, truckers, stakeholder third party organizations - revert to adversarial self-interest. These self-inflicted barriers prevent progress and must be overcome.
Geoffrey
More information on AirCargo click here.