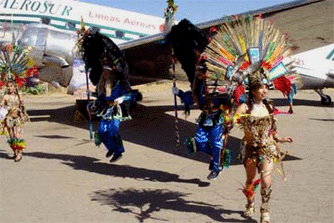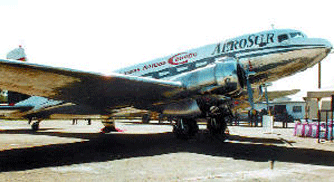 In Bolivia, AeroSur has been ramping up interest operating "Nostalgic Flights" utilizing a restored Douglas Super DC-3 aircraft.
What is really going on here is a throwback of sorts as a 21st century carrier tips its hat to almost forgotten, old fashioned air services that linked the Americas and the world after World War II.
Nostalgic Flights link two of the most important tourist destinations in Bolivia: The Salar de Uyuni and the Amazonian village of Rurrenabaque with the major cities of La Paz, Cochabamba and Santa Cruz.
The completely refurbished AeroSur DC-3 can carry up to 31 passengers in a deeply comfortable cabin with leather seats and ample legroom, lavatory, adult beverages and hot meals served by flight attendants dressed in the style of the 1950's.
Maybe best of all the aircraft operates low and slow at an altitude of 5,000 meters offering real contact with things going on below.
Once upon a time you could tell what day it was or even identify different automobiles while cruising along at 150 mph.
For example in America on Sundays, DC-3 travelers could look out upon parking lots around churches that were full of automobiles as folks attended worship.
Today taking pictures of Bolivia's breathtaking landscape from the AeroSur DC-3 brings back the pace and sweet memory of another time.
AeroSur has hooked up with hotels and tour operators offering three and four day all-inclusive packages for less than five hundred bucks.
AeroSur S.A. was founded in April 1992 as a regional airline with its roots in Santa Cruz de la Sierra, Bolivia.
By1998 AeroSur was designated a Bolivian Flag Carrier.
Today AeroSur B737s serve more than with 10 cities in Bolivia and a growing list international destinations including Sao Paulo and Buenos Aires.
Contact: www.aerosur.com.