AIR CARGO NEWS
ADVERTISING RATES & SPECIFICATIONS
(subject to change)
1. DISPLAY ADVERTISING RATES
Number of units within calendar year from date of first insertion in contract period determines frequency rate. 1/8 page is minimum rate holder.
Air Cargo News has national and regional rate programs.
| | | | |
| --- | --- | --- | --- |
| Black/White | 1X | 5X | 10X |
| 1 Page | $6775.00 | $6475.00 | $6250.00 |
| Jr. Page | $5980.00 | $5670.00 | $5325.00 |
| 1/3 Page | $3970.00 | $3735.00 | $3550.00 |
| 1/4 Page | $3050.00 | $2850.00 | $2525.00 |
| 1/8 Page | $2370.00 | $2220.00 | $1970.00 |
Color Rates Per Page or Fraction:
| | |
| --- | --- |
| 2-Color: | $ 400.00 |
| 4-Color, per page: | $1100.00 |
| 4-Color, per spread: | $1600.00 |
Rates For Specialty Inks: Submit sample for cost.
Cover Rates:
| | |
| --- | --- |
| Cover 2 | Additional 20% on earned space rate |
| Cover 3 | Additional 15% on earned space rate |
| Cover 4 | Additional 25% on earned space rate |
Bleed and Oversize Advertisements
10% additional for space and color. Applicable only to spreads and full page units.

Preferred Space Guarantee
5% Additional (non-cancellable)
Short Rates
Short rate will apply if, within a calendar year from date of first insertion, the amount of space upon which billing is based, is not honored. Rate-negotiated contract cancellation penalty assessed at 40%.
Rate Protection
If a rate increase occurs, all non-cancellable contracts will be protected. All other contracts will be reassessed after a 90 day period.
Agency Commission
Agency commission is 15% of gross billing to recognized agencies, provided payment is received within 30 days of invoice date. Rate-negotiated contract cancellation penalty assessed at 40%. Terms are net 30 days
CLASSIFIED ADVERTISING
Payable in advance. Non-commissionable.
Job Positions & Recruitment
$225 per column inch, frequency discount 5X=5%, 10X=10%
Yellow Pages
Cost is per one column line (47 characters, regular; 38 bold)

| | | |
| --- | --- | --- |
| Rates | Per Issue | 10 issues |
| Regular Listing | $28.00 | $220.00 |
| Additional Line | $25.00 | $205.00 |
| Bold Listing | $36.00 | $330.00 |
| Additional Line | $33.00 | $305.00 |
| 1" Display Ad | $250.00 | $2370.00 |
MECHANICAL REQUIREMENTS
| | | |
| --- | --- | --- |
| Unit | Width | Depth |
| Full Page | 9 1/4 " | 12 1/4 " |
| Jr. Page | 7 " | 9 " |
| 1/3 Page | 4 1/2 " | 6 1/4 " |
| 1/4 Page | 4 1/2 " | 4 1/2 " |
| 1/8 Page | 2 1/4 " | 4 1/2 " |
| Trim Size | 10 1/2 " | 13 " |
| Centerspread | 21 " | 13 " |
| Jr. Page Spread | 14 1/2 " | 7 " |
Bleed size: allow for 1/8". Keep text and graphics at least 1/4" from trim edges.
Page is 4 columns.

Reproduction Materials
B/W and 2C is 100-line screen. 4 C is 133-line screen. Digital files are electronically produced within a Macintosh DTP environment and compatible formats are preferred. Compatible Programs include Freehand, QuarkXPress, Pagemaker, Adobe Illustrator and Adobe Photoshop. Please ensure that files are in CMYK mode not RGB and all relevant fonts are included. Provide a high resolution color proof created from digital files (Iris, Kodak, Fuji)
Printing Process - Web Heatset, Binding - Saddle stitch
Paper Stock - 36lb. #5 coated
Production Charges - all alterations to printing material will be charged to advertiser.
Issue and Closing Dates
Published 10 times a year, (combination issues are Feb-March and July-Aug.). Issue Date is last Thursday of the month. Closing dates: For space, is the 10th of the preceding month and materials is the 25th of the preceding month.
Shipping Address:
Contact Judy Miller
---
A TRADITION OF FIRSTS
1975: ACN is founded. Pictured here is the original newspaper.
1978: Regional NY Cable television program to bring ACN to weekly cable show.

1978: Air Cargo Roundtable Issue discussion of top industry leaders, text of which appears in ACN.
1981: ACN named lifetime member of Air Cargo Sales Club

1986: US DOT Secretary Elizabeth Dole presenting ACN highest agency honor.

2002: History Channel International Airports, featuring Geoffrey Arend, playing worldwide.

2007: Earlier this year FlyingTypers distributed a daily exclusive to delegates at the IATA World Cargo Symposium held in Mexico City.
IATA WCS was the largest, most important and influential air freight industry gathering of 2007, with more top level executives and broad-based attendance by far, than any other trade show this year.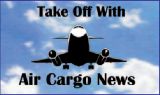 ---
THE TRIPLE THREAT
1. FlyingTypers
Thrice weekly Ezine directly to desktop or PDA
2. www.aircargonews.com
The website—updated daily
3. AIR CARGO NEWS
The newspaper—In 2007, 32 years of consistent and unique coverage
CELEBRATING 32 YEARS
The original, not a U.K. copycat. Created in 1975, Air Cargo News, the only continously American-owned and edited air cargo monthly newspaper has had one editor/publisher, Geoffrey Arend. Mr. Arend, the acknowledged dean of air cargo publishers is the go to air cargo source for worldwide media, with regular appearances on CNN, ABC, The History Channel.
THE AIR CARGO INDUSTRY EXPERT
In-depth and knowledgeable coverage of the air cargo market.
No advertorials, no press releases. Just market savvy.
We consider our credibility to our audience, sacrosanct. You can understand that while we want and need to do business, the way we are perceived by our readers gives you the best reason to want to be with Air Cargo News,
www.aircargonews.com and FlyingTypers.

PROVEN RESULTS
1986—Responsible for saving the Marine Air Terminal, LaGuardia Airport.
1986—Only publication ever to be honored by the U.S. Department of
Transportation for outstanding contribution to transportation and aviation.
1997—Credited with China Airlines Cargo Service into the Miami Market.
1999—Air Cargo Americas Award for Excellence in outstanding coverage of the air cargo industry in the Americas.
2001—Responsible for saving Building One, Newark International Airport, historic first-generation aviation buildings.

2002—April 24th. Geoffrey Arend, with son Geoffrey and daughter Florence receiving the Bishop Wright Man of the Year award for "a lifetime of service and support to aviation and air cargo."
Something Else
Today, it has become fashionable to be involved in a multiplicity of titles, directories, diaries; and sponsorships of industry events such as trade shows and awards functions, which are used as sales tool blitzes for creme puff advertising campaigns. ACN feels this is an absolute insult to the intelligence of our readers. We offer the following:
Editorial Integrity
• Leading Edge, straight from the shoulder, objective reporting of the news.
• Every Issue has an editorial on an topic of current concern to the industry; our unique look at the news behind the news; a shipper story; an airport story; a legal issues column; and an airline/forwarder/courier/express feature.
• Experience, proven industry specialist, offering editorial you can't get anywhere else.
• Interviews with executives from every function and aspect of the air cargo business.

In our 32nd year of publishing Air Cargo News, it is a good time to review what it is we do that makes us different and unique.
Editorially Air Cargo News is the only independent choice among any cargo industry media. We do not sponsor or organize any trade shows, awards, organizations, or work to curry favor amongst various air cargo associations.
ACN policy of 'disinterested observer' incorporates certain challenges, including the inability to portray ourselves as 'the official inside media' at trade show events, or amongst various industry groups. That activity, we believe, blurs the line between self promotion and getting to the story.
Our policy unlocks an opportunity to look objectively at events, with balance and opinion.
We deliver editorial content our readers can believe and trust: stories and opinions available nowhere else.
Editorially, ACN gets to the heart of the air cargo business. We write about the industry, its people and their ideas. At ACN content is king.
Recognizing that increasingly the world is turning to the virtual platforms for news, we have an Ezine, FlyingTypers which is circulated thrice weekly via email to 22,000 plus readers around the world. We have reporters on the ground in Europe—Frankfurt, Hamburg, Paris; Asia—Beijing, Shanghai; Subcontinent & Middle East—Dubai, New Delhi, Karachi; Latin America—Chile, Brazil; USA—New York, Miami, San Francisco, Los Angeles. So we cover not just the news, but what's behind the news and create original features and interviews from around the air cargo world.
In addition, our website www.aircargonews.com updated regularly generates over a million hits each month.
In effect, Air Cargo News, the print publication circulated by individual copies through the mail is the voice of the Americas; FlyingTypers, the Ezine, delivered to email address by request is the voice of the global air cargo industry and the website, www.aircargonews.com, the virtual platform for all those who are interested in the news of the air cargo world.
As always, Air Cargo News' philosophy is about delivering to our readers and customers the editorial product they want, when they want it and how they want it. These choices will not only allow us to grow with our customers, but also afford our customers the ability to use the media platform that best serves their needs.
As a privately-held company, ACN does not have the pressure of the investor-financed publishing conglomerates. We make decisions about our media platforms, only a family can, based on need in the market and pride in our product. We often can view a challenge and move beyond the latest marketing wave or narrow agenda of the accountant and say—"we are going to do it right."
Our mission is to inform and expand the working relationship of the air cargo industry, period.
In the well-defined air cargo market, circulation audits and readership reports, just like expensive salesmen in fancy clothes, are over-the-top costly sales tools meant to impress only. Worse, money better spent on developing quality editorial and readership, ends up in the pockets of audit companies and high-powered salesmen. In the end the cargo advertiser picks up the tab, paying higher ad rates. Our consistency and expertise in knowing the market affords our clients, the lowest cost per thousand, to reach partners and potentials for future business.
As I move ahead into my third decade as Editor/Publisher, it is my belief that there is good reason based on experience, desire and love of what we do, for this newspaper to continue its independent role. As the air cargo industry faces the challenges of the 21st Century, I am determined to remain at this post, reporting the news, while training the next generation to continue.
Our family wants it that way.
—Geoffrey Arend