GSSA's Carry The Weight
Once upon a time there were cargo sales and marketing managers at work for the airlines almost everywhere.
Fs example here in Frankfurt, Germany it would not have been uncommon for an airline such as Aerolineas Argentinas to have featured cargo managers in several European countries.
At one time JAT Yugoslav Airlines, Pan Am, TWA and others did exactly the same thing, as the airlines created complete cargo management setups with individual support services such as airfreight accounting in their markets worldwide.
The Aircargo Club Germany was born of this trend and in the 1970's and yet into the 1980's most ACD members were airline cargo managers.
That way of doing business is long gone.
Return once more to the good old days.
Once upon a time, it was a must to have a big billboard advertisement for your airline outside the cargo areas of airports, or to operate exclusively with containers painted with corporate identity.
Sometimes even the pallets of an interline-partner-carrier were given an identity treatment.
Pride of place ruled long ago and far away.
"Schnurrbart – airlines", is what Siegfried Koehler of Lufthansa used to call the newer carriers as they settled into nicely appointed cargo offices at the airport or downtown.
More than often an airline office would be placed near a particular restaurant where the boss preferred to dine.
It was a time when "cargo revenues" were actually secondary to "weight carried," as the measure that served as yardstick to the performance of a country cargo manager.
Seeing Schenker, Kuehne & Nagel, AEI and Emery at least twice monthly was a must for the cargo manager while sales reps consolidated their "individual findings" at commercial accounts for the calling reports.
All of this came to an abrupt ending during the 1990's as airline auditors began examining revenues.
As real accounting took hold, the ensuing big shake up took its toll, and a new breed of companies called General Service Agents or GSA began offering their services to airline bosses.
Now an airline could dump fixed costs by variables based on weight handled and revenues generated respectively.
The GSA, a profession with long tradition around the globe in the shipping and trading industries was discovered, and incorporated in increasing numbers in the airline cargo business.
Consequently airline cargo offices were closed and GSA's moved up in visibility at airports around the world. Helge Luehr, who serves as Chairman of the Federation of Airlines General Sales Agents (FAGSA) today, pioneered the GSA concept in Germany with Cargolux during the 1970's.
Herr Luehr's Aerotrans that served Cargolux, was also a template for others moving toward GSA's.
Another one of the early GSA birds was Michael Staecks´ Transnautic that represented Aeroflot.
Early GSA's had to balance their approach by administering sales in-house while overseeing airport handling in cooperation with the ground service companies, who were often different at various airports.
As a likely result of that fragmented responsibility was born the General Sales & Service Agent or GSSA.
GSSA's got started in the UK and in the traditionally liberal Netherlands.
In Germany, cargo agents took quite some time in accepting a GSA as a fully authorized and competent replacement for the cargo manager of an airline.
Today four years post 9/11, and the financial meltdown of much of the airline industry that followed, the GSSA is an accepted, often appreciated partner of the cargo agent and shipper community in the air cargo business.
Leisure Cargo founded in 2000 and Lufthansa Cargo Counts are two home-grown companies offering total cargo management for airlines.
But these two outfits are no local operators, rather they envelope all cargo-related activities everywhere the airline they serve flies.
According to IATA CASS Germany Manager Mathias Jakobi, 88 of the 128 airlines selling and accounting in Europe's number one market are represented by a GSSA.
Here are some major players in the European market today.
Globe Air Cargo is a "European Cargo Services" company that until a couple of years ago was known as Pace Airline Services.
During the late nineties European Cargo Services acquired a number of European GSSA's and formed Globe Air Cargo with subsidiaries in Asia as well as in the Americas.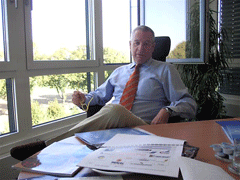 Heiner Sass of Globe Air Cargo in his office near Frankfurt International Airport
"We are the classic GSSA," says Heiner Sass, managing director of Globe in Germany, Poland and Bulgaria.
"We have taken the burden of an in-house cargo organization off the shoulders of many carriers.
"We can operate as required in different situations.
"As example, for SN Cargo in Brussels, we act as all round cargo management and similarly for Ukraine Air, filling their freighter.
"Globe picks up refined blocked space agreements on behalf of some of our mandate-airlines to Latin America for example.
"Globe develops business here in Germany differently than in other European markets as our standing with the strong German forwarding community is solid.
"Elsewhere, in 22 markets in the Americas, in Asia and here in Europe, we sell and serve a large number of airlines on the spot.
"I believe that we are the only really global provider of highly professional GSSA-services."
"Globe has contracts to represent more than 100 airlines worldwide.
"Globes Charter Solutions division offers a myriad menu of solutions for cargo charter around the world. Mark Grinsted runs Charter Solutions here in Frankfurt and is able to offer charter operations to almost anywhere from anywhere."
Surveying the scene and listening to the actors in the US$ 1.42 billion German air cargo market, one GSSA is usually mentioned first.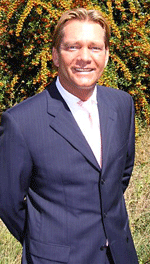 Ingo Zimmer – ATC Aviation Services.
A 6' 5" inch tall, down to earth former freight forwarder scores big as a GSSA in the 21st century.
ATC Aviation Services originally founded in Switzerland, active in most European markets and operated in Germany and Austria by Ingo Zimmer (pictured right) for the past 16 years represents among others Asiana with 4 weekly freighters and 4 combis out of Frankfurt alone and road feeder connections to another 7 weekly all cargo flights out of Brussels. 4 weekly Royal Brunei with four flights weekly offers solid lift dependability to the Far East and Oceania out of FRA. Kuwait Airways provides a dense schedule to the Middle East, the Indian Subcontinent and the Far East as well.
"You mentioned some of our carriers; but similarly important to us are Yemenia, TMA, Royal Air Maroc, Ethiopian Airlines and Air Mauritius.
"Actually all 20 airlines that we work for in my district are equal.
"Everybody gets the golden touch at ATC.
"We are 20 people in Frankfurt, Munich, Düsseldorf and Cologne, publishing individual rate sheets for the German agency community as if the papers came from the airline itself.
"Each of our employees puts the respective airline hat on while advancing the fortunes of a carrier by telephone or by E-mail.
"The key ingredient of our organisation here is to never forget that this is a highly personal business that never lets the customer forget how important he or she is regarded.
"We also make a point to handle specialized markets—Africa and The Middle East, East Asia and Eastern Europe and Central Asia.
"ATC moved 3,000 consignments weighing 2,000 tons a month with revenues in the double digit millions of Euro range in 2004.
"At the beginning 16 years ago, the clients were exotic airlines rarely heard of.
"Today the smart money sticks to core business and leaves air cargo to professionals like ATC, so naturally the market has widened to include just about everybody.
"Challenges?
"Of course there are problems – like for example the fact that fuel surcharges today are often higher than the market rates on certain segments.
"Surcharge amounts exceeding 65 cents a kilo can often end up as no commission for us.
"Like the cargo agents we are discussing and trying to formulate our way out of what has become an impossible situation.
"I am proud of the fact that all of our carriers are represented by us exclusively in Germany and Austria. "We are not brokers, but rather a serious GSSA.
"We have the financial power to deliver a first-class product in our role as an airline cargo organization in a market like this one.
"Our IT is state-of-the-art, connections to CASS, GFX and in-forwarding is continuous and solid.
"By comparison, some so-called "service innovations" at some of our competitors have been standard in our company for years."
Elsewhere at Fraport's Cargo City we spend a few moments at an outstanding GSSA called cargo.net international.
(Photo Left)—Klaus Lederer, managing director of cargo.net in Frankfurt (right) shares a business luncheon and some inside scoop with Gue Mo.
(Photo Right)—Manfred Schleiffer, sales manager for Air Logistics Group seems to be ready for anything. During our conversation Joachim Klecha (pictured right) Cargo manager of Qatar Airways appeared at the ALG offices and was invited to get into the picture.
Klaus Lederer (a full-fledged freight forwarder who moved to other side of the table a few years ago) heads up the company with locations in other parts of Germany and Austria.
Today some fifteen airlines are in the portfolio including fast-rising Etihad Crystal Cargo, TAP Portugal's national airline and Uzbekistan Airways. Azerbaijan, Tajikistan, Turkmenistan as well as Siberia, a little bit of Africa and other destinations are also situate on the cargo net international service map.
But first a few words about Etihad.
Never ever before has a carrier entered and penetrated the German and Austrian air cargo market with the impact, as has the airline from Abu Dhabi.
Etihad added route after route in its service ramp up but cargo.net international cites its ability to cope with explosive growth.
At Air Logistics Group–a Chapman Freeborn offspring, Bruce W. Petersen runs a highly respected GSSA shop with Manfred Schleiffer in charge of airline sales.
Air Logistics Group represents Qatar Airways, CAL of Israel, Air Seychelles, Air Malta, Lithuanian Airlines, Mongolian Airlines, Transaero, Tampa Airlines, China Eastern Airlines, British Midland, Florida West, Cabo Verde Airlines, Iceland Express, Carpatair, Estonian Air, LOT Polish, KUZU and Kaltta.
GFM