EADS co-CEO Louis Gallois, pictured here, former Snecma chairman and CEO, was named Airbus CEO yesterday after Christian Streiff (pronounced strife) quit three months after taking the top job.
Indication that a kiss-off was afoot came last week when Streiff openly spoke of Airbus production challenges with reporters saying that the company is a decade or more behind Boeing.
The Airbus turmoil is yet to be engaged with a solid plan for the future.
No doubt, Streiff to the now reeling plane maker was a special nightmare.
IT problems continue to plague Suvarnabhumi Airport, Customs Department officials said.
"Chaos since airport opened late last month, with paperwork delays, missing shipments and communication snafus," a source noted.
Problem lies in the Air Cargo Communication System (ACCS), created by Airports of Thailand to oversee shipments moving through the airport. "ACCS has proved a complete failure," Suriya Sukanand, director of the Suvarnabhumi office of the Customs Department told reporters.
Bangkok Flight Services (BFS) a joint venture between French-owned Worldwide Flight Services and Bangkok Airways reportedly is also a culprit with delays driven according to one source by inexperienced staff and the aforementioned IT problems.
BFS and Thai Airways International are the main cargo handlers at the airport.
"BFS staff have also had difficulties in keying in invoice data for transmission to the Customs Department, resulting in further delays for exporters and importers," Mr. Suriya said
Prasert Prasarttong-Osoth, founder and chief executive of Bangkok Airways, confirmed the problems noting that staff "had been trained to operate using the ACCS system, not manual processing.
"BFS had paid full compensation to all affected parties and expects to attain normal operations during the next weeks, Dr Prasert said.
Meantime the BKK paperwork jungle at the new mega airport continues growing.
---

New ICAO code for venerable Don Muang is DMK.
Easy on the tongue Don Muang didn't have much in 2006, except familiarity and an easy to pronounce name.
Now DMK no longer BKK becomes (at least temporarily) a repository for some interesting airplanes including three airworthy L1011's belonging to Thai Sky Airlines that are parked awaiting orders.
Thai Sky may be looking for lift elsewhere, having just acquired a couple of MD82's seen at DMK in CO colors.
Apparently all is not well in Abu Dhabi Etihad Airways land.
The carrier best known for playing catch up while aping almost everything Emirates has posted a sudden and dramatic change in leadership.
Out- according to a source amidst a rift, is Etihad Airways chief Robert Stroedel who actually stepped down a while back and was replaced by Chief Executive Officer Geert W. Boven (Acting).
In- is James Hogan,(right) who may have recently left his post atop Gulf Air, with the move to Etihad in mind.
Meantime the press release we have here that accompanied the announcement contained neither the picture of Messers Boven, Stroedel or Hogan, but rather Etihad big boss, Dr. Sheikh Ahmed bin Saif Al Nahyan.
Meaning of all of this ?
Don't bet against the good Sheikh remaining in his post no matter what fate betides others at the carrier.
Worth noting is one thing, EY probably can never copy.
The upper management team at EK, including Maurice Flanagan and others (Peter Sedgley & Ram Menen in cargo), has remained in place since the carrier opened for business October 25, 1985.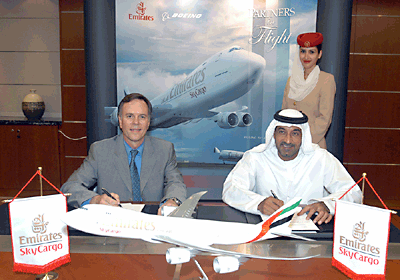 Emirates signed up for 10 Boeing 747-8F's worth US$2.8 billion, and entered into a purchase agreement for 10 additional 747-8Fs. Here HH Sheikh Ahmed bin Saeed Al-Maktoum, Chairman and Chief Executive, Emirates Airline and Group (right) and Ken Schultz, Boeing Commercial Airplanes Sales Director ink the deal while Emirates Cabin Crew member Nazli Mianaie completes the picture.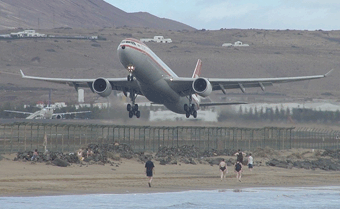 LTU adds two nonstop flights from Düsseldorf to Las Vegas next May with an Airbus A330-200 every Monday and Thursday
Elsewhere at Toulouse, ATR keeps rolling along recording its 57th sale in 2006 with Cape Verde, Praia-based TACV (Transportes Aereos de Cabo Verde) signing a contract for 3 new ATR aircraft (1 ATR 42-500 and 2 ATR 72-500s).
The contract signing for $50 million, rated a nice photo op with flowers and refreshments featuring (far right) Filippo Bagnato, ATR CEO, and Joao Higino do Rosario Silva, TACV Chairman and CEO.
The three new ATR aircraft will be delivered in 2007 and will be equipped with the new "Elegance Cabin."
We like that name for a place to sit in the sky.
Elegance aloft works for us every time although finding same can be illusive.
For the record Africa represents 20% of ATRs 2006 orders with 21 operators currently flying ATR Aircraft there.
Among the best selling airplanes of all time ATR has recorded a total of 835 aircraft (401 ATR 42's and 434 ATR 72's).
Who will get number 1,000?
Stay tuned.