East Star Airlines Rises From Hubei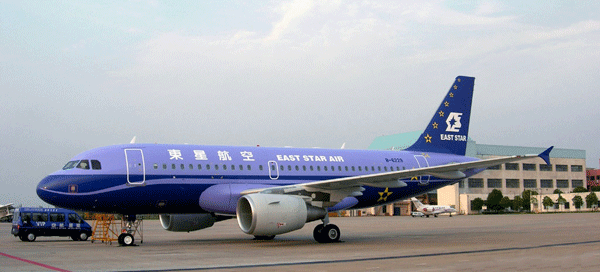 East Star Airlines, China's fourth registered private airline, and also the first one in middle China, has been the focus of attention in many business circles here during the past several months.
Established in June 2005, the airline, a subsidiary of China East Star Group Co. Ltd, is headquartered in Wuhan, Hubei Province.
Last November, the airline signed a letter of intent with Airbus to buy 10 A320's, and another deal to lease from GE Commercial Aviation Service (GECAS) another 10 A320's.
The arrangement valued at USD1.5 billion sets a record as the largest for China's domestic private airlines.
Compared with East Star Airlines' USD10-million registered capital threshold for establishing an airline in China, the order raised a lot concern in the industry here.
East Star Airlines took its first flight successfully on May 19th, featuring an aggressive marketing strategy.
To date there is every indication that East Star is significantly changing the aviation and traveling market in Wuhan.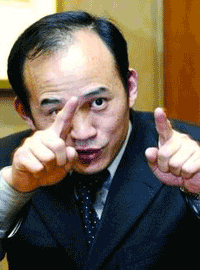 Mr. Lan Shili, President of the East Star Airlines and East Star Group, is ranked 70 among China's most wealthy businessmen according to Forbes in 2005.
During an exclusive interview in Shanghai, with FlyingTypers Shanghai correspondent, Mr. Li outlined future plans for East Star and more.
As to current status of East Star Airlines, Mr. Li said:
"The second A320 joined East Star in June and commenced operating three new flight routes, from Wuhan to Shenyang, Zhang Jiajie and Guilin.
"Our third A320 is scheduled to arrive this year and will operate three new routes, adding our total number of destinations served by the close of 2006 to ten.
"Our ticket reservation activity has been quite favorable," Mr. Li smiled.
"We are making the most of our flights, in many cases our manifests have been full all summer long.
"No doubt that our first year operations will end in profit, something that other domestic airlines have not achieved."
In China today in addition to East Star Airlines, three other private airlines are currently in operation, Okay Airways, United Eagle Airlines and Spring Airlines.
Of the aforementioned, only Spring Airlines has ever reported profits, back in February 2005 during the Spring Festival also known as Chinese New Year.
Mr. Li is convinced the remarkable performance of East Star Airlines in these months is due to its low-price promotion strategy.
East Star Airlines offers every passenger that buys one full rate ticket in Wuhan, five-day free travel to Hong Kong and Macao.
"This is the big gift we present our passengers, thus profitability was not our first agenda.
"But low fare flights will not be our only offer.
"Our aircraft are new and advanced, our scheduled flights are to major cities, such as Guangzhou and Shenzhen, and so eventually our prices will be comparable with other airlines.
In addition to East Star Airlines' promotion, East Star Traveling Agency, a major travel agency in middle China and also a subsidiary of East Star Group, at the same time, quotes fairly low prices for several domestic tourist itineraries from Wuhan.
And the lowest quoted price is only half of the market price.
As this fundamentally changed the existing rate system, all the other eight airlines operating in Wuhan together with major local ticket agencies boycotted East Star. Ticket agencies do not sell tickets of East Star Airlines, and other airlines don't cooperate with East Star Airlines in any aspect. What's more, ticket agencies of East Star Group are blocked to sell tickets of other airlines. "This is what we had not expected. Their response was that strong and ignored the principle of market economy.
"Although this status only continued for some days, I worried a lot during those days. With only one aircraft, the cost of being isolated is something we can handle for a while, however, as more aircraft arrive we cannot tolerate that situation.
"With the intervention of the local agency of Civil Aviation Administration of China (CAAC) and other concerned governmental agencies, this problem was solved soon.
"Private Airlines still are new for China. All related parties might need time to find a proper balance."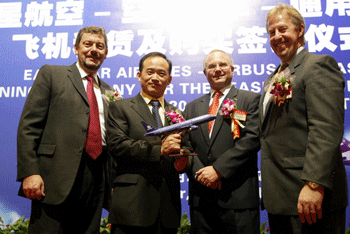 To the long-standing concern of how East Star will manage to afford the USD1.5 billion, Mr. Li said:
"The 20 A320's will be delivered in batches rather than all together. Therefore, East Star Airlines is not required to pay in one lump sum. And we will use financial leases and seller's credit to avoid huge financial risks.
Scheduled delivery of the 20 A320s from 2006 to 2010 will be three, three, four, five and five respectively.
"For the ten A320's bought from Airbus, Euro Export Bank provided East Star Airlines a 15-year USD 750 million seller's credit, with the lowest interest.
"GE Risk Assessment Company in Asia values East Star Airlines the highest among new airlines of the world in recent years. In addition to our perfect business plan, the operating record of East Star Group, Euro Export Bank agreed to provide the credit without mortgage.
"Typically, cost of every aircraft is about USD1.25 million per month, and revenue from other sectors, such as real estate, travel agency and construction, will be able to finance it for three to five years. And my plan is to break even within three years, and gain profits within five years.
Last month, East Star Airlines signed an agreement with Lufthansa that the latter will provide parts and maintenance service to East Star Airlines. And the amount is estimated to exceed USD 100 million.
About the air cargo business, Mr. Li said:
"Air cargo business will be another profit engine for East Star Airlines. Recently, CAAC has formally approved East Star Airlines to operate air cargo business.
"There has been no all-cargo service in Hubei province. With the change in Hubei's economy, high value-added products will be increasing, thus boosting the development of air cargo business in this province.
"This should be a good opportunity for East Star Airlines."
www.eaststar-air.com