Change is Afoot At IATA Cargo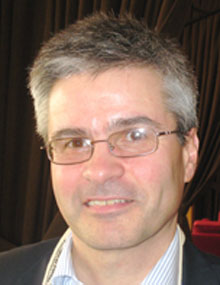 Speaking to Air Cargo News FlyingTypers at the CNS Partnership Conference this week in Palm Beach, Florida yesterday Aleks Popovich, Head of Cargo said the 2008 World Cargo Symposium that was held this past March in Rome will be followed next year by an even grander effort that will be held March 2009 in Bangkok, Thailand.
"For Bangkok we want to take our effort out even further into the marketplace to involve the customer as never before.
"Our initiatives in Bangkok are a natural outgrowth of our theme for 2008 Focus On The Customer."
Right now IATA is assembling more than a dozen and a half theme tracks for meetings in Bangkok that will format one single gathering.
"The Third IATA World Cargo Symposium (WCS) in Bangkok promises to follow the Mexico and Rome Symposiums of the past two years as the most important nuts and bolts working air cargo event of the year.
"WCS will concentrate on decision makers, key stakeholders, cargo specialists and business owners that will mix and share the latest knowledge, best practices and benchmarks around one theme.
"But this time we will make an all out effort to involves the customer as never before.
"We have proven the veracity of our Cargo 2000 and e-freight initiatives.
Now we will bring forward the belief that all world-class air cargo companies embrace these technologies as basic to their business and to their customers' expectations.
"We have earned our stripes from the first two events and intend to carry our theme of 2008 "Focus On The Customer," by becoming even closer to the customer in the future."
Mr. Popovich notes that IATA building success upon success will not be met with a relaxed attitude by the world air transportation body, but rather as template to build even more programs to streamline and invigorate the industry in the future.
A new initiative to yet be unveiled later in 2008 is called Secure Freight.
"The goal of Secure Freight is to create a supply chain discipline that among other things will be recognized by governments."
"Secure Freight is where best industry practices can form a baseline that is recognized by nations globally and in turn help streamline the process and save everyone valuable time and money.
"The vital factor is that everyone from all aspects of the supply chain are encouraged to contribute.
Secure Freight just like Cargo 2000 and IATA e-freight that preceded it are no one size fits all propositions.
"The IATA environmental air cargo program will continue to evaluate the role of transportation with a cooperative approach to road, rail and sea in addressing increased world attention concerning impact of shipping perishable produce flowers and foodstuffs.
"With the working title Green Freight we are informing countries and the general shipping public about the true environmental impact of issues including the so called "food miles" by going beyond sound bites and anecdotal responses.
"Much of our effort is devoted to doing research to determine what the true environmental impact is of transporting agro business.
"On another front IATA Cargo wants to take waste out of airfreight.
"As example of that, is showing how utilizing new generation containers and other airborne containers can save millions annually.
"Fuel-efficient aircraft are one thing but almost as important is for air cargo to think in terms of totally efficient infrastructure to match value for value with newer generation aircraft."
Mr. Popovich noted that IATA Cargo is also looking to expand its regional market air cargo event approach that has resulted in a working association with India Agents that are moving together with IATA toward implementing a CASS System after IATA Cargo held a regional event a couple years ago and new partnerships were formed.
The same holds true for programs that have been furthered by mutual consent because of the same regional approach after IATA Cargo conducted an air cargo event in Warsaw, Poland last year.
Aleks Popovich indicated that IATA Cargo is looking toward Africa as the next location to hold a regional cargo gathering perhaps as early as 2009.
Geoffrey

---
Lufthansa Meets The Press

Bernd Maresch, the public relations guy at Swiss WorldCargo is nothing if not determined.
So once again as the heat bore down and the birds circled around, one of the traditions of CNS Partnership, the combination Lufthansa /Swiss World Cargo press conference was held Monday.
So what did we learn?
Left To right, Gabi Posniak, Marketing Manager appeared for cargo counts having moved over from Lufthansa Cargo Charter recently. Bernd Maresch, Director Marketing & Strategy, Swiss WorldCargo, looking no worse for wear having fielded a two-hour press gathering; Peter Ahnert, Director of Business Development, Jettainer; Jack Lampinski, Managing Director Swiss WorldCargo, worries surcharges continue to out distance rates despite achieving solid numbers ex-USA; Reto Hunziker, Executive Vice President Sales & Marketing, Jade Cargo reported new destinations from China gateways are being added throughout 2008; Klaus Holler, Vice President The Americas Lufthansa Cargo said despite a tough USA economy Lufthansa is holding steady while emphasizing expanding network connections. Michael J. Krug, Global Account Manager from time:matters noted that the small package, high yield specialist has taken over operations of all courier handling at Frankfurt International Airport. Alexander Pluemacher, Jettainer new Managing Director lauded addition of United Worldwide Cargo to the Jettainer fold. Christian Fink, Managing Director Lufthansa Cargo Charter Agency welcomed Volker Dunkake as new Head of Global Sales and Services.
---
Watching DL/NW Cargo
Regarding DL/NW from a cargo perspective—I have the following comments:
Both airlines have been active members of the SkyTeam Cargo Joint Venture for some time (which doesn't seem to function outside the U.S.), so nothing much new there.
NW has a significant network in Asia, which can complement nicely DL's European presence; a visionary leader of the combined airline could make something out of it, but I wouldn't hold my breath.
Traditionally, whether alliances or mergers of airlines, 99% of the focus and dollars are expended on passenger operations.
The major advantage NW has is a fleet – albeit rather old and very expensive to operate – of B747-200 freighters that make the airline the only U.S. passenger airline to operate its own cargo planes.
NW is well positioned to be a prime competitor in the Asia-U.S. cargo market, where the problem is the traditional imbalance of much less traffic U.S. to Asia.
A global strategy combining the U.S. trade lanes with Europe and Asia could make it formidable but I don't see it happening anytime soon.
It will require significant capital to invest in fuel-efficient aircraft and truly in-depth knowledge and understanding of the cargo market requirements from global customers' perspectives.
In theory, combining DL/NW with AF's freighters and savvy cargo business (including KL) could result in an unbeatable combination, however, the reality has shown time and again the narrow views airlines take in pursuing individual carrier interests and where there's a will to cooperate, each airline wants it on its own terms.
On paper, there's Detroit, Minneapolis, Atlanta, New York and Los Angeles as major gateways, with hubs in Tokyo and Frankfurt respectively but the DL/NW cargo business has its work cut out for them.
Competition is fierce with Lufthansa Cargo, FedEx, UPS, Polar and Cargolux ready to give it a run for the money. Commanding prime rates, attracting and keeping top customers will be how success is measured.
Notably, NW is one of the few combination carriers where cargo contributes over 30% of profit!
From an IT system perspective, both DL and NW use a Unisys cargo system, which theoretically should help with cross-utilization, although it's a very expensive legacy system.
NW purchased Cargospot some time ago and has been working on its own version in its Philippines' based IT outsourcing shop.
AF is also rumored to look for or develop its own new cargo IT, therefore synergy might prove elusive.
As always, people make the real difference – any outcome will depend on whether there is a creative individual in the top spot who can capitalize on the potential and execute and a corporate climate that is really prepared to accord cargo an equal role before any benefits fizzle out.

Ted Braun
tedb@freightpath.com


---
Quote Of The Day At CNS

At CNS Monday May 5, luncheon sponsor American Airlines Cargo President Dave Brooks, given an opportunity to speak after four hours of sessions talks of new destinations Barcelona, Milan and Moscow and then delivers the shortest speech of the morning bringing the audience to its feet.
Let's eat, Brooks declares