Dnata Has Room To Grow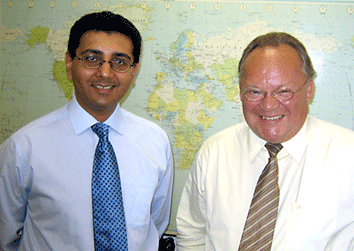 Jean Pierre (JD) De Pauw (right) pictured with Mickey Jadeja.
Jean Pierre (JD) De Pauw, Senior Vice President Cargo (FreightGate) has seen a lot in a career that spans most of the "Dubai Miracle" both as a destination and also as the logistics phenomenon that the gateway continues to build.
Now for the first time he is seeing some space that needs to be filled in Dnata's sprawling FreightGate operation at DXB.
"Having some space to fill is a good thing," JD told Air Cargo News FlyingTypers.
"But we are looking for tenants that want to grow their business utilizing the finest facilities available anywhere," he added.
Although the usual word in these parts including our recent interview at Emirates Cargo Mega Terminal) indicate that cargo facilities here can be operating at max almost before they are open, JD sees the Dnata advantage as offering a solution to any problem after a multi-year building boom wherein Dnata set itself up well for at least the near term.
Dnata as it goes, is no one size fits all enterprise rather with its menu of facilities appears more a cargo solutions company.
How well all of this is working seems assured as JD reports that last years figures were released a couple of months ago showed Dnata Cargo delivered another double digit uptick.
There is also that joint venture recently announced between Dnata Cargo, Kanoo and France's SDV International Logistics creating one of the UAE's largest logistics solutions providers.
SDV-UAE will be 49 percent owned by SDV and SDV and 51 percent equally owned by Kanoo and Dnata.
The new company will be run by a board of directors consisting of Jean Pierre De Pauw of Dnata; Mishal Kanoo of Kanoo; Herbert de St Simon of SDV and Tony Stenning of SDV.
We can assume that the shape of the board room table is not an issue and this group took off flying right away, just the way JD likes it.
SDV-UAE will gain access to a worldwide network of SDV offices and to service projects and multinational contracts in the market.
"SDV-UAE as part of SDV's worldwide network offers the new venture excellent opportunity to take advantage of the largely untapped African market."
A quick look into Dnata Cargo (Dnata, the company has been a handler and ticket counter and all sorts of services at Dubai and elsewhere since the mid 1950's) reveals both an interesting mosaic and varied enterprise conducted in several cargo terminals and services that are now branded Freight Gate 1 thru 6 by the operator.
Freight Gate 1 features a number of facilities, including a special storage area, ETV Systems, a number of build-up and break-down stations, TVs, hydraulic-powered truck docks, and Sea Air docks.
"The airport cargo complex and the sea ports are free zones, permitting fast handling and minimizing documentation.
FreightGate-2 Cargo Village is a purpose-built express handling center and is the first of its kind in the Middle East region, having pioneered several innovations for cool chain logistics including a rapid response team with the expertise to deal with highly temperature-sensitive and refrigerated "cool dollies", electronic temperature probes and other industry firsts. It occupies an area of 4,000 square metres, housing Dnata counters, customs and Police Units as well.
FreightGate-3 is located in the Dubai Airport Free Zone (DAFZA), operates on a 26,000 square metre site as a dedicated freighter terminal for charter operators and includes a docking area capable of handling up to 50 trucks. It has been designated DAFZA's community service provider to act as a conduit for cargo between the aircraft and their own storage areas.
FreightGate-3 has the distinction of being the only terminal in the region to offer tailor-made services to charter operators and a provision for tenancy and self-handling privileges, and an option for premium services – all under one roof.
FreightGate-4 self handling facility offers comprehensive warehousing and distribution services to freight handling business, where freight forwarders and charter operations can lease office and storage space, providing for their total logistics operations.
FreightGate-5 more than triples Dnata's annual throughput capacity in the Airport Free Zone to 500,000 tons.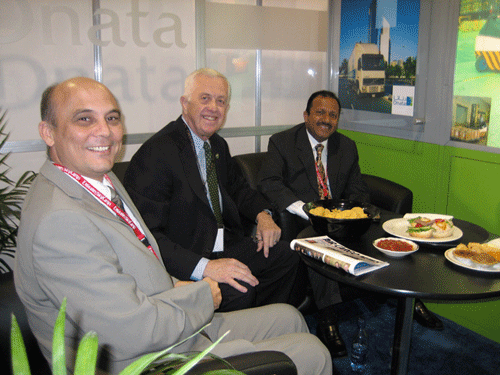 Favorite picture not posed was snapped at TIACA in September 2006 as Dnata's Ismail Ali Albanna, executive vice president of Dnata, Geoffrey Arend (not the actor) and Kevin Ennis, vice president business development Dnata shared a quiet moment.
With 16,000 square meters of warehousing and 10,000 square meters of office space, FreightGate-5 houses a complete portfolio of import and export services.
It also hosts Dubai's first fully-automated air cargo storage and retrieval system with Elevated Transfer Vehicles (ETV) and truck docks providing a direct interface between landside and airside.
Finally FreightGate-6: Jebel Ali Free Zone (JAFZA) is Dnata's off-line cargo terminal of Dubai airport, located in the Jebel Ali Free Zone (JAFZA), has been assigned the ZJF location identifier by IATA.
Using the ZJF location identifier and assigned airline flight numbers, shippers anywhere in the world can book cargo directly to end destination ZJF, and can show Jebel Ali Free Zone Air Cargo Terminal on air waybills as the point of final destination through arrangements with carriers.
Similarly, exporters from JAFZA have their cargo accepted with full documentation performed at the ZJF air cargo terminal in JAFZA and show ZJF Jebel Ali as the point of origin on the air waybill.
Any consignment arriving at Dubai Airport showing ZJF as the point of either origin or destination is now treated as transit cargo and bypasses storage, acceptance or delivery procedures.
It is handled straight on or off the road feeder trucks to and from FreightGate-6.
JD is an old-line air cargo fox.
Although the name De Pauw may have some royal connection in Holland, the erstwhile JD prefers to remain low-key and focused on building the best service-driven airport cargo handling operation in the world.
He is tough and no nonsense on the bottom line, but he couples determination and drive with a quick smile and appreciation for the human condition gained from a lifetime in the airline business.
JD also loves to sail and has a small sailing craft docked nearby.
He reveals earlier in his native Belgium he enjoyed piloting a glider and that although he no longer flies, his son has followed in Dad's footsteps (or wings).
Dnata Cargo is working on a newly revised IT communications platform for the air cargo business (CALOGI) that JD envisions as just the ticket to take down the waiting game that many companies must endure along the line while shipping air cargo.
Those announcements are still under wraps but are expected within a few weeks.
Kevin Ennis is Vice President Business Development for Dnata Cargo.
Kevin is determined to both maximize performance and minimalize mistakes as Dnata handles its way to greatness.
"For us, the key to success in this business environment is efficiency and the drive to keep providing quality services at top value-for-money."
Micky Jadeja is young, energetic and full of ideas and swagger.
As Manager of Cargo Partners, the well respected and essential marketing wing of Dnata Cargo, Mickey oversees all aspects of business and relations amongst the GSSA's Cargo Partners serves.
"We are the essential link between the principals and their customers.
"My biggest job is to talk to our Cargo Partners and to make certain that everyone is on the same page whether the challenge is big or small to keep things moving."
Geoffrey