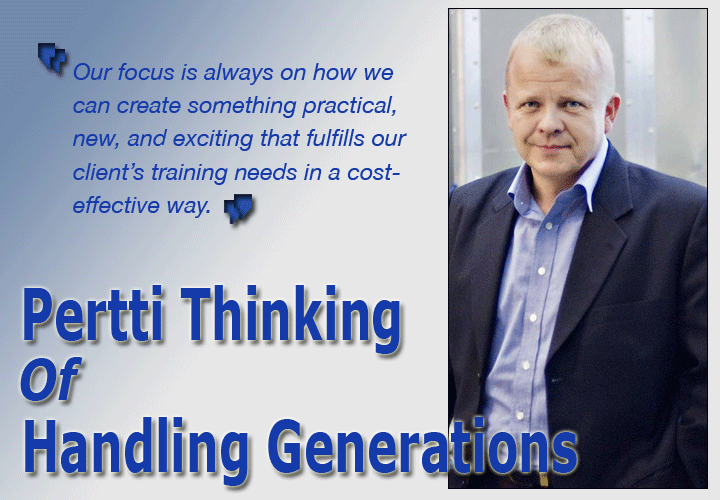 At all the recent trade shows and forums, there have been sessions addressing the challenge of training new people for the air cargo business in a way that is cost effective and timely, sidestepping the outmoded practice of traveling in order to receive proper training.
In Finland, CEO and Founding Partner at Airport College International (airportcollege.com) Pertti Mero thinks he has found a great solution.
The affable yet quite determined executive insists that he has put his life and considerable record of service as a top industry manager toward education.
Now he is out to change the way people learn the commercial aviation arts beginning from the ground up.
"Our focus," Pertti says, "is always on how we can create something practical, new, and exciting that fulfills our client's training needs in a cost-effective way.
"What's more we are offering training courses that are available worldwide online.
"Currently we have directed our focus on Ground Handling Training.
"Today almost anyone who works in airport ground operations must have valid training according to their job description, including the re-current training, which takes place in two- or three-year cycles.
"At the same time, the financial pressure for training costs is imminent, perhaps stronger than ever before.
"This was our starting point at airportcollege.com when we decided to start our business two and half years ago."

e-Education

"airportcollege.com offers a range of e-Learning courses with different language options.
"Our online e-learning model covers mandatory ground handling training topics in safety and security.
"All courses comply with the regulations of international legislations and those established by governing bodies, such as the ICAO and IATA (ISAGO).
"As a strategic partner of IATA we have access to the latest industry information and are able to have an open dialogue with other members to keep us and our clients updated from that end of the business too.
"We have designed our training courses and cloud-based Learning Management System (LMS) to perfectly fit Ground Handling Agents, and it has been recently audited by airlines.
"The cloud-based Learning Management System makes it easy to deploy overnight and use as a service.
"Currently we offer 20 different online e-Learning training courses in safety, security, and service topics (each course length is approximately 40-90 minutes).
"airportcollege.com also custom designs courses.
"For the global audience we localize different language versions with text and audio," Pertti said.
Pertti Mero gained much of his knowledge hands on, working his way from the bottom to the top for many years before landing at last as Finnair Vice President, Cargo Sales and Marketing, based in Helsinki.
Like many others in air cargo today, Pertti saw a need and decided to fill it.
"I wanted to explore new challenges, to form something new to help the industry perform better.
"Business development and training has always been on my agenda and forming an e-Learning company with focus on aviation and logistics industry seemed a natural extension of my interest.
"For the past two years we have taken major steps forward to develop Airport College International to become a serious e-Learning services provider in the international arena."

Knowledge & Connections

"We have a strong team of professionals with extensive hands-on experience with running successful businesses.
"We feel that the field of training is an essential part of successful companies and wanted to gather together the experiences of what we have learned during our working life," says Head of Technology and Quality Ari Ketola.
"To be able to share knowledge and experience in international sales and marketing, regulatory compliance, instructional and pedagogical design, hands-on training, management of training organizations, e-learning technologies, and standards is an exciting offering, and this is the package we are now offering to our clients," Pertti Mero told FlyingTypers.

Makes The Case

"In many quarters all over the world today there are millions of employees that are frequently trained and retrained according to international and company regulations.
"When well-designed online e-learning products are utilized as either core to training or in support of that effort, the related cost-saving potential is huge, up to 80 percent.
"airportcollege.com research indicates that employees who are well-trained bring a higher level of job motivation as people simply do things better.
"The impact on productivity is immediate and long lasting."

Finland Model To The World

"We aim to be the global leader," Pertti Mero said.
"Our vision is to be the global leader in e-learning for the aviation and logistics industry.
"We are building global coverage to help our clients to fulfill international training requirements and achieve massive cost savings with our e-learning solutions.
"We have signed Sales and Service Partner Agreements for several Asian countries and have ongoing negotiation with partners in EMEA and the Americas."
Geoffrey