August's high summer skies may elicit the desire to kick back and enjoy the hazy, crazy, lazy days of summer 2017, but business must go on.
Summer Falls Back
For us, it is never too early to ready for a Oktoberfest in Frankfurt (September 27) hosted by CEO ATC Aviation Services Ingo Zimmer.
The gathering with Ingo and Dagmar Hanau (ATC's Group Marketing Manager) eases the transition into autumn in the best way.
The great company, fun & games, beer, and plates of delectable foods (especially the pfefferling mushrooms) are worth a trip.
The Tiffany Of GSSAs
But there is much more behind the fast rising "Tiffany GSSA" known today as ATC.
Always Takes The Big Picture
For years a tendency in air cargo has been for airlines to either get rid of their cargo business completely, or reduce staff to a minimum and employ a General Sales and Service Agent (GSSA).
Today in 2017 only a handful of carriers dedicate their own staff and facilities to cargo.
But as cargo continues to grow as a profit center and costs—including personnel, fuel, and security—continue to increase, no doubt continued pressure on the solo operators will draw the attention of bean counters.
Most of air cargo already knows that matching the production cost of moving the goods versus net income has made service agents winners as well.
Zimmer Is Elite
Frankfurt-based ATC Aviation Services is among an elite breed of GSSAs that seem able to think local and act globally at the same time.
Chief Operating Officer Ingo Zimmer says one aspect of ATC's global success has resulted from offering some or all of the services on his GSSA menu, which has been key to unlocking new opportunities all around.
"Our global group offers any combination of options to airlines—including just sales in Austria, and that's it, or all European coverage including service disciplines such as ground handling supervision, road feeder services etc.
A Global Offering
"In fact, our portfolio (http://www.atc-aviation.com) is testimony that carriers from all over the world find utilizing our services in any number of varieties makes good sense.
"But all of our service partners have one basic priority in common—to realize the highest possible contribution from carrying cargo, and the least possible headache."
Mr. Zimmer also points out that rising fees and handling charges at major airports are always a critical component of concern along with the well known other usual suspects outlined here.
"We can always create a package as part of our agreements, offering carriers some refuge and one less thing to worry about.
"ATC is, in reality a company that has emerged in the service quarter serving up a mix of both passenger and freighter airlines.
"We note that all of our carriers are remarkably more cost-conscious than they were even just a few years ago.
"In 2017 every single cargo flight is carefully scrutinized.
"That means that in almost every case, freighters and even companies that are less efficient are disappearing."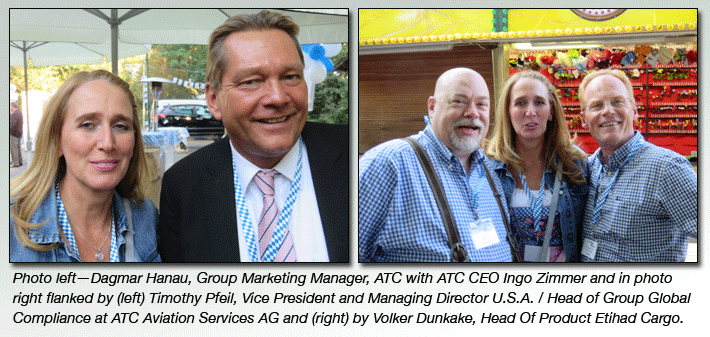 Where ATC Gets The Job Done
We wonder how ATC Aviation Services, which represents airlines from different continents, understands the goings on in each of the trade lanes it serves.
"At ATC, our service teams apply their knowledge and market know-how to supply specialized expertise across our main markets.
"Our global results from this approach have proven to be much more rewarding all around especially as compared to a 'one size fits all,' or 'everyone must conduct business by our set of rules' approach.
"ATC people who are specialized in routes to the U.S. or Russia and Central Asia, for example, combine thorough market knowledge of the airlines serving these markets and local obstacles with a working understanding of local language."
Ingo Began As An Agent
"Our approach is simple, but a major benefit for ATC customers.
"I learned a long time ago as a cargo agent that hands-on local knowledge and total communication between the parties is essential to the business of serving and keeping customers.
"Everybody needs to know what to expect every step of the way.
"It is this geographical dedication I think that makes us a leader in the market."

ATC Market Force Since 1970s
ATC's roots date back to 1971 when ATC Air Transport Consultants Ltd. was established in Switzerland as a charter broker.
ATC was founded in 1979 is a pioneer in the field of cargo GSA for scheduled carriers, a concept which was then introduced successfully in other European countries.
In fact, during the 1980s ATC Group was the first GSA organization to provide coverage with dedicated offices across several European countries.
In 1995 key management took over ATC and ATC Aviation Services Ltd. was born.
ATC – Always Takes Care
New strategies were introduced based on the corporate slogan: ATC Always Takes Care.
In 2004, ATC Aviation Services Ltd. became a member of the World Freight Company Group, creating a worldwide network of GSSAs.
In 2007, Air Support Amsterdam and Brussels became full members of the ATC Aviation Group in the Benelux. Seven years later in 1978, EC Cargo Spain joined the ATC Aviation Service Group, adding offices in Madrid and Barcelona.
In 2011, AMS France was renamed ATC Aviation Services, as well as Air Support Belgium and Air Support Holland. In 2011, TCC, The Cargo Connection in South Africa, became a full member of the ATC Aviation Group.
Also in 2011 new ATC offices opened in Denmark, Finland, Hong Kong, and Sweden.
In 2013, ATC landed big in the U.S., acquiring Houston-based general sales agent Platinum Air Cargo USA LLC.
In 2014 new offices were opened in South America including Argentina, Brazil, Ecuador, and Venezuela and the expansion has continued through today with more than 32 offices around the world.
"ATC owns and operates all our offices; there are no subcontracted operations," says Ingo.
"What that means is consistency—same centralized state of the art IT, clear group procedure manual, and hand-selected top managers. All customer service staff at ATC has forwarder/airline backgrounds.
"In an era of constant downward pressure, ATC does not embrace the cut-rate approach of filling our staff positions with cheap labor.
"So far, our strategy has paid off as more than 75 airline partners have chosen ATC, realizing that in the long run our offering keeps customers and delivers not only cost savings, but also innovation to the industry."
A Lifetime In Air Cargo
Ingo Zimmer took the classic German apprenticeship as a freight forwarder at Danzas GmbH.
He joined Swiss ATC and later guided Germany to the top position in the group.
Although reserved and quite unassuming, Ingo Zimmer has risen to his current position as ATC CEO, but he remains a hands-on, customer-centric individual, available and ready for business around the clock.
Ingo is a dynamic leader and also a caring father for a very international family.
"As mentioned, the most important aspect of our service is our people.
"ATC brings the full menu to the table, with all the bells and whistles, offering complete end-to-end capability in all air cargo disciplines to get the job done.
"But our employees drive our continued success and growth into new markets.
"ATC will be as big as it wants to be, but along the way we will never lose touch with our customers, who drive everything we do," Ingo assures.
Ingo Zimmer: zimmer@atc-aviation.com
Geoffrey