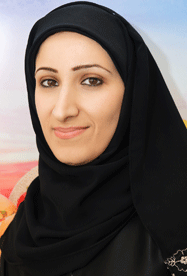 "It's a man's world," has long been an understatement when talking about women in the corporate world.
More recently, professional women have been changing this view while proving beyond doubt that they are as good, if not better, in tackling even the trickiest corporate issues.
However, not very often, do we hear exceptional success in the Arab aviation world which makes Gulf Air Cargo's Batool Hussain Ali an inspiration.
Highly passionate about her job and daring to take on challenges in her offbeat career, Bahraini Batool Hussain Ali, was one of the first five women to be recruited by Gulf Air for the cargo division.
Confident to the core and enjoying her Gulf Air Cargo career to the fullest since 2007, Ms. Ali, currently working as the Agency & Industry Affairs Specialist, says she has no regrets about choosing the job she has today.
"I was nervous in the beginning to join an entirely male-dominated department, but gradually became comfortable, thanks to my encouraging boss, Mr. Ebrahim Mohammed Al Hamadi, Senior Manager of Gulf Air Cargo.
"His constant guidance made me feel at home in the workplace right from the beginning."
Born and brought up in Bahrain, Ms. Ali graduated in accounting before she joined Bahrain's national carrier.
Still finding time to continue her formal education Batool will be completing her MBA from the Al Ahlia University shortly.
She hails from a family of six siblings, none of whom have a career in aviation, Ms. Ali joined Gulf Air Cargo despite having a banking background and work experience with the revenue department of the airline.
What is a typical working day like at Gulf Air Cargo?
"I feel I'm always on the move, even though my job doesn't involve hard physical labor, because this is the operational side of the cargo department. "My predominant task is to handle interline business with other regional and foreign airlines. "I also supervise cargo's accounting system, as well as handle our crucial trucking system which includes our contracts in Gulf Air offices in Europe and other continents.
"I am also involved with Gulf Air's cargo website
www.gfcargo.com
and make sure it is up-to-date and accurate," said Ms. Ali.
Asked what was most interesting about her job, she said:
"I love the fact that this job is all about maintaining communication and relationships with our organization members outside the Gulf Air headquarters which includes our regional offices."
"This is not a difficult job, not in any way frustrating except occasionally when we have a few technical hiccups regarding the cargo details, which depends on IT support that should also improve shortly," she said with optimism.
Asked if she received any preferential treatment being a Bahraini, she said, "Mr. Al Hamadi does not discriminate between employees. Every staff member receives equal support and opportunity; men or women, Bahraini or expatriate.
"I often receive emails from the European sector and elsewhere with people addressing me as Mr. Batool Hussain Ali.
"I find it amusing, but know that it is only because people in other parts of the world are not familiar with the names we Arab women have!
"And I often prefer to keep it that way and let them believe I am man enough to deal with them," said Ms. Ali, laughing.
The global economic recession has not spared the business of Gulf Air cargo also, she admitted, but asked:
"Which business in the airline industry has not been hit by the current crisis?"
"With the drastic rise in fuel prices, bankruptcy is more of a norm than an exception these days. Even though our offices may not be affected because other airlines in Europe and the American sector are doing fairly good business, other cargo trucking companies are surely affected, mainly because the fees have gone up on the production side," she explained.
Mother of a three-year old, Ms. Ali says her role model is her father, without a doubt.
"I deeply admire my father, for he is a gentleman, a real professional and a perfect family man, a brilliant combination."
Batool said she enjoys working for the national carrier because it allows her to pursue one of her favorite hobbies, travelling to foreign destinations.
Ms. Ali added that she did not have too many regrets about not having all the time for her family as she is fortunate to be able to see her husband on a regular basis even while at work!
That is because her husband, Zakareya Ameeri is also employed with Gulf Air's Network Control under the Information Technology division.
"A 21st century Bahraini girl is like any other smart woman, who can successfully work in any field. There is nothing to stop her in a country that offers equal opportunities for its women," she concluded.
It is Ms. Ali and career-oriented women like her who can break free of the many limitations that exist in patriarchal societies all over the world, and make revolutionary changes for others to follow.
Geoffrey Arend